AIR MALAWI - AN AFRICAN ADVENTURE
Air Malawi's 21 years of BAC 1-11 operations by Arthur Stevens

An unsung fact amongst BAC 1-11 enthusiasts is that Air Malawi operated the BAC 1-11 for just over 21 years, certainly the longest continuous such operator in Africa. Although neither the largest nor indeed the last such African BAC 1-11 operator, the aircraft helped to establish Air Malawi as a significant regional operator at the time along with a number of notable firsts, including its record breaking service to the Seychelles. The airline introduced jet service to its network in November 1970 through the lease of Zambia Airways' BAC 1-11 207AJ 9J-RCH, registered in Malawi as 7Q-YKE. Replacement of its own 1-11s subsequently by a new Boeing 737-300 in 1991 concluded 21 charismatic years of BAC 1-11 service.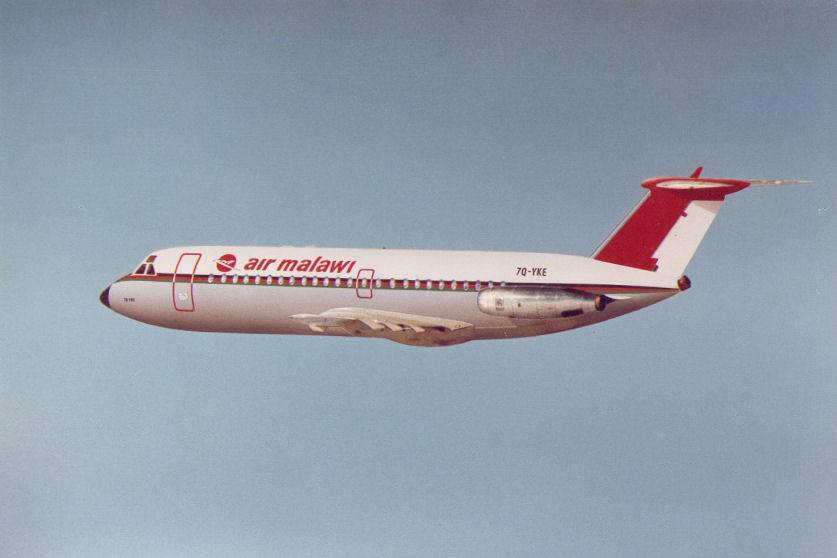 A publicity image of Air Malawi's first BAC 1-11 - courtesy of the BAe Systems Archive.
Air Malawi's genesis was through Central African Airways (CAA), the jointly owned airline of the Federation of Rhodesia and Nyasaland. With the coming of Zambian and Malawian independence from Britain, in 1964 CAA formed three airlines operating under its central banner – Air Rhodesia, Zambia Airways and Air Malawi. Economic and political pressures, not least with the Rhodesian Unilateral Declaration of Independence in 1965, led to the dissolution of CAA in 1967 and the separate independent establishment of the three constituent airlines under national ownership. This included the split of assets between the airlines with Air Malawi starting operations with two Vickers Viscount 700s and two Douglas DC 3 Dakotas. Early schedules saw the Viscounts linking the three commercial centers within the former Federation of Blantyre, Lusaka and Salisbury (Harare) and an early introduction of the Viscounts onto what has become today's trunk route, Johannesburg.
The flight between Blantyre's Chileka Airport and Johannesburg by Viscount was something of an ordeal with a block time of some 3½ hours, with the Viscounts also being weight restricted for take off from Johannesburg's hot and high runways. The airline's new management – under "Porkie" Van Rooyen – began to look for new equipment. Central African Airways had placed an order for two BAC 1-11s for delivery in mid-1965. Delivery was put back to mid 1966 however to enable introduction of the Rolls Royce Spey 511/14W, with higher thrust to cope with the hot and high operations expected within Southern Africa. With the political developments however CAA did not take up these two aircraft – c/ns 039 and 040 - for which registrations VP-YXA and –YXB had been reserved. Instead Zambia Airways inherited the order but the airline was not ready to accept these aircraft and instead they were delivered to British Eagle International Airlines. With delivery in April 1966, 039 became G-ATTP and 040 G-ATVH. Delivery to Zambia Airways took place in December 1967, with 039 becoming 9J-RCH and 040 9J-RCI.
With under-utilization by Zambia Airways the scene was set for Air Malawi and the airline leased 9J-RCH from November 1970, placing the aircraft on the Malawi register as 7Q-YKE. Air Malawi's first jet equipment was introduced on the Blantyre-Lusaka and Blantyre-Johannesburg services, before expanding onto the Blantyre-Nairobi service. Accommodation within this first jet was generous – 16 in first class and 46 in tourist. This reflected the Series 200's weight restrictions especially from Johannesburg. Nevertheless from all accounts the service offered a significant upgrade from the Viscount, with block times reduced to 2 hours on Blantyre-Johannesburg and 50 minutes from Blantyre to Lusaka.
Meantime Air Malawi had placed an order direct with British Aerospace for its own aircraft, a Series 475. Due for delivery in February 1972 the lease of 7Q-YKE was terminated in April 1972 and the aircraft returned to Zambia Airways service as 9J-RCH. Zambia Airways continued to utilize its BAC 1-11s on its services from Lusaka to Blantyre and introduced a service to Mauritius staging through Blantyre and Tananarive (Madagascar). The author thoroughly enjoyed an early flight to Mauritius on board 9J-RCH in January 1975. Particularly memorable was the spectacular take off performance as well as the characteristic crackle sound of Speys at full power.
From January 1971 Air Malawi crews had been training with Zambia Airways on the BAC 1-11 and were fully compliant on the 1-11 in time for the delivery of the Air Malawi BAC 1-11 481FW c/n 243 registered 7Q-YKF. Taking delivery in February 1972 the aircraft was flown to its new base at Blantyre's Chileka Airport, leaving the BAC facility at Hurn on 23 February, routing via Faro, Las Palmas, Dakar, Abidjan, Sao Tome, Luanda (where the aircraft gave a demonstration flight to TAAG Angola Airlines), Lusaka before arriving at Blantyre on 26 February 1972. Given Malawi's diplomatic and economic relations with apartheid South Africa at the time it was noted also that the aircraft had not been given permission to fly over Arab Africa.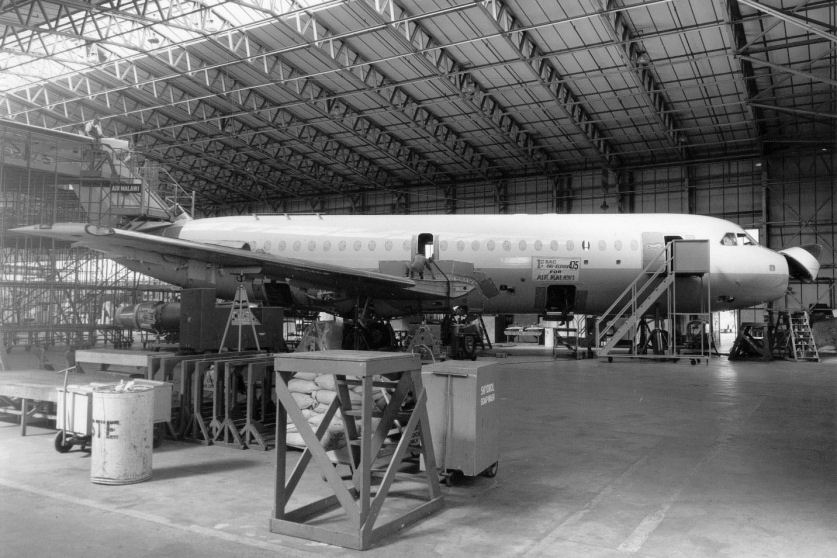 7Q-YKF on the production line at Hurn 20 September 1971 - BAe Systems Archive
Air Malawi quickly put the greater capability of the Series 475 to use. Using the engines of the larger 500 Series together with the wings but retaining the shorter body of the 200-400 Series, the aircraft had greater maximum take off weight and range flexibility. Zambia Airways was operating its own BAC 1-11s on the Lusaka schedules, East African Airways had replaced its de Havilland Comets on the Blantyre service with their new Douglas DC 9-32s and South African Airways had introduced their Boeing 727-100s onto their Johannesburg-Blantyre routing - replacing their Viscount 800s. With its own BAC 1-11 Air Malawi was able to offer fully competitive services.
The greater payload/range combinations of 7Q-YKF opened up new destination potential for Air Malawi. On 7 December 1972 the airline opened its first overseas service – operating a weekly flight from Blantyre to the Seychelles. Air Malawi was the fourth airline to operate into the newly opened airport at Mahe and took the honour of being the first airline from the African continent to fly to the island archipeligo paradise – beating East African Airways. The 3½ hour flight, much of it over the Indian Ocean, is believed to be the longest ever non-stop scheduled service operated by BAC 1-11s at 2,561 km. Apart from opening opportunities for Malawi's farmers, offering all kinds of fresh produce to the Seychelles tourist sector, the Air Malawi service offered a new destination especially for travel restricted South Africans. The service commenced in Johannesburg, staging via Blantyre and changing flight numbers before continuing to the Seychelles. A range of inclusive tour holidays were marketed in Malawi, South Africa and Rhodesia, with a week Half Board at the Beau Vallon Hotel offered for around US$1,500. The same day return service – operating on a Saturday - offered connections also into the BOAC VC 10 Tokyo and Hong Kong services that operated through the Seychelles at that time.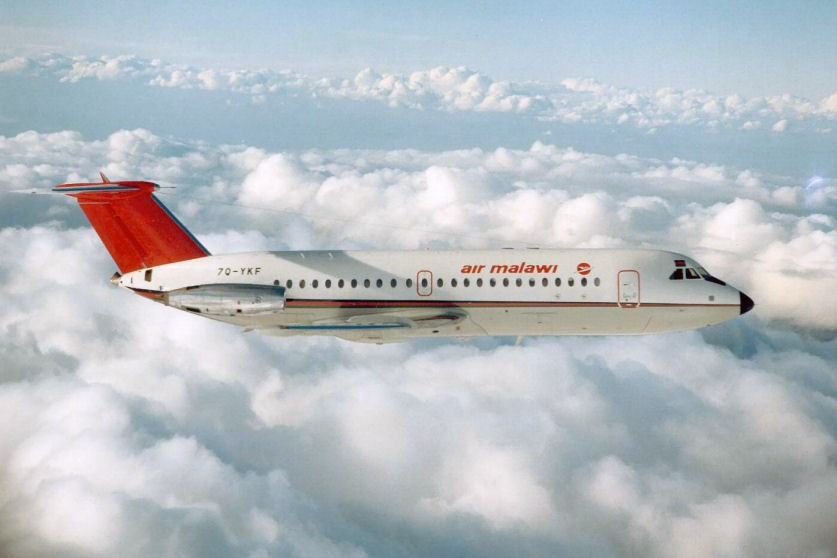 A lovely shot of 7Q-YKF taken during a test flight in January 1972 - BAe Systems Archive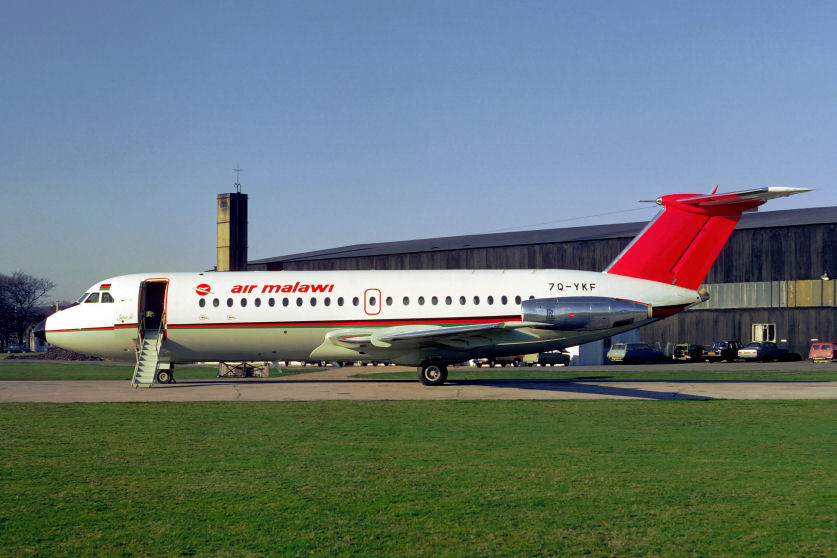 Final preparation for delivery taking place at Hurn February 1972 - Christian Volpati
A tragic accident took place at Francistown, Botswana in 1974 that led directly to Air Malawi increasing its BAC 1-11 fleet. The accident occurred on 4 April 1974 to Douglas DC 4 A2-ZER operated by Wenela Botswana. At that time significant numbers of itinerant mine workers from Central Africa, including Malawi, went to work on South African gold mines. The mines operated their own airline transport service – Wenela – and transported the miners by rail from South Africa to Francistown from where they then flew to their home countries aboard Wenela's fleet of DC 4s. On this occasion a full load of Malawian mineworkers was being taken from Francistown back to Malawi following the conclusion of their contracts. Unfortunately the DC 4 had been filled with Jet fuel instead of the Avgas needed for its piston engines. Following a normal take off using the remaining Avgas in the aircraft's own tanks, thereafter the contaminated fuel made its way into the aircraft engines causing mutiple engine failure. The aircraft tried to return to Francistown but had insufficient height to do so and the aircraft came down in rough ground 2 miles short of the runway threshold. Tragically 74 miners and 3 of the 4 aircrew died.
Although this accident was not the result of Wenela's operating procedures, Wenela no longer took Malawian mineworkers to and from Johannesburg, a role taken over by Air Malawi. With its own BAC 1-11 7Q-YKF fully occupied on its burgeoning schedules, the airline looked for additional capacity. As a result BAC 1-11 479FU, DQ-FBQ, another Series 475, was leased from Air Pacific, joining the fleet on 5 July 1974 registered 7Q-YKG. The additional capacity offered by the second BAC 1-11, combined with the introduction of Vickers VC 10 7Q-YKH from December 1974, enabled Air Malawi to open a second Indian Ocean service in 1975, this time from Blantyre to Mauritius using the 1-11s. Unlike the smaller capacity and limited range Series 200s used by Zambia Airways, Air Malawi was able to offer a non-stop service, taking 3½ hours to travel the 2,439 km . Again operated weekly the service was marketed strongly in Rhodesia and offered further opportunities to Malawi's fresh produce farmers.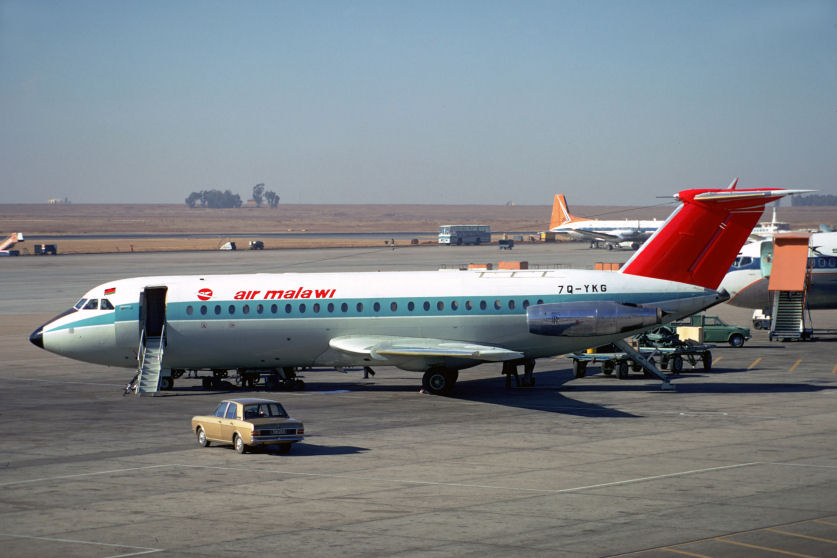 7Q-YKG with "Ford Cortina" at Johannesburg August 1974 - Christian Volpati
The period 1974-1975 was seen as the peak of Air Malawi's operations – with the airline operating an all British fleet comprising 2 Hawker Siddeley 748 Series 2As, 2 Vickers Viscount 700s, 2 BAC 1-11 475s and 1 Vickers Standard VC 10. The country was in a pivotal position economically and politically at the time, becoming a crossroads for traffic passing between East Africa and Zambia with South Africa, Rhodesia and Mozambique. The changing politics of the region however, especially the fall of the Salazar regime in Portugal and the subsequent independence of Mozambique in 1975 led to a decline in Malawi's crossroads role. Air Pacific's BAC 1-11 was returned to that airline in November 1975.
Air Malawi remained with its single BAC 1-11 7Q-YKF through to 1980 when it acquired a second aircraft, c/n 235 BAC 1-11 524FF the former D-AMAT from Hapag Lloyd in Germany and re-registered 7Q-YKK. In between times the airline had leased in two British Caledonian aircraft for short periods. The first was G-AXJM, a series 501EX operated for 3 weeks towards the close of 1977 and registered 7Q-YKI and was required during 7Q-YKF's D check. The second British Caledonian example was G-AZMF, a Series 530FX, registered 7Q-YKJ and operated from October 1979 to April 1980. The acquisition of 7Q-YKK however reflected growing regional opportunities for the airline and also the withdrawal of its VC-10 7Q-YKH from service, being viewed as uneconomic. The VC-10 was ferried to Bournemouth/Hurn for storage although the storage costs were deemed too expensive and so she was ferried back to Blantyre in 1981 and ultimately scrapped there in the 1990s.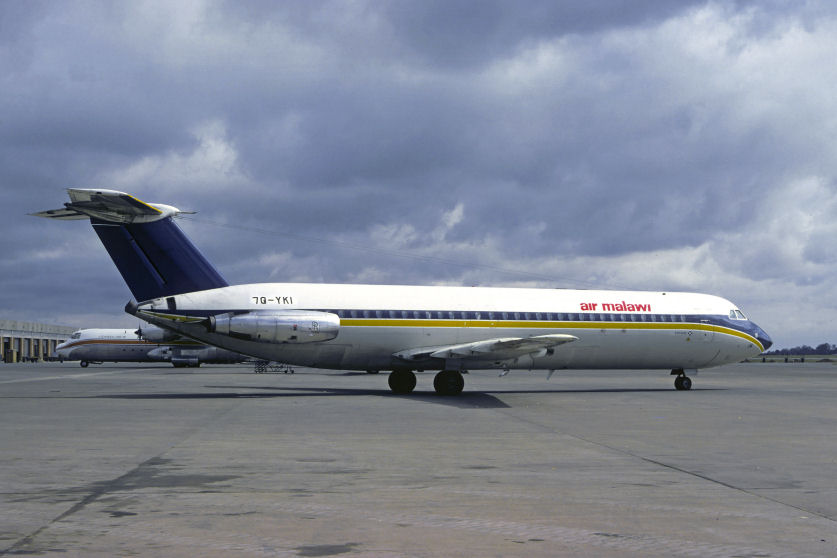 7Q-YKI taken at Johannesburg on the 15th December 1977 - Christian Volpati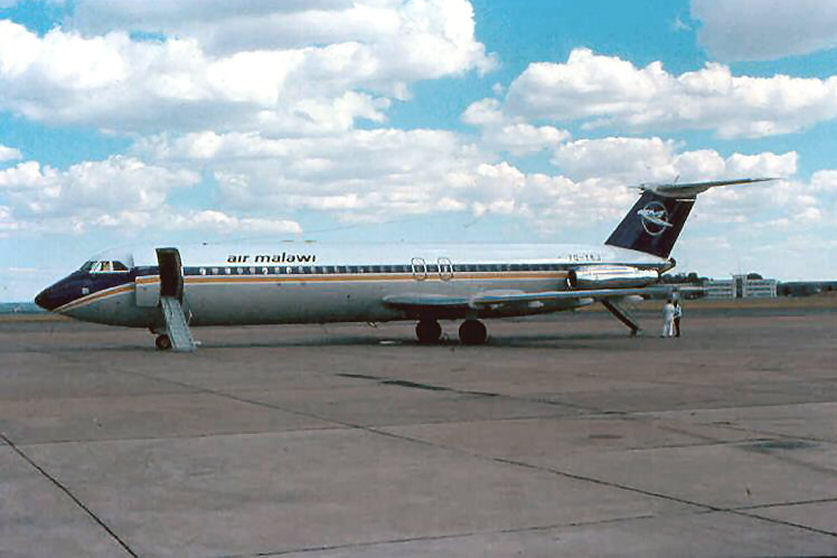 7Q-YKJ leased from British Caledonian during the 1979/80 winter season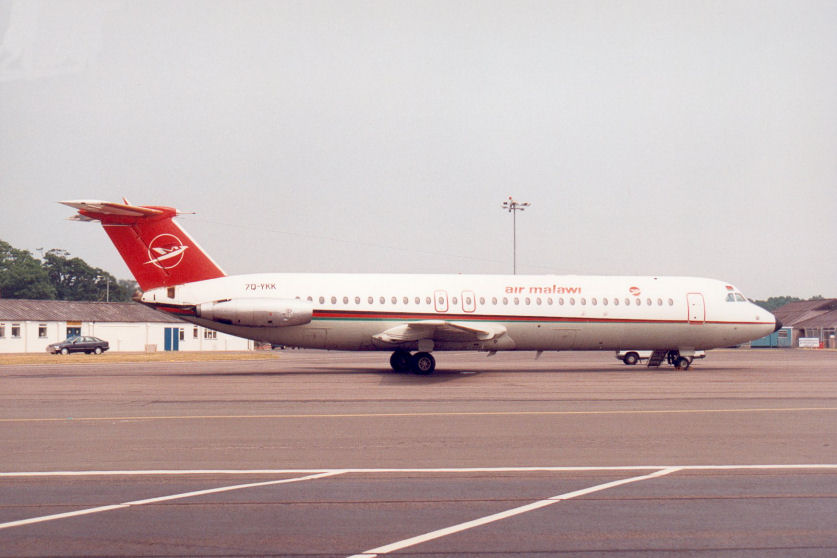 7Q-YKK returned to Hurn at the end of its service with Air Malawi on the 25 June 1992 - Steve Burland
Air Malawi continued to operate with its two BAC 1-11s through to the 1990s by which time the aircraft were deemed to be becoming too uneconomical to operate while their age made them increasingly unreliable. Following an extensive evaluation exercise, the airline acquired a new Boeing 737-300 directly from the manufacturer, the aircraft arriving in 1991. To all intents and purposes Air Malawi's BAC 1-11 operations came to an end with the arrival of the Boeing 737, marking 21 years continuous and relatively reliable and trouble free service.
Air Malawi's BAC 1-11s continued into service however. 7Q-YKF was acquired by GAS Air Nigeria as 5N-SKS in 1991 and operated for a time before the type was banned by the Nigerian Government following a series of accidents. It is currently believed to be stored at Port Harcourt. 7Q-YKK also ended up in Nigeria, although she underwent a period of storage in the United Kingdom following her withdrawal from Air Malawi service. She was acquired by Okada Air as 5N-USE in 1993 and is currently derelict at Benin City. The two British Caledonian examples that were leased for short periods have been scrapped.
However two of the BAC 1-11s operated by Air Malawi remain extant. Series 475 DQ-FBQ of Air Pacific, operated by Air Malawi as 7Q-YKG, was acquired by the Royal Aircraft Establishment in March 1984, and was used as the Blue Vixen radar testbed for the Sea Harrier and the ECR-90 radar testbed for the Eurofighter. Currently she is stored at the UK's Boscombe Down. Veteran original Central African Airways example c/n 039, former Zambia Airways 9J-RCH and Air Malawi 7Q-YKE also continued with an illustrious career. Along with sister ship c/n 040 former 9J-RCI, she joined Dan Air Services as G-ATTP in April 1972 and operated with Dan Air until the latter's demise in 1991. Again moving as a pair, she was bought by LAN Chile in 1991 registered CC-CYM (sister ship c/n 040 being registered CC-CYL). Both operated for a number of years in Chile before being retired intact to the Museo Nacional de Aeronautica Chile, Los Cerillos Airport, Santiago. A more fitting end for these characteristic aircraft.
| | | | | | |
| --- | --- | --- | --- | --- | --- |
| Registration | c/n | Type | Delivery | Withdrawn | Notes |
| 7Q-YKE | 039 | 207AJ | 03Nov70 | 31Mar72 | Lsd from Zambia A/W |
| 7Q-YKF | 243 | 481FW | 23Feb72 | Jun91 | Sold as 5N-SKS |
| 7Q-YKG | 245 | 479FU | 05Jul74 | 16Nov75 | Lsd from Air Pacific |
| 7Q-YKI | 214 | 501EX | 26Nov77 | 16Dec77 | Lsd from BCAL |
| 7Q-YKJ | 240 | 530FX | 21Oct79 | 24Apr80 | Lsd from BCAL |
| 7Q-YKK | 235 | 524FF | 30Oct80 | Jun91 | Sold as 5N-USE |
This article first appeared in the October 2011 issue of "JETS MONTHLY" Magazine. I am very grateful to Arthur for allowing me to reproduce it as a special feature on my website.