ROMBAC
As a manufacturer of its own aircraft, Romania has a proud history. In fact, up until the Second World War, the country was regarded as one of the world's leading manufacturers of aircraft. One of several pre WW2 manufacturers, Industria Aeronautica Romana (IAR), translated as Romanian Aeronautic Industry, was founded in 1925 and built a number of fighter and training aircraft. This ensured that The Royal Romanian Air Force would be supplied with aircraft without the reliance on foreign producers. After the war, Romania became a socialist republic and member of the Warsaw Pact therefore aligning itself with the Soviet Bloc. Aircraft manufacturing declined and was given a low priority in a country dominated by an agricultural economy. In 1965, Nicolae Ceausescu came to power as the General Secretary of the Romanian Communist Party and as such was the country's second and last Communist leader. Unwilling to be too closely tied to the Soviet Union however, he started to conduct a more independent foreign policy unlike many of his Warsaw Pact counterparts and was absolutely determined to develop a self sufficient aerospace industry that would serve the country's military and civil aircraft requirements. Despite it's ever increasing dependence on Russian built aircraft, Romania still managed to produce over a dozen types itself after the war, a combination of licence built light aircraft and a number of gliders which made it to the world market. These were built by Intreprinderea de Reparatii Material Aeronautic or IRMA (Enterprise for the Repair of Aeronautical Material). By the 1970s the Ceausescu Government was still as keen as ever to build up a self sufficient aircraft industry. As a result this led to IRMA building the Britten Norman Islander under sub-contract as a reciprocal arrangement established at the time when Romania acquired its fleet of six 1-11 series 400s for operation with TAROM and which ultimately led to the BAC 1-11 agreement with the United Kingdom known as the "ROMBAC" project. The seeds of this "unique" project were sown back in 1968 when the Romanian State Airline TAROM became the first "Eastern Bloc" country to operate a brand new British "Western" built short-haul jet airliner. On the 26 February 1968 six series 400 BAC 1-11s were ordered by the Romanian State Enterprise for Foreign Trade, Technoimportexport, with the first delivery taking place on the 14th June 1968. This was the start of a very long relationship with the type which lasted over 30 years. Seven years later, in May 1975 a further order was placed by Technoimportexport, for five series 500s. Part of this deal was for IRMA to build another one hundred Islanders and construct parts for all future 1-11 production such as wing trailing edges, elevators and stabilisers. This much needed order came as sales of the 1-11 were dramatically declining whilst at the same time British Aerospace were drawing up plans for a direct replacement in the form of the BAe 146. This led to the announcement on the 28th May 1977 that a co-production agreement had been signed between British Aerospace and the Romanian Government which would lead to the gradual transfer of technology and ultimately to complete manufacture of BAC 1-11s at the IRMA Aircraft Factory at Bucharest Baneasa Airport. Negotiations had begun in 1976 however these were very protracted because of the need to devise financial arrangements acceptable to both sides. Romania had to pay for Western imports in hard currency that had to be earned from exports! On the 15th June 1978 the original agreement was further endorsed by The Romanian President, who was on a State visit to Britain, and the Chairman of British Aerospace, Lord Beswick at BAe's Bristol Filton factory. On the 9th June 1979 firm contracts were finally signed for licence manufacture of 1-11s in Romania. The "complex" deal, valued in excess of £150 Million, included three additional aircraft that would be built at the Bournemouth Hurn UK production facility, two series 500s and a 475 freighter which would serve as "pattern" aircraft for future 1-11s built in Romania. Several hundred Romanian personnel came to Hurn to carry out an extensive training programme during the construction process of these three airframes. The plan was to use British produced sub-assemblies / kits for the aircraft and gradually increase the Romanian content until the 22nd aircraft had been completed. From the 23rd airframe all the components would be built in Romania. It was thought that there could be a market for as many as 80 aircraft with many going to TAROM but with international sales also firmly on the agenda. Production jigs and other major assembly materials were to be transferred, a major undertaking indeed! Effectively, the entire Hurn production line was to be transferred to Romania! The Romanian licence agreement had other features which made it so unique. Most notably was the certification arrangement whereby 1-11s built in Romania would be type-certificated locally by the Romanian DAvC (Romania's Civil Aviation Authority). Also because of British Aerospace's plan to undertake on-site surveillance of 1-11 manufacturing and assembly, each locally built aircraft would be assessed for the issuance of a supporting document by the UK CAA. British Aerospace would however retain the overall design authority throughout the contract including responsibility for approval of all licensee or customer design changes. It was also announced that the Rolls Royce Spey Mark 512DW would be produced in a technology transfer deal in Romania by Turbomecanica under a licence agreement. This covered the manufacture of 225 engines over a 15 year period. British management of the contract was set up at Hurn and was the responsibility of former chief production test pilot on the 1-11, Dave Glaser, who was given the role of project flight operations manager. He developed the flight test side of the contract which included training Romanian test pilots and engineers many of whom came from TAROM.
One aircraft, series 487GK freighter YR-BCR cn 267 delivered to TAROM from Hurn on the 28th July 1981, played a huge part in the transfer of materials from Hurn to Baneasa with many trips carried out between the two countries. TAROM Boeing 707s and Antonov An-26s were regular visitors to Hurn transferring major components. A major milestone in the ROMBAC project took place on the 26th January 1980 when the first of three fuselages, built at Hurn but to be completed in Romania, cn 401 was loaded onto an Aero Spacelines Super Guppy and flown from the UK to Romania. Other aircraft used in the transfer of equipment have been the Conroy CL-44-0 "Skymonster" and a former RAF Shorts Belfast.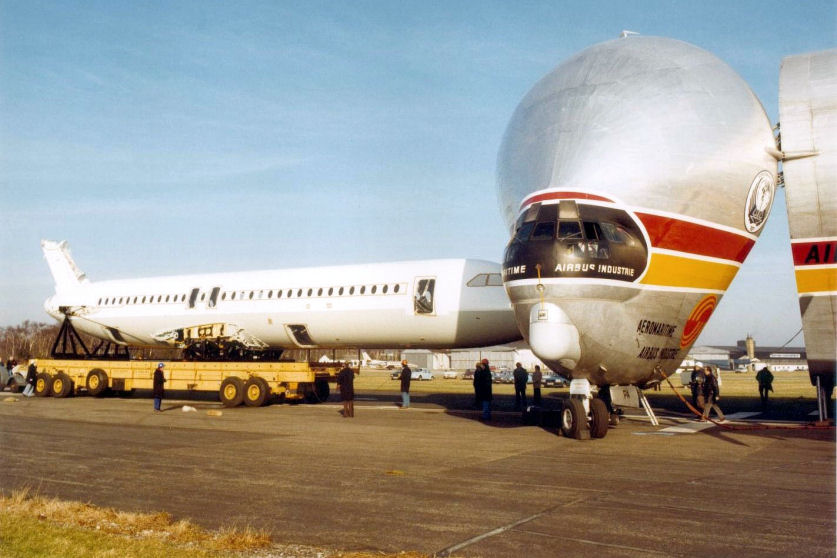 Super Guppy F-BPPA about to "swallow" the first ROMBAC 1-11 YR-BRA at Hurn on the 26th January 1980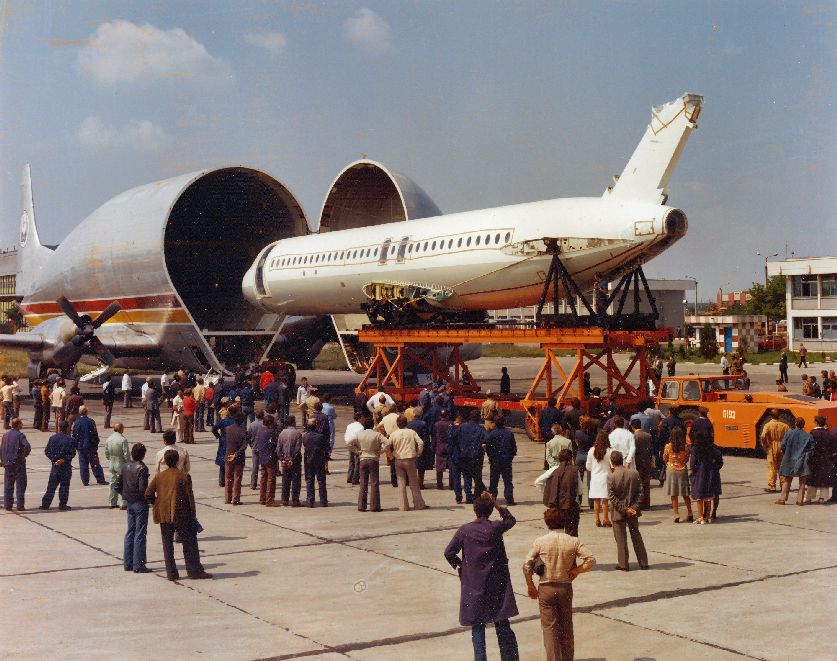 YR-BRA being unloaded at Bucharest's Baneasa Airport on the 27th Jan 1980
After a huge amount of hard work by all parties, the big day finally arrived on the 27th August 1982 when the first ROMBAC 1-11, series 561RC cn 401 YR-BRA, was ceremoniously rolled out from the Baneasa assembly line, now named the Intreprinderea de Avioane Bucuresti factory (IAvB).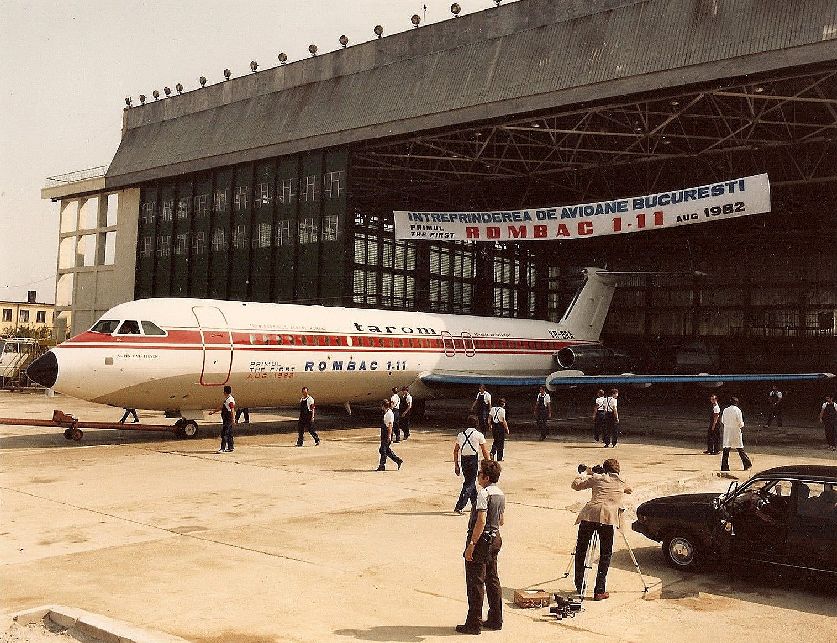 Ceremonial Rollout of YR-BRA at Baneasa - 27th August 1982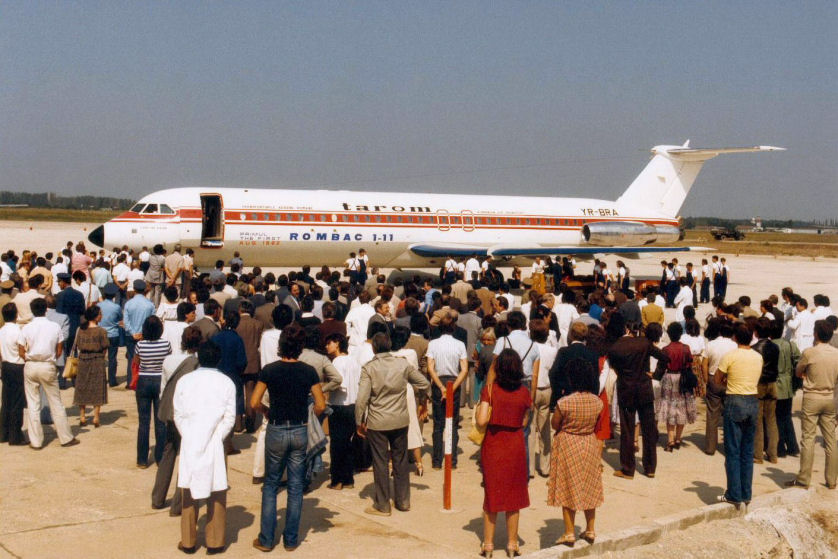 YR-BRA preparing for flight with the proud workforce looking on. Not a yellow fluorescent jacket in sight! How times have changed!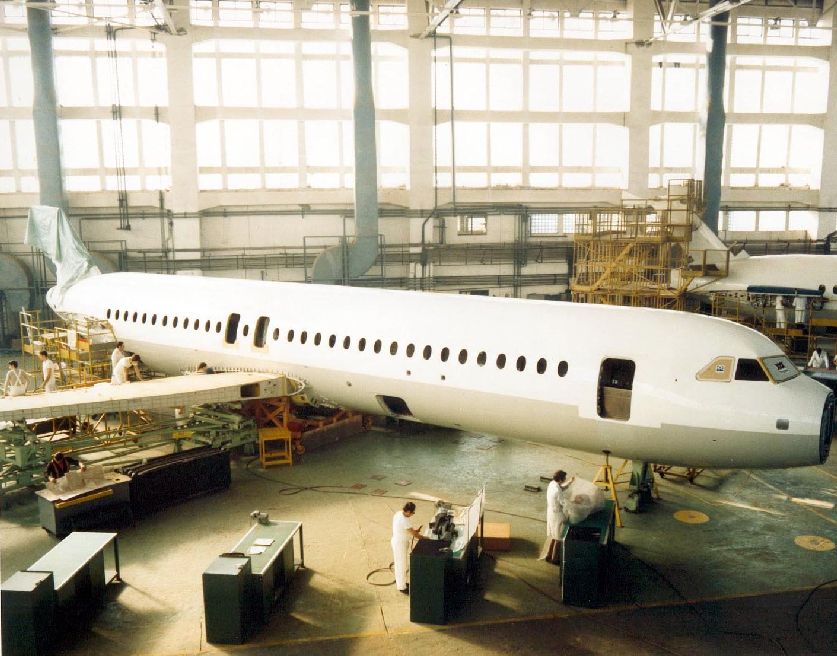 ROMBAC 1-11 production line at the Baneasa Airport assembly factory
After various ground tests the aircraft made a successful 28 minute first flight on the 18th September 1982. Nicolae Ceausescu was present on the 20th September when the second flight took place. The new aircraft was flown by a Romanian crew under the command of Captain Mircea Tapu. The Director General of the Romanian Centrul National Al Industrei Aeronautice Romane (CNIAR) was also on board the flight and stated:-
"The successful first flight of the first Romanian built 1-11 within the ROMBAC licence manufacturing programme is the most gratifying start to this vital Romanian national aeronautical industrial endeavour and has been achieved in only just over two years since the agreement came into effect. This is even more impressive when it is remembered that the ROMBAC 1-11 programme is the largest international transfer of advanced civil aircraft technology to date and is testimony to the significant new level of capability which the industry has now attained. Now fully-established, the ROMBAC 1-11 production line is available to provide aircraft for international sales as well as domestic supply".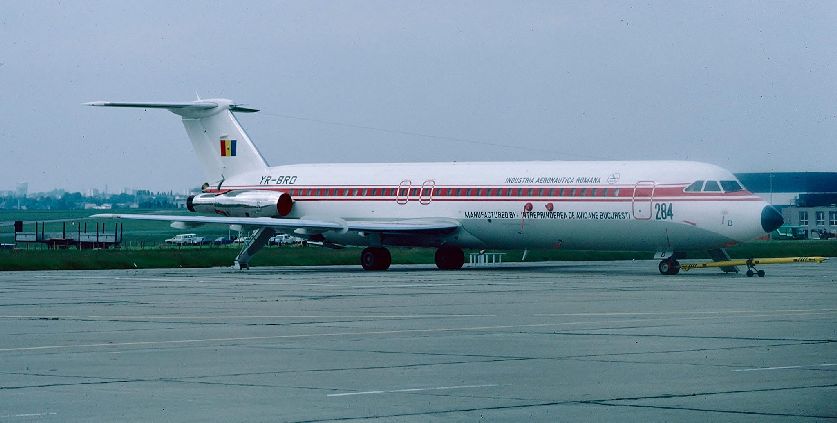 YR-BRD on display at the Paris Air Show, Le Bourget in June 1985
YR-BRA received its certificate of airworthiness on the 17th December 1982 and was delivered to TAROM on the 24th December. It was proposed that the planned production rate would be six aircraft a year, however difficulties were soon encountered with several issues becoming apparent almost from the very beginning of production! A lack of hard currency was compounded by inefficiencies and a general lack of enthusiasm in the responsible Romanian government departments all of which were increasingly causing unnecessary delays to the programme. The production rate never came close to six aircraft a year and as a direct result of these on-going issues only one airframe was leaving the factory each year. Economically this was proving to be a disaster to the initial ambitions of the project team who believed from the outset that production could last well into the 1990s. Further deliveries were made to TAROM during the following years although it was becoming very clear that international sales were not going to materialise. The marketing team displayed YR-BRB at Paris Air Show 1983, YR-BRC at Farnborough Air Show in 1984 and YR-BRD at Paris in 1985 but not a single order materialised. After YR-BRD even Tarom appear to have stopped taking any further deliveries with aircraft either stored at Baneasa or leased out as they came off the production line, possibly in a further attempt to persuade airlines such as Ryanair to buy some more aircraft. By 1989 only nine aircraft had been completed. It appears that they were originally all destined for TAROM but eventually three were delivered to Romavia which commenced operations on the 3rd April 1991. In 1989 the whole programme was thrown into complete chaos and disarray. The "Iron Curtain" was collapsing across Eastern Europe and on the 22nd December the Romanian military sided with protestors and turned on their Communist Leader, President Nicolae Ceausescu, who was executed after a brief trial three days later. IAvB was now left to fend for itself. Production had all but come to a halt and a capital injection was desperately needed to get the production line up and running again. Two further 1-11s were in advanced stages of production at the time of the revolution, cn 410 and 411. 410 was a series 475 freighter ordered for the Romanian Army and was 85% complete while 411, another series 500, was about 70% complete. The freighter order was cancelled as a result of the political upheaval due to a lack of funds. Many components for the remainder of the initial batch of 22 aircraft were complete as were engine components for many of the Spey engines so there was hope that the remaining aircraft would be constructed. In 1990 the company name was changed to Romaero. They did there best to market the aircaft and in April 1990 were approached by a company called Associated Aerospace who announced that it would order 50 aircraft to be powered by Rolls Royce Tay engines and fitted with modern glass cockpits. The aircraft would be ferried to Hurn for final fitting out by Lovaux who would provide the completion centre for the new aircraft. The aircraft would be flown "green" from Bucharest before cabin interiors and fittings, supplied in kit form by AIM Aviation, would then be installed. Lovaux would provide one hangar for the project which could accomodate three 1-11s at a time. It was intended that the first five aircraft would have conventional instrumentation installed however Lovaux then intended to link up with avionics design company Honeywell or Collins in a bid for the installation of glass cockpits to the sixth airframe onwards. The aircraft would be marketed worldwide by Associated Aerospace. The billion dollar deal also included 50 options. Amazingly it was suggested that planned production at Baneasa would increase to ten aircraft a year by 1993 with further increases by the mid 1990s! Unfortunately the order came to nothing when Associated Aerospace ceased trading shortly after the order was placed. On the 9th February 1993 it was announced that Kiwi International Airlines of Newark, New Jersey would purchase 11 series 2500 Rolls Royce Tay powered aircraft with an option for a further five. This order would have involved the co-operation of British Aerospace, Alenia, Rolls Royce and the Dee Howard Company in the USA who were actually building the Tay engines. Despite a huge effort by all concerned this order also came to nothing. The ROMBAC 1-11 had reached the end of the line with the last ever 1-11 built, series 561RC cn 409 YR-BRI flying for the first time on the 3rd October 1989. It was delivered to Romavia in February 1992.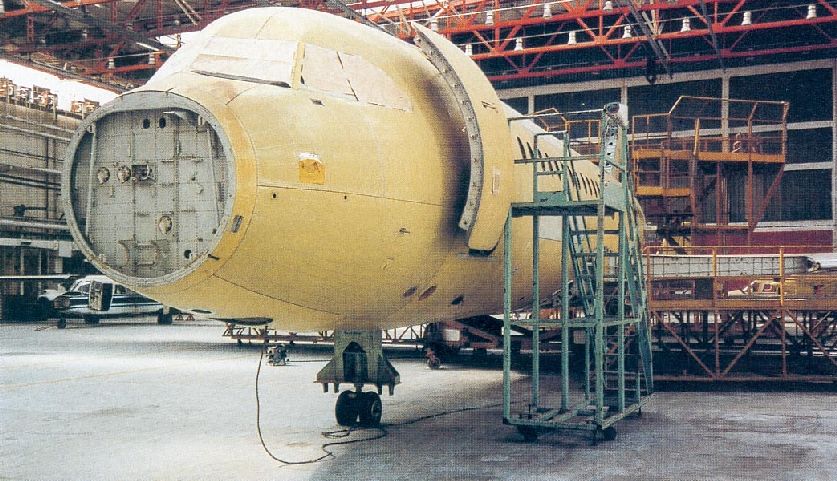 ROMBAC's tenth aircraft cn 410 series 475 freighter ordered for the Romanian Army and 85% complete at Baneasa in 1992
During a visit to Romaero at Baneasa in 1992 it was noted that there was very little activity on the site with 1-11s cn 410 and 411 languishing in the former production hangar. 411 was covered in plastic tented sheeting with hot air blowers being used inside to combat the freezing temperatures outside. The Commercial Director of Romaero stated that:- "the 1-11 contract had periods of being frozen and that from the beginning the whole project had a brake on it. Hard currency problems began in 1981 which resulted in the company having to wait many months just to buy bolts to finish a wing. The national drive to produce everything for the 1-11 in Romania also held up production. It is now completely frozen with production workers having been moved to other areas". He went on to say that he was philosophical about what might have been if the industry had been allowed to run the programme the way it wanted and was helpless as it watched production grind to a halt. "What an incredible waste - we have an entire aircraft production line including the original jigs and tools from BAe Hurn. The factory has CAA certification, its workers have CAA approvals. Everything is ready and in place to continue with production". He finished by saying that he still believed there was a market for a Tay powered - glass cockpit 1-11 and stated that nobody could beat us on price! It was estimated that an investment of 100 million dollars would be required to restart production and that Romaero was still "striking out alone" to try and complete the remaining 13 1-11s. However the finance would have to come from the international banks as there was little chance that the Romanian government would be able to offer assistance. Both TAROM and Romavia have open commitments for the remaining aircraft, either Spey or Tay powered, to be built by Romaero. Romavia has made a down payment on aircraft 411 and has four more options while TAROM holds the remaining eight options but if a Western customer appears these could easily be amended. With marketing efforts on-going we are talking to BAe, Rolls Royce, Alenia and Dee Howard and also discussing with UK company A. J Walter the possibility of completeing the aircraft with Speys and hush-kits from US company Quiet Nacelle Corporation. Flying the remaining 13 aircraft could decide whether or not Romaero remains predominantly an aerospace factory which was designed to produce as many as seven 1-11s a year, however for the 3900 employees of the company this effort needs to bear fruit in 1992.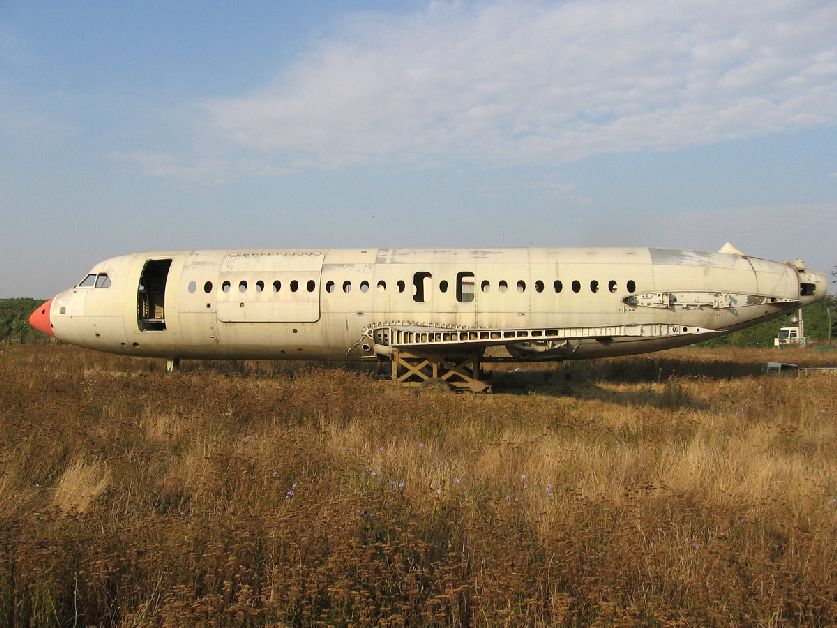 A tragic sight as cn 410 is finally put out to grass! August 2008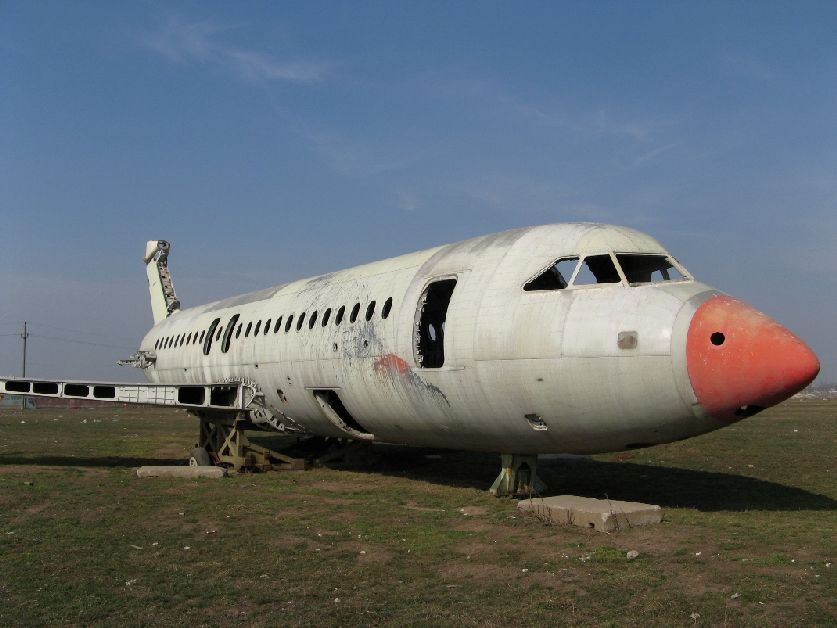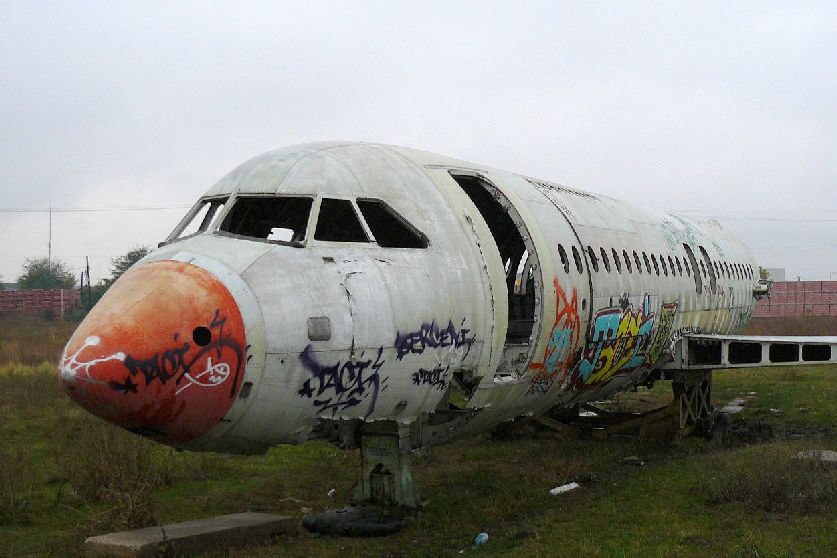 And by December 2010!
There have been many reflections about this complex project which ended up being blighted with problems over the history of the programme. Whether or not things would have been different had the revolution not taken place remains to be seen. One thing is for sure and that is the fact that putting into practice the idea that a complete production line could be transferred to an Eastern Bloc country and that large numbers of Western built jet airliners could then be constructed subsequently proved to be a step too far. The politics at the time and lack of a sensible financial structure ultimately scuppered the entire programme. There are many other "side shows" to this story that will be talked about for many years. For example, if the UK had stuck with the 1-11 in the first place and continued to develop it, would Romania have ever had the opportunity to build their own 1-11s? What if the Rolls Royce Tay had been successfully introduced and a glass cockpit properly developed? The list goes on and on, but what is true however is that whether or not it was a BAC 1-11 or a ROMBAC 1-11, British Aerospace really did let the design down well before the last nine aircraft were constructed in Romania. For Romania to seriously market a design that was already reaching the end of the road in the United Kingdom without further development was quite possibly one of the biggest mistakes made by the entire project team. It has to be remembered as well that BAC / BAe only managed to sell 25 new 1-11s in the last ten years of production in the UK. That's just 2.5 airframes a year! If they couldn't sell the existing 1-11 then how were the Romanians going to sell it? With new glass cockpit aircraft already coming to the market with new engines available the 1-11 was already along way behind the competition which was confirmed by the introduction of the Fokker 100 which was developed in the early 1980s and first flew in November 1986. How ironic that it had Rolls Royce Tay engines and a very advanced glass cockpit! Fokker sold 330 F70/F100 aircraft by the time the line closed in 1997 and should have sold many more had the Dutch manufacturer not gone bust. If the development team at Hurn had been allowed to continue with their own 1-11 developments in the late 1970s, the Fokker 100 might never have happened and the 1-11 production total could easily have reached 500 airframes! My final statement sums the whole "doomed" project up very nicely indeed "Wrong place, wrong time"!!!
| | | | | | |
| --- | --- | --- | --- | --- | --- |
| Registration | c/n | Type | First Flight | Delivery | Operator |
| YR-BRA | 401 | 561RC | 18Sep82 | 24Dec82 | To TAROM |
| YR-BRB | 402 | 561RC | 28Apr83 | Jul83 | To TAROM |
| YR-BRC | 403 | 561RC | 26Apr84 | Aug84 | To TAROM |
| YR-BRD | 404 | 561RC | 02Apr85 | Feb86 | To TAROM |
| YR-BRE | 405 | 561RC | 27Mar86 | Mar86 | To TAROM / LAR / Romavia |
| YR-BRF | 406 | 561RC | 30Sep86 | May87 | To TAROM / London Euro |
| YR-BRG | 407 | 561RC | 21Mar88 | Mar88 | To TAROM / Ryanair |
| YR-BRH | 408 | 561RC | 01Dec88 | 03Apr91 | To TAROM / Romavia |
| YR-BRI | 409 | 561RC | 03Oct89 | 28Feb92 | To Romavia |