NEWS
Please visit my bac1-11jet Facebook Group or BAC 1-11 Forum at Yahoo Groups for further information and much more. I have opened the Facebook Group as an extension to the website specifically for former pilots, engineers and production workers etc who have direct links to the aircraft. Feel free to send me an email at anytime and I will reply as soon as I can. I will place any newsworthy items on my news page. Just let me know about anything to do with the 1-11, movements, colour scheme changes, registration changes, scrappings etc. KEEP THE INFORMATION COMING !
BAC-1-11 Forum at Yahoo Groups
bac1-11jet - Home of the BAC 1-11 on the Web Facebook Group
1st January 2020
1-11 Review of the Year 2019
Having followed the BAC 1-11 for 40 years since my first visit to the Hurn production line as a "spotty" teenager in 1979, this "final" in service review had to eventually come! I never thought it would last this long but it's certainly been an interesting journey for both the 1-11 and myself! The 6th May 2019 should be recorded in the history books as the very last time that a long line of classic British jet Airliners ever flew bringing to a close 70 years of amazing service by such incredible aircraft as the Comet which first flew in 1949, the Trident, VC10 and Concorde. The 1-11 has certainly done us proud over the years in many ways however it is such a great shame that the significance of this last flight was completely lost by the majority who didn't even raise an eyebrow at such an historic event. Unbelievably, the moment wasn't even captured on film either despite being in the "4K HD digital era"!!! Totally unforgivable! Fortunately we are very lucky to have a couple of local Baltimore Washington aviation photographers who captured the historic moment, one of many that they have captured over the years! Northrop Grumman did record the event in their own way but I don't think managed to fully recognise the significance of what was the last flight of such a long line of historic aircraft produced by our UK pioneering aviation industry. The fact that they couldn't preserve N164W is just so sad and beyond me! So it's all over and I'm told that both former American Airlines / Dan Air airframes have now been scrapped!!! A very unfortunate and totally unsatisfactory end indeed. I enclose several "favourite" images taken by Bob Garrard and Tony Storck who I can't thank enough for snapping so many stunning images of these special aircraft over the years. Thank you guys! Regarding other 1-11 going-ons in 2019, the only other news item worth mentioning is the fact that Romaero, builders of the Rombac 1-11s and based at Bucharest Baneasa, will be celebrating their 100 year history in 2020 and as a result they have placed special titles on the aircraft they restored last year, TZ-BSC, previously G-MAAH and YR-HRS. It's been an emotional couple of years what with the demise of Monarch, the end of the 1-11 and the small matter of returning to be based at one of the airports I first flew out of when I started flying with Air UK back in 1990 on the Fokker F27 Friendship namely London Heathrow with Scandinavian Airlines on their brand new A320neo. Incredible that it's 30 years ago!!! I have to admit that I have really enjoyed taking in the sight and sound of those wonderful BA 747s which will all be withdrawn in the next few years! By far the most iconic aircraft to frequent the place since the first BOAC, Pan Am and TWA examples arrived in 1970! 50 years on and the "Queen of the Skies" is still around in large numbers! However this last "in service" review of the 1-11 is what this year's review is all about! 56 years / six decades in service is an amazing achievement. Thanks to all of you who have been a part of such an incredible journey. I hope to bring you a "Special Feature" on The Northrop Grumman BAC 1-11 Story very soon. In the meantime, enjoy these wonderful images on my Facebook page taken by Bob and Tony over the years of two incredible BAC 1-11s that are, in my opinion, two of the most "historic / iconic" airframes of all those we built in the UK over the past 70 years. They deserved so much more recognition!
I wish you all a very happy New Year. Thank you once again for all your support and stories and for being a part of my own "aviation" journey with many happy and fond memories of so many amazing UK built airliners that none of us will ever forget.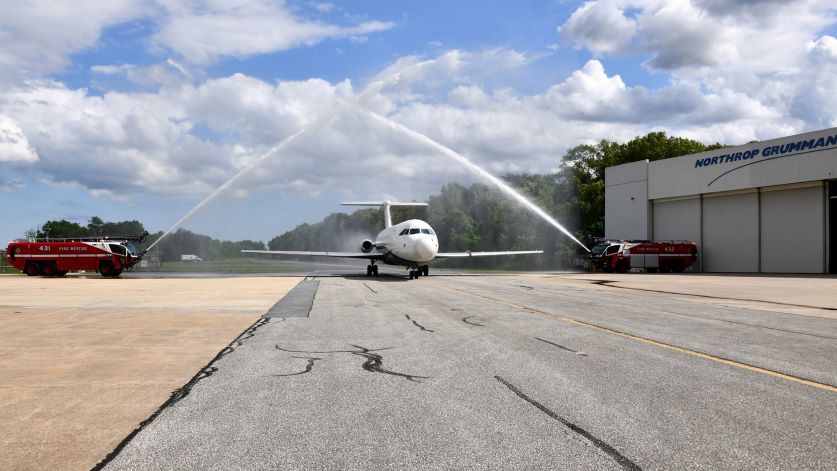 7th May 2019
Northrop Grumman retired their last BAC One-Eleven testbed as well as the last flying example of a BAC 1-11 in the world on May 6th, 2019. N164W is a 1966 BAC 1-11/401K, originally owned by American Airlines and acquired by Westinghouse Electric Corporation in 1983 from Dan Air. Take off on Runway 28 occurred shortly after 1330L. Two hours later, "Scan Six Four" called final for a return to BWI Marshall Airport's Runway 33L. Baltimore Tower approved a low approach. The power came up and the Rolls Royce Spey engines spewed black smoke in dramatic fashion. The landing gear was raised and a level flyby into a climb was executed before re-entering the pattern for landing, completing the final chapter of the BAC 1-11 in aviation history.
13th December 2018
1-11 Review of the Year 2018
2018 looks like being the last "full year" of BAC 1-11 operations as Northrop Grumman prepare to retire the worlds last flying airframe, N164W, sometime in 2019. The aircraft has had an unbelievable run since the type was first introduced to the world way back in 1963, six decades ago! As I've stated many times, this particular airframe is remarkable for it's own incredible story! I've thoroughly enjoyed following such an historic type over the years and one which has outlasted every other first generation UK built Jetliner by some distance. Highlights of 2018 have been the restoration of the 1-11 in Bucharest Baneasa by Romaero, who once built the ROMBAC 1-11s many years ago and the continued service by N164W. Therefore, my focus of this years review is to highlight the amazing longevity of this single historic airframe and to celebrate rather than mourn its retirement which will almost certainly take place at some point in 2019. My final hope is that Northrop Grumman will recognise the immense contribution that this airframe has made to their own operations over the past 36 years and ensure that the 1-11 is placed into preservation where it can tell the fantastic story not only about their aircraft but "all those 1-11s" that have flown in the USA for the past 54 years since the very first Braniff aircraft arrived in 1965.
Enough has been said about the various other grounded / preserved aircraft over the past couple of years as well as my own trials and tribulations / highs and lows etc over the past 12 months. 2019 is going to be "YEAR of the 1-11", a celebration of a truly amazing 56 years of service since it first flew such a long time ago. Let's reminisce and enjoy its final few months in service and hope that N164W is preserved in one of the top US museums for posterity. I have uploaded Special Feature 22 about the latest Romanian 1-11 story which is available for view via a link on the opening page of my website only at present due to a number of changes to my website developer which I've not yet mastered! Special Feature 21 about Dee Howard and the Tay 1-11 is unfortunately still a work in progress as I am awaiting the story to be told by one of those who was actually there at the time. It goes without saying that Special Feature 23 will no doubt focus on Northrop Grumman 1-11 operations and the retirement of their last aircraft when that eventually takes place.
Best wishes for a peaceful Christmas and a happy 2019.
2nd October 2018
Very little news has come my way in what is the 55th Anniversary year of the BAC 1-11. A Facebook Group has been created by a small number of people who are attempting to save a BAC 1-11, VR-BEB, which has been dumped / is derelict at Bournemouth Airport since the mid 1990s. To be honest, it's in one hell of a state and is virtually gutted from top to bottom internally. Externally, I dread to think how much rust and corrosion must have taken hold by now. I made one very final attempt last month to try and gain support from the Cornwall Aviation Heritage Centre to try and get some insurance money raised to allow us to continue our APU / Engine runs on their 1-11 ZH763. As before with my previous attempts it came to absolutely nothing. It saddens me very much to have to say, they simply aren't interested in preserving such a unique aircraft in a fully serviceable condition. It is "rapidly" deteriorating in the harsh conditions at Newquay Airport. TZ-BSC was displayed for a second time at the Bucharest International Air Show and looked magnificant in its brand new livery! Although not confirmed yet, it is hoped that the aircraft might go on display somewhere on the airport as a tribute to the aircraft and its connection with the Romanian aviation industry over the years. I await further news regarding the retirement of the final BAC 1-11 in service with Northrop Grumman.
11 May 2018
The BAC 1-11 stored at Bucharest Baneasa, cn259, formerly TZ-BSC of Tombouctou Aviation, has recently visited the Romaero hangar where it has been resprayed into a new livery for the "ROMANIA 100" celebrations. It will be displayed at the Black Sea Defense & Aerospace show 2018 on the 18th - 20th May and the Bucharest International Air Show to be held on the 28th July. It was rolled out in an all white livery with a blue cheatline and "ROMANIA 100" titles. The outer port wing of this aircraft had been cut off but it appears that Romaero have put a "new" wing on the aircraft! This aircraft has been stored at Baneasa since February 2011. It became an office for a while and was painted into a rather interesting livery before being "left to rot" more recently. However it appears that it's possible that the airframe may well be preserved instead. I'm told that it would just be a "cosmetic" restoration rather than returning it to a serviceable state.
For more on this amazing story go to this page.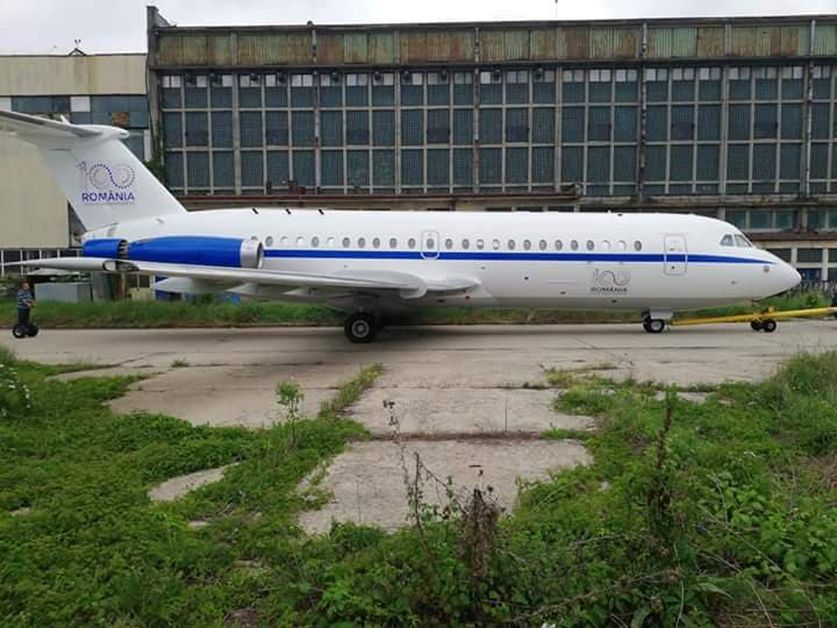 Thanks to Rares Mandu for supplying this image taken by Laurențiu Căpățînă. (Sorry for the poor quality)
30 Mar 2018
Northrop Grumman have finally announced that BAC 1-11 N162W has been "officially" retired from service. As of 22 March 2018 the aircraft is officially withdrawn from use and is having its program system equipment removed. A final decision will be made in due course as to whether or not it will be scrapped at its Baltimore Washington base or flown out to Mojave to join the other two 1-11s cannibalised for spares by the company. Its final hours and landings are as follows:- Total Aircraft Time 54,262.6 hrs & Total Aircraft Cycles 38,671 ldgs. It's a great shame that the company didn't acknowledge the historic value of these two wonderful aeroplanes with a final photoshoot as had been widely anticipated and hoped for by many linked with the aircraft over the past 55 years!
7 Dec 2017
1-11 Review of the Year 2017
54 years now and still counting!
Not surprisingly there is little change from last year with just two airframes still in service. However as I announced on the 12th November, the retirement dates for the Northrop Grumman aircraft have been announced and it appears that N162W will be no more by the end of this month and will therefore become a spares source for N164W whilst it remains in service for a couple more years. Preservation wise there is absolutely nothing to add since my last news update on the 24th March. My biggest disappointments of 2017 have been the ending of engine runs with "serviceable" 1-11 ZH763 at Newquay and the failure of Bournemouth Aviation Museum to officially open the forward section of former ETPS 1-11 ZE432. I'll keep this years review short and sweet and just say Happy Christmas to all those who follow my website and Facebook / Yahoo Group.
I must just add how very sad I am that I'm no longer flying Airbus A320/321s for Monarch Airlines. It has been a tough end to the year. Roll on 2018!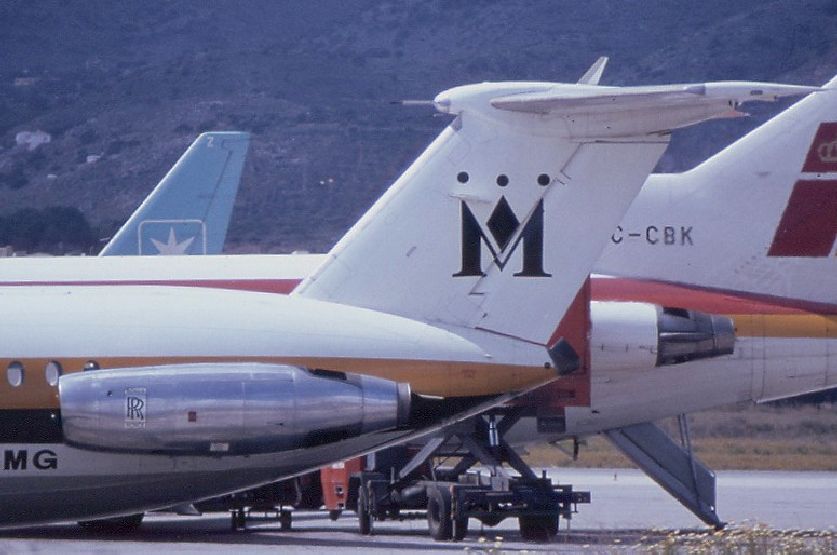 12 Nov 2017
I've just received the news we've all been dreading for sometime now, the retirement announcement of Northrop Grumman's pair of BAC 1-11s, N162W & N164W, the world's last two airworthy 1-11s! All we need now is a final and very fitting "formation" flight from NG!!!
Below is a copy of their statement:-
In the beginning, there was the BAC 1-11. Manufactured by the British Aircraft Corp., it was the second short-haul passenger jet to enter service as the aviation industry moved from propeller-driven to jet-powered aircraft. The plane was introduced in 1965 and used by several major airlines before production ceased in 1989. In all, 244 BAC 1-11s were built, mostly by the British and a few by a Romanian aircraft manufacturer.
Today, there are only two flying. Both are based at Northrop Grumman's BWI Flight Test facility. But not for long. The two aircraft will be eased out of service because of age starting this year, to be replaced by two CRJ 700s, which are manufactured by Bombardier Aerospace of Canada. It will be the end of an era. "The BAC 1-11 is a very good airplane, built like airplanes should be built," says Michael Serafin, chief of aircraft airworthiness and Federal Aviation Administration liaison for Flight Test. The first planes were designed and built in the early 1960s after the deHavilland Comet jetliner suffered three mid-air breakups that were later traced to structural deficiencies. The goal was to make the BAC 1-11 as sturdy as possible. The designers succeeded. "It's a really strong and robust aircraft," says Paul Schulz, chief of engineering for Flight Test. "It can take very high inertial loads. It's a very forgiving airplane." The planes gradually fell out of favour with the airlines because their engines exceeded federal noise standards. Northrop Grumman has obtained an exemption from those standards to keep them flying, says Schulz. While they're no longer suitable for moving passengers, they're perfect, it turns out, for testing a variety of Northrop Grumman products. In fact, the BAC 1-11s played a crucial role in a number of major programs. The company acquired its first BAC 1-11 in 1984, followed by a second five years later. They are still in use. A third plane also joined the fleet — it had served as one of former President George W. Bush's campaign planes — but was retired to an aircraft graveyard in the Mojave Desert and is now one of two BAC 1-11s there used for spare parts. The aircraft — which can carry up to 1,750 pounds of radar equipment — are true workhorses for Flight Test, which has eight planes in its fleet. The BAC 1-11s have been used to test systems for the U.S. Air Force's Advanced Tactical Fighter; the multirole electronically scanned array (MESA) radar antenna for the Wedgetail aircraft; sensors and radars for the F-22 and F-35 fighters and the B-1B bomber; early versions of Actively Electronic Scanned Array (AESA) radar; and all systems for F-16 fighters sold to the United Arab Emirates. They've also served as test beds for LITENING targeting pods, along with a variety of navigation, electronic warfare, targeting and infrared countermeasures (IRCM) systems. "It's been a real marvel from our point of view," says Rich Batdorf, who flew the planes as a test pilot for Northrop Grumman. Because they can test systems under real conditions, the BAC 1-11s and other test aircraft are credited with helping to get products to market, and into the hands of the military, more quickly. "Something that may take three years to design, build and test, we can do in a year," notes Mark Falica, manager of aircraft maintenance. "We can get products to the field much quicker and as a result, we're saving lives." Unfortunately, age is catching up to the BAC 1-11s, both of which were built in 1966 and marked 50 years of service last August. As they get older, parts wear out. With planes built that long ago, and no longer in production, those parts can be hard to find. And a total overhaul is out of the question. That can cost $3 million. "Economically, it gets more difficult every year to keep them flying," Schulz explains. So, Flight Test relies on the two spare planes it has in the Mojave desert. It also has two representatives under contract in the United Kingdom who keep an eye out for parts. And occasionally, a part can be manufactured at Mission Systems at BWI. But time is running out. "You never know when something critical is going to go wrong and you can't get the right part," Falica says. "These planes can require a lot of maintenance time." Enter the CRJ 700, originally designed as a passenger aircraft. The company has bought two; one is at BWI and nearly ready to begin testing products, while the other is being modified in Melbourne, Fla., for test flight use. It should be ready in the first quarter of next year. Plans are in the works for the purchase of a third. In the meantime, the two BAC 1-11s (registration numbers N162W and N164W) are moving toward retirement. Sixty-two will leave service this year, with 64 to follow in 2019 or 2020. And so, the BAC 1-11, a pioneer in passenger jet travel, will become part of history.
24 March 2017
I was hoping to bring you news that Northrop Grumman had celebrated the 50th anniversary of their two historic 1-11s, but they didn't in the end! What a great shame! The good news is that they still remain in service. Elsewhere it's a case of "what's changed". The fact is nothing has changed with regards to preservation news which is very frustrating indeed!
ZH763 Has no insurance so any hopes of keeping this airframe alive have effectively been dashed unless the team come up with a solution very quickly. They can't even run the APU or plug in a GPU anymore!!!
ZE432 No official opening date has yet been announced despite it having been open to the public since last Autumn.
N999BW Remains stored at Kansas City Intl. Nobody from the Tristar team has released any details of how they intend to get the aircraft serviceable again for a one off ferry flight to Downtown Airport.
YR-BRA / BRE / BRI - The project to save a ROMBAC 1-11 and display it at Bucharest Otopeni Airport has hit the rocks and now looks like a complete non starter sadly with no further updates on the project having been given for many months.
LV-OAX - I am still waiting for further updates regarding this project.
With regards to the stored fleet, I've just been searching for the aircraft on Google Earth and managed to find 28 of the 30 that are currently still listed as stored. The other two have almost certainly been scrapped by now. I have been adding further special features recently with an addition to number 19 "Behind the Iron Curtain - The Romanian 1-11 Story. I've created seven sections within this feature to fully describe all the various Romanian 1-11 stories from the late 1960s to the present day. The Jetline / MIA Airlines feature is of particular interest. I still live in hope that some of the "required images" in my Gallery page will eventually turn up however it is looking increasingly unlikely as time goes by. I still recommend looking at the various BAC 1-11 Groups at Facebook for those of you who are interested in keeping up with 1-11 stories and particularly photos.
Overall, it is still a "labour of love" running this website after 16 years however it's a great shame that there isn't more feedback, suggestions, or just general participation from enthusiasts with regards to ways in which I could enhance this data moving forward. I would love to do what the guys do at Vickers Viscount Network, which is very well supported indeed, although their "virtual museum" is on a completely different scale to my "basic" website. Never say never though - time permitting at some point in the future maybe?
6 Dec 2016
1-11 Review of the Year 2016
53 years now and still going!
First the good news. Northrop Grumman continue to operate their two 1-11s with no date announced for any future retirement just yet. The aircraft themselves have both just reached their 50th birthday this year. The aircraft are very well known on this side of the Atlantic having flown with Dan Air for many years as G-AXCK and G-AXCP. They started life with American Airlines as N5041 which first flew on the 29th October 1966 and N5044 on the 6th December 1966. N5044 being the last 1-11 to be delivered to AA. Incredibly AA operated these airframes for less than three years before they were sold to Dan Air in March 1969! They both have a significant number of hours / landings on the airframes which makes it all the more remarkable that they are still in service with Northrop Grumman. It clearly makes you realise the value of the aircraft and versatility of the airframe in view of their current use. N162W currently has over 54,000 hours and 38,500 landings while N164W has more than 42,717 hours and 27,586 landings. It is hoped that Northrop Grumman will hold their own 1-11 50th anniversary celebration before Christmas so I'll keep you all updated as and when I hear anything further. I must add that a stunning set of images has just appeared on Flickr.com of N162W taken at Boeing Field / King County International Airport (KBFI) last month, Now for the rest of the 1-11 round up for 2016.
Whilst on the subject of "potential" good news, in Argentina, former Austral 1-11, LV-OAX, which has been in open storage for many years at Moron Airport, Beunos Aires, was towed away to a different location on the airfield to hopefully be rescued from what looked like an almost certain scrapping! The derelict airframe, which is in a very similar neglected state as VR-BEB at Bournemouth, was used to ferry troops to and from the Falkland Islands "Malvinas" during the 1982 Falklands War. A group of local aviation enthusiasts are in the process of assessing the airframe with a view to a "cosmetic" restoration in due course. The group have set up their own page Recuperacion BAC-111 OAX MORON on Facebook where you can follow their progress.
Now on to the "mixed" news! Further to my regular report regarding the former QinetiQ / ETPS 1-11 ZE432, the preserved forward section has now been opened to the public. The restoration looks very good from what I've seen so far but is still a work in progress with a few gaps still to fill in the cockpit and a short introductory movie to make which will run on a loop. In due course there will be an official opening but as I'm not in direct contact with the organiser of this event I can't comment any further at this stage. It is hoped that a number of former 206(R) Heavy Aircraft Test Squadron (HATS) air and ground crew based at Boscombe Down will attend along with former BAC staff from the Hurn Factory.
The situation regarding N999BW is still very unclear indeed. Tristar Experience have their own website and also run a page on Facebook which is regularly updated. They will shortly be flying their TriStar from Tucson AZ to Kansas City International before repainting it into its former TWA livery. Once completed I believe it will then carry out one more ferry flight to Kansas City Charles B Wheeler Downtown Airport, home to TWA for many years. There, it will join the MD83. Sadly, with all this going on, there has been no mention whatsoever about N999BW which has now been in open storage for some considerable time. It's such a beautiful executive aircraft but unfortunately is totally unrelated to TWA which I fear will contribute to its demise in due course. I honestly don't think it will ever fly again!
And finally for the "bad news" of 2016 as far as I'm concerned personally! I have been on a "one man" crusade for nearly seven years to ensure that the last ever BAC 1-11 to fly in the United Kingdom, and anywhere else in the world, other than the two still operational with Northrop Grumman, ZH763 was preserved as a fully serviceable airframe for the nation. It was originally hoped to fly it into Coventry where it would have joined Mike Collett's extensive collection of historic aircraft. However, in view of events which led to the collection relocating to Cornwall, it was eventually gifted to "The Classic Air Force" at their new base at Newquay / RAF St Mawgan. To explain the logic as to why it went there was simple at the time in so much as they offered it covered accommodation in the former Nimrod hangar 404. It arrived on the 26th April 2013. Unfortunately its arrival was overshadowed by another British Classic, VC10 ZA148. Although the engines were removed from the VC10, there has always been a great deal of love for the aircraft, even down in the remote parts such as Cornwall, however the same could not be said for the 1-11. I've spent the past three and a half years fighting extremely hard to ensure that the 1-11s legacy would live on but I have reluctantly been forced into giving up due to an on-going lack of support. To briefly go into detail, our small team of "experts" have been visiting the site for the past three years where we ran the APU, checked the aircraft systems over before running the Rolls Royce Spey engines. We even managed to taxi the aircraft last year! However a great deal of upheaval has taken place with The Classic Air Force who left the site and took their flyable aircraft back to Coventry during 2015 which left the "local" team with a major headache. With ten or so grounded aircraft still on site they decided to have a go and create their own museum. Called the Cornwall Aviation Heritage Centre (CAHC) they worked their socks off to get the venture off the ground and finally officially opened their doors late last year. Our small team visited the new site in May and carried out our usual checks on ZH763 before running the number 2 engine for what now looks like being the very last time! The insurance required to carry on doing so was about to run out. I therefore attempted to raise some interest both locally and nationally to find a solution but sadly to no avail. After exhausting all channels by November I reluctantly informed the CAHC that it was "game over" and we would offer no further support. However, I am reliably informed by one of their own directors that everything is currently in order and that their plan to keep the aircraft serviceable will take place in due course and if they required our services further they would let us know! To be totally honest, I've not seen a single shred of evidence that suggests that they will manage the 1-11 on their own! I think you've probably guessed by now that I feel that his statement was one of pure fantasy - well my view at least!
In Romania the bid to restore the first ROMBAC 1-11 YR-BRA has already hit the buffers with no update available right now. As for the attempt to keep YR-BRI in a ground running condition, once again, I've heard nothing further. The team attempting this very ambitious plan do have a page at Facebook which will hopefully be updated in due course.
The former British Airways 1-11 G-AVMN is in good shape at the Panzer Museum East. My understanding of why it is there is, I believe, due to the fact that these aircraft once flew backwards and forwards along the "West Berlin Air Corridor" through East Germany during the late 1960s / early 1970s. They also have their own Facebook page.
There is no change regarding other 1-11s in preservation however at Brooklands Museum many changes have taken place this summer which has resulted in G-ASYD being moved to a new position. There is a lovely video showing the aircraft move back in August. It was a superb video with much aerial footage taken by the "Brooklands" drone! If you haven't yet seen it, I would thoroughly recommend it.
In Nigeria I'm led to believe that "all" of the remaining stored 1-11s have now been broken up and disposed of, even the 19 aircraft at Benin City. Any further information about this would be most welcome.
Once again, and it comes around so quickly each year, I'd like to wish all my website readers a very happy Christmas and New Year. Thank you for your continued support and comments over the 15 years that I've been running what I hope is a very useful source of BAC 1-11 data.
12 Nov 2016
Great news indeed is that ZE432 is now open to the public ahead of an official opening to be announced very soon. It's looking very good and is well worth a visit to the museum to see all the hard work that has taken place as well as viewing all the other excellent exhibits
1 Jul 2016
As the second half of 2016 is now upon us, it's time for an update regarding the current situation regarding the various 1-11 preservation projects that are on-going and in some cases simply stalled pending further updates by those involved. Firstly there is no good news to report regarding TriStar Experience's BAC 1-11 N999BW. This once immaculate airframe is now residing in the storage area at Kansas City Intl Airport pending future funding to bring it back into use, which to be honest, seems increasingly unlikely, especially when you consider the funding required to bring the MD83 N948TW - "Wings of Pride" back to Kansas Downtown and now the plan to fly the the former Flying Hospital TriStar N910TE from Tucson to Kansas City. The plan to repaint former ROMBAC 1-11 YR-BRA back into its original TAROM livery appears to have hit the buffers already due, I believe, to a recent change of management at the airline. The two former Romavia 1-11s are still gathering dust at Bucharest Otopeni. I'm 99.9% certain that they'll never fly again! As for the Newquay 1-11, former QinetiQ example ZH763, its systems have been checked again with the APU and No 1 engine run in May. No 2 still has a starter problem with no fix in sight. Back at my "home" Airport Bournemouth, the forward section of ZE432 is still being worked on albeit at a very slow pace indeed. Having been on the site at the Bournemouth Aviation Museum for well over two years now, an opening date to the public is still awaited. It would however help if the museum actually acknowledged on their website the fact that the 1-11 is one of their exhibits and updated everyone of its progress. Their website / Facebook says very little about the project much to my dismay!
9 Feb 2016
N999BW Preservation bid in peril! It has sadly come to light that things are not all they appear to be at Kansas City with regards to the bid to re-instate N999BW to flying status! It was always going to be a long shot in my view to "make it happen" however despite many of my previous reports it finally appears that the bid by TriStar History & Preservation has come to nothing for a number of reasons. Unfortunately the airframe has not been stored in a hangar as previously thought and has in fact been on a storage ramp for the best part of a year and a half where it's condition is now deteriorating fast. It goes without saying that hangarage is costly and the 1-11 was taking up useful space. I have to say that I'm extremely dissappointed by reports recently received about the political situation with the various preservation organisations at Kansas City Downtown. None of this has helped the situation. It's impossible to speculate further as to what the final outcome will be but it's fair to say that the aircraft won't be flying anywhere any time soon if ever again! The biggest hurdle with all of these things is money. Despite fund raising the team have come nowhere near to raising enough to get the 1-11 airworthy again. The "Wings of Pride" MD83 project used up a huge chunk of the available funds leaving the 1-11 and TriStar at Victorville in peril. To my knowledge the TriStar won't be leaving desert storage at Victorville. The MD83 hasn't flown again since it's arrival at Downtown either! The team always suggested that the "BAC community" needed to support the 1-11 project if they were to ever stand any chance of a successful outcome. What form they expected that to take is still not fully understood as it certainly wasn't going to come from the UK which is thousands of miles away from Kansas. Northrop Grumman, being the world's last remaining 1-11 operator, were considered to be a key player in the project.
In general the overall situation regarding 1-11 preservation projects in recent years has been mixed to say the very least! Former QinetiQ 1-11 ZH763 unfortunately ended up in the wrong place and would have done much better had it been flown into either Coventry or Bruntingthorpe but what's done is done and it won't be leaving Newquay! Former ETPS 1-11 ZE432 is still not open to the public nearly two years since its arrival at the Bournemouth Aviation Museum. In Romania it looks like ROMBAC 1-11 YR-BRA will get a new paint job, being resprayed back into its original Tarom livery sometime this summer. As for the two Romavia 1-11s, what I've heard so far about their plans sounds very ambitious to say the very least! To make matters even more complicated the bankrupt company is still going through the process of having its remaining assets sold off. This includes the two 1-11s, so any preservation bid is subject to the outcome of this long and slow process. If there are three things above all else that have hindered all the above projects to some extent then it's a lack of funding, a lack of communication, and the worst one of all - internal politics. Like it or not, this is a major headache for so many museums that are self funded these days compared to those funded by the state such as those at RAF Hendon / Cosford! Preserving such large aircraft isn't easy! One other issue that I see being overlooked time and time again is that quite simply many organisations don't really understand what they are taking on and come unstuck when they finally realise the size of the task ahead! "it seemed like a great idea at the time etc"! Despite this there is a huge amount of "junk" that will never be restored in some museums around this country and beyond!
20 Jan 2016
Just a quick reminder to everyone who takes the time to view my news page that there are several BAC 1-11 Groups at Facebook which are well worth a look if you like viewing historic images and getting involved in some interesting chat about the aircraft. These are:-
bac1-11jet - Home of the BAC 1-11 on the Web Facebook Group - my own group linked to my website specifically aimed at those who were directly linked with and who worked on the BAC 1-11. This is a closed group with membership decided by me.
"I have created this page as a simple extension to my BAC 1-11 website to allow easy access to discuss all things 1-11. Nearly 40 years of my life has been spent worshipping this fabulous historic British airliner therefore it's about time I had a direct Facebook link from my website as a very useful means of communication with "fellow worshippers"! I am opening membership to those with direct links to the BAC 1-11 only, such as former pilots, engineers and production line workers etc and those photographers known to me. It will remain a "closed" group only".
BAC 1-11 - Past & Present - A more general group for all aviation enthusiasts with a passion for the BAC 1-11. This is a public / open group for all with membership managed by their admin team. It has over 2000 members!
"This group is for all those who love the BAC 1-11. We would like to hear from people who have worked or just flown on this great little aircraft. Please feel free to share your stories and photo's of this iconic British aircraft."
BAC ONE ELEVEN - A group created by those that were linked with the aircraft in Argentina and South America where the 1-11 was used widely over the years. This is a public / open group for all.
"Only for fans that knows what is this aircraft. The best forever and ever. The BAC One Eleven keep flying through the virtual skies today!!! BAC means Best Air Craft, of course".
YR-BRA, primul ROMBAC 1-11 construit in Romania - Created by Rares Mandu who is part of the team that hopes to restore the first ROMBAC 1-11 cn 401 YR-BRA to static display condition in its original Tarom livery and also to attempt to restore the very last 1-11 ever built, ROMBAC cn 409 YR-BRI to flying condition.
17 Dec 2015
1-11 Review of the Year 2015
Not surprisingly there has been very little change since my review of 2014! Highlight of the year without a doubt was the 13th May when our small team visited Newquay and attempted a fix on the number one engine of ZH763. Although unsuccessful we did manage to start number two and taxy the aircraft "airside" outside the Classic Air Force compound. Huge thanks must go to all those that made this possible. The Newquay team have gone through much pain over the past 12 months as the Classic Air Force "pulled out"! Not to be undone, the team made do with what they had left and relocated to a new site on the airfield where they relaunched as the Cornwall Aviation Heritage Centre this autumn. To date all appears to be going well. The 1-11 is unfortunately permanently parked outside now which is a great shame however we will visit again in 2016 to see if it's possible to carry out another engine start and taxy run. Things are still progressing at the Bournemouth Aviation Museum with regards to the forward fuselage of ZE432. It is hoped that the exhibit will finally be complete and ready for opening next spring. Elsewhere in preservation, G-AVMN is still in one piece at the Panzer Museum East in Denmark although it looks like its starboard wing is missing. I await further news on this interesting story. The future of N789CF is still unclear - see news story on the 6th July. G-AVMU looks superb in its new BA "Landor" paint job, carried out by the Duxford Aviation Society team last January. Now that this aircraft has been completed I hope that G-AVMO follows soon as it's in "desperate need" of a repaint at East Fortune's Museum of Flight. There has been a very interesting development in Romania this year with news that a small team has been put together to hopefully preserve the very first ROMBAC 1-11 YR-BRA (cn 401). It has been in long term storage at Bucharest Otopeni in the livery of Aero Asia and currently carries the registration AP-BFC. It is hoped to return it to its former glory of a "gleaming new factory fresh" aircraft in its original Tarom livery worn during its rollout at the Bucharest Baneasa Romaero production line on the 27th August 1982. It will then be displayed on a roundabout approaching the Otopeni Airport terminal building sometime in 2016. The team are also looking very closely at the possibility of returning the "last" ROMBAC 1-11, YR-BRI (cn 409) to an operational status. This airframe has been in storage at Otopeni for many years but is still in excellent condition. Nothing has changed with regards to the status of N999BW at Kansas City. It is still hangared however funding remains the major issue in the bid to return it to an airworthy status. I daren't place a bet as to whether or not it flies again! And finally to the two remaining "in service" 1-11s, N162W and N164W. Both are now in the "new" Northrop Grumman corporate colours. It is anyone's guess as to how much longer these two airframes will soldier on for, but there is currently no suggestion that they will be withdrawn any time soon. The fact that they have both been resprayed bodes very well for a few more years service so let's just hope that this remains to be the case. The 1-11 is still "hanging on in there" so let's once again "toast" an aircraft that has succeeded in being one of the "great British success stories of the past 52 years and counting"!
I wish everyone associated with the 1-11 and all those that have followed my great enthusiasm for this very special aircraft a very Happy Christmas and New year. Thank you very much, as always, for your support and for supplying many stories and images from a magical era of aviation in this country.
9 Oct 2015
I've been following news that a couple of the ROMBAC 1-11s might be saved in Romania and have been asked to pass on further updates about the project and a request that you sign the petition, previously mentioned, supporting the project. I'd appreciate support from the "Home of the BAC 1-11"! Rares is only 14 years old but is very keen in aviation and particularly the ROMBAC 1-11. His Father flew for Romavia flying YR-BRE, BRH and BRI as well as several 400 series 1-11s. Any feedback and suggestions would be most welcome! YR-BRA needs the most work done to it to bring it up to display standard while YR-BRI is in pretty good shape.
Hello! My name is Rares Mandu and I am the Features Editor of Aeronews.ro, Romania's leading aviation website.
I would like to share with you some interesting news from Romania. As you might already know, Romania has produced under licence a version of the passenger aircraft BAC 1-11, named ROMBAC 1-11. So, in 1982 the first Romanian produced passenger aircraft ROMBAC 1-11, registered YR-BRA (ordered by the state for the Romanian national carrier TAROM), made its maiden flight. Now, after a long career on 3 continents, the same aircraft, tail number YR-BRA (last registered as AP-BFC) is used as a practice frame for firefighting exercises at the "Henri Coanda" Airport in Bucharest (OTP/LROP). In February 2015, our aviation website launched a petition with the name: "Un avion care a scris istorie: YR-BRA. Haideti sa-i gasim un "camin" mai bun!" (A plane that made history: YR-BRA. Let's find a better "house" for it). One month later after the launching the petition, over 1500 people have signed it. After a press campaign, aired on National Television (TVR), the CEO of TAROM and the Director of the "Henri Coanda" Airport decided to support our actions by helping us to re-paint the aircraft in the original "TAROM" livery of the 1980s and to place it on a museum-type display in the round-about in front of the "Henri Coanda" Airport. At this moment the aircraft is in pretty bad condition (cockpit and interior only partly furnished) and is painted in the Aero Asia livery. During the spring of 2016, the aircraft will re-painted and replaced on display in front of the Airport, with the purpose of converting it into a small museum.
We need your help! You can help us by signing our petition.
PETITION LINK: http://www.petitieonline.com/rombac1-11
The website is in Romanian language, but I will translate just what you have to complete for signing our petition.
Prenume - First name
Nume - Name
Oraș - City
Țară - Country
Adresă email - email adress
Dorești sa afișezi semnătura ta publicului larg? - Do you want to make public your signature?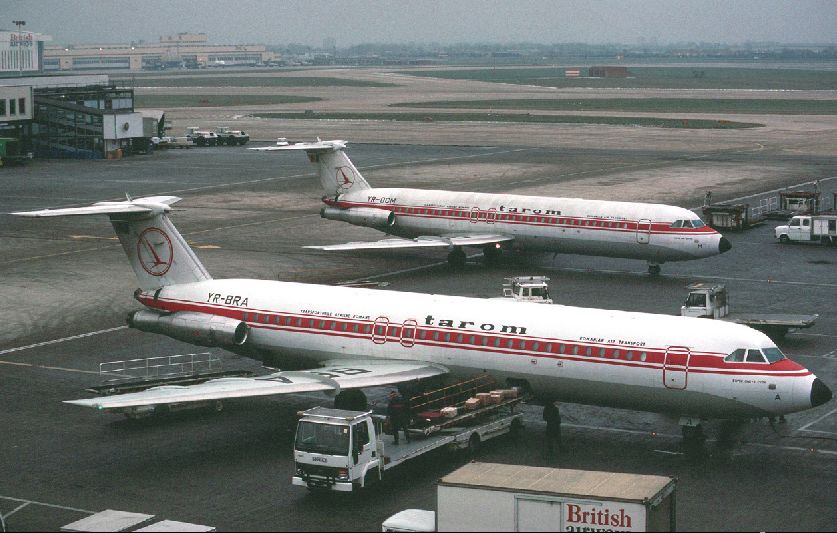 YR-BRA Heathrow March 1986 by Frank Duarte Jnr
6 Jul 2015
Just a general update regarding the remaining 1-11 fleet. Two airframes remain active with Northrop Grumman. Both have now been repainted which suggests that they will remain in service for some time to come. N999BW remains hangared at Kansas City Intl however doubts are increasing as to whether or not this aircraft will ever fly again. Most 1-11s in my stored list still exist including the 19 former Okada Air aircraft at Benin City despite the Nigerian Gov stating that derelict aircraft should be scrapped. Any update on this would be most welcome. N789CF is not wanted by the American Flight Museum and is therefore available to any takers!!! It is still a functional airframe with serviceable APU etc but will never fly again therefore my guess is that it will be scrapped very soon. In Romania momentum is gathering pace with regards to preserving the first ROMBAC 1-11 YR-BRA with help to restore it hopefully coming from Tarom. It needs a great deal of work inside, but if it's only going on external display on a roundabout approaching Otopeni's passenger terminal then a good lick of paint is probably all it needs. As for the four other 1-11s in store in Bucharest, 5N-SEO (YR-BCR), YR-BRE, YR BRI and TZ-BSC nothing has really changed however it looks like TZ-BSC might be for the chop very soon at Baneasa. Back in the UK I still await news of the opening of "The Cornwall Aviation Heritage Centre" to see if former QinetiQ 1-11 ZH763 has a future. We ran an engine and taxied the aircraft in May so fingers crossed that things work out at Newquay. The forward section of ZE432 is coming along nicely at the Bournemouth Aviation Museum although you don't want to look too closely at the lower starboard exterior as the forward section unfortunately "rolled" at Boscombe Down before delivery. Thank goodness that this side is hidden against the fence! Any good panel beaters out there? In Oman, the former RAFO 1-11s still exist and might eventually become a useful source of spares in the unlikely event of being able to get any bits back to the UK. If only they'd left one behind in the UK for preservation in the first place! As always any news, sightings and photos etc are most welcome. Please share your stories as I am always glad of them, especially when discussing what were the "good old days"! For example it is hoped that I can put together a special feature on my website about the Tay 1-11 project with Dee Howard and the link with the ROMBAC project shortly. This being another of those many "what ifs / if only"!
10 Jun 2015
I've just received the brilliant news that Northrop Grumman have completed the re-spray of N162W. It now appears in the same corporate livery as sistership N164W. I've been told that the two 1-11s will definitely carry on flying for the next few years and who knows, they might even make it to the BAC 1-11 60th! Eight years and counting down! Wishful thinking but you never know! N162W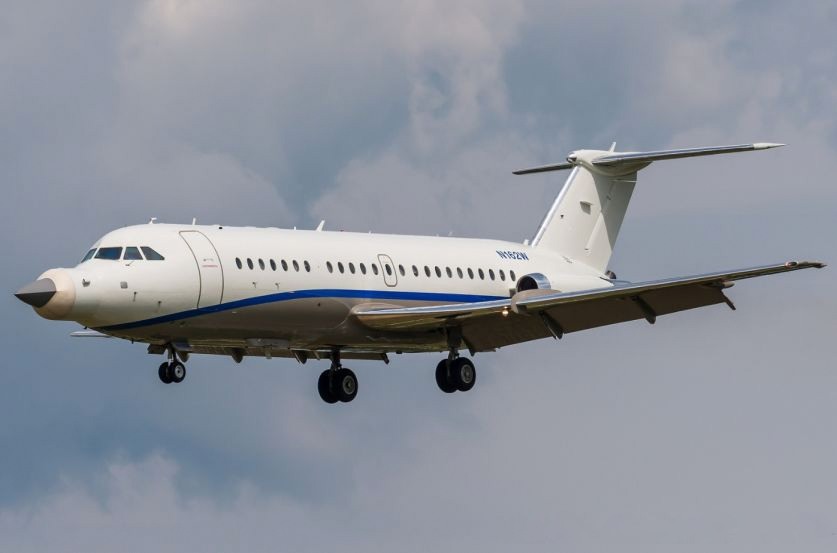 N162W about to land at Baltimore Washington on the 28th May 2015 by Sunil Gupta - Lockon Aviation Photography
25 May 2015
A bid is currently being made in Romania to preserve the first ROMBAC 1-11 YR-BRA. It has been used as a "rescue training airframe" at Bucharest Otopeni airport for a number of years along with the sole series 475 Freighter aircraft built for Tarom YR-BCR. Both aircraft are currently registered and are in the livery of their last operators. YR-BRA as AP-BFC with Aero Asia and YR-BCR as 5N-SEO with Chrome Air. This follows a petition organised by aeronews.ro. The aim is to transport the aircraft to a roundabout on the approach road to the airport where it will be displayed with the move taking place sometime in 2016.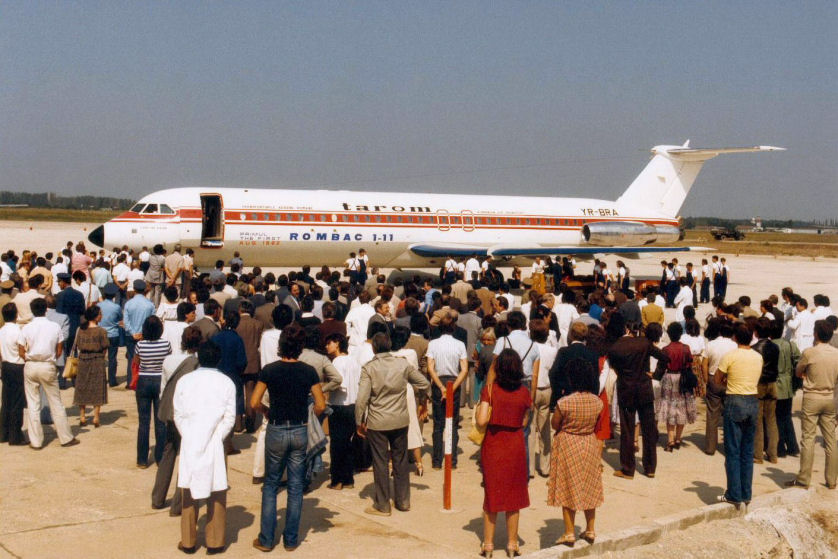 YR-BRA during its rollout ceremony at the ROMBAC facility, Bucharest Baneasa Airport on the 27th August 1982 - BAe Systems
14 May 2015
A "FIRST" was carried out at the former Classic Air Force Hangar, Newquay Airport yesterday. An unsuccessful attempt was made to repair the number 1 engine, however number 2 engine started normally and all systems were thoroughly checked before ZH763 taxyed under her own steam for the first time since arriving at Newquay in April 2013. This unique event has given all the volunteers a very welcome and timely boost as they continue to put together a workable solution to enable them to create a new visitor attraction now that the Classic Air Force have returned to Coventry. We will continue to offer them support with our own attempt to keep ZH763 serviceable for the foreseeable future.
BAC 1-11 ZH763 Engine Start Newquay May 2015
BAC 1-11 Taxy and Brake Check Newquay May 2015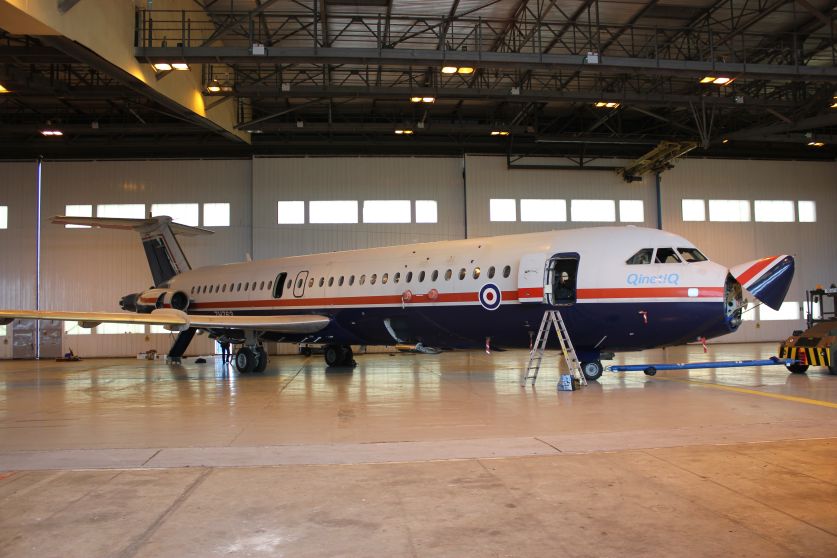 ZH763 receiving some urgent maintenance in Hangar 404 at Newquay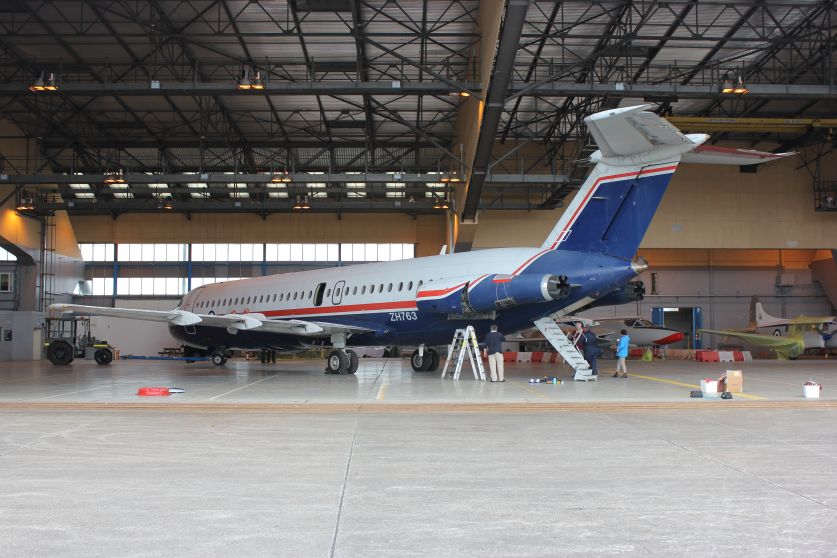 Another view shows the scale of the former Nimrod hangar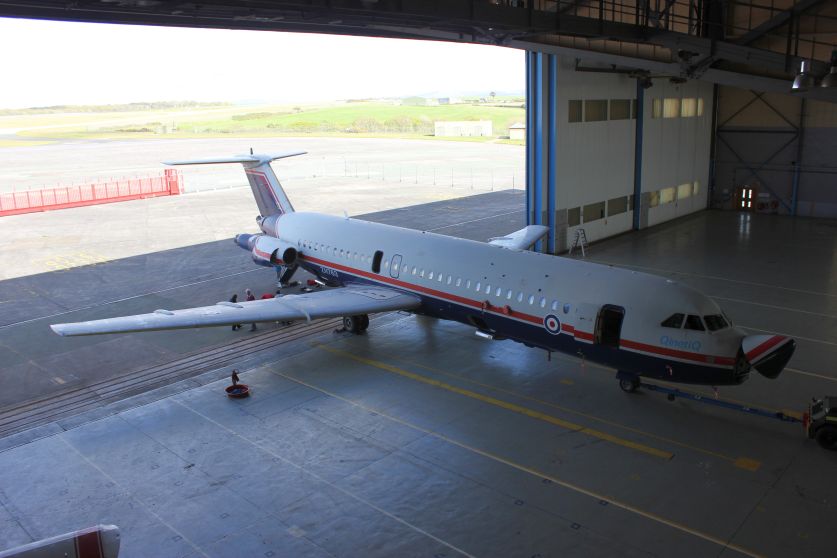 And from above!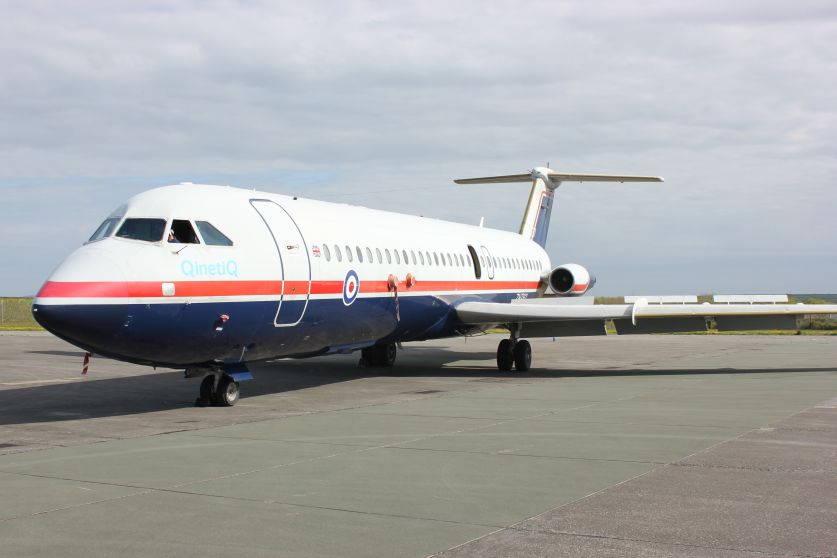 Checking the flaps and lift dumpers/speed brakes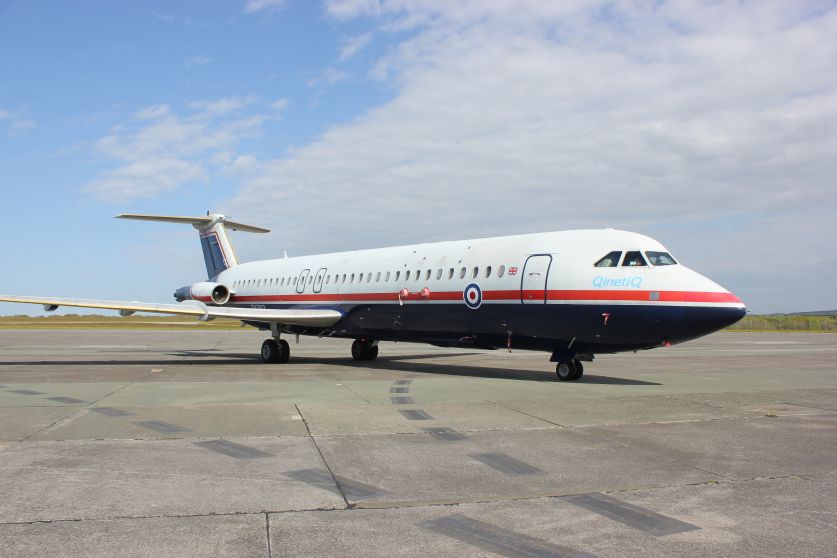 Moving under her own Rolls Royce Spey "steam"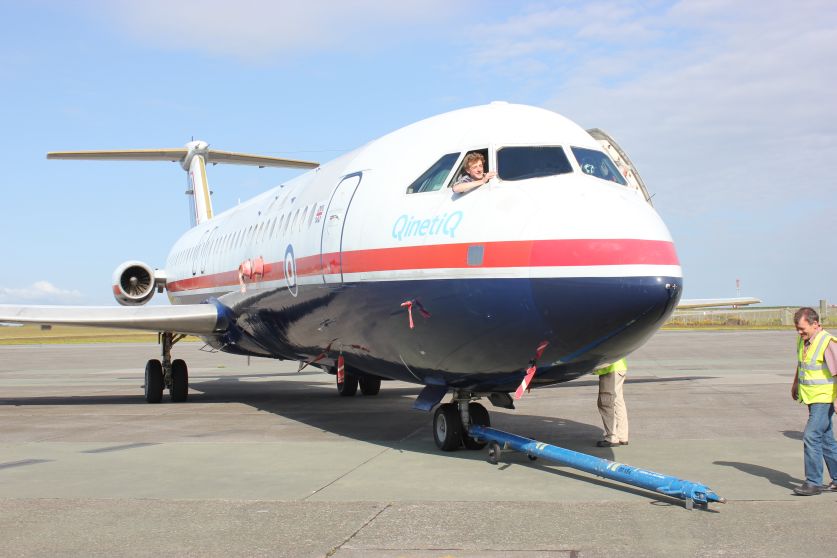 !
And finally - a very satisfied "Co-pilot"!
10 May 2015
I've just received a news update regarding the former AB Airlines BAC 1-11 G-AVMN. The airframe was transported to Slagelse in Denmark after it had been returned to European Aviation from the Bournemouth Aviation Museum in 2004. It was rebuilt and used as a bar and restaurant at the Bredlunds Bryghus Micro Brewery where it remained until 2010 after the business had closed. It was then transferred to The Panzer Museum East, a short distance away from Slagelse in Fladholte where it is used as a cinema. It has been repainted into a dark grey livery and looks to be in good condition.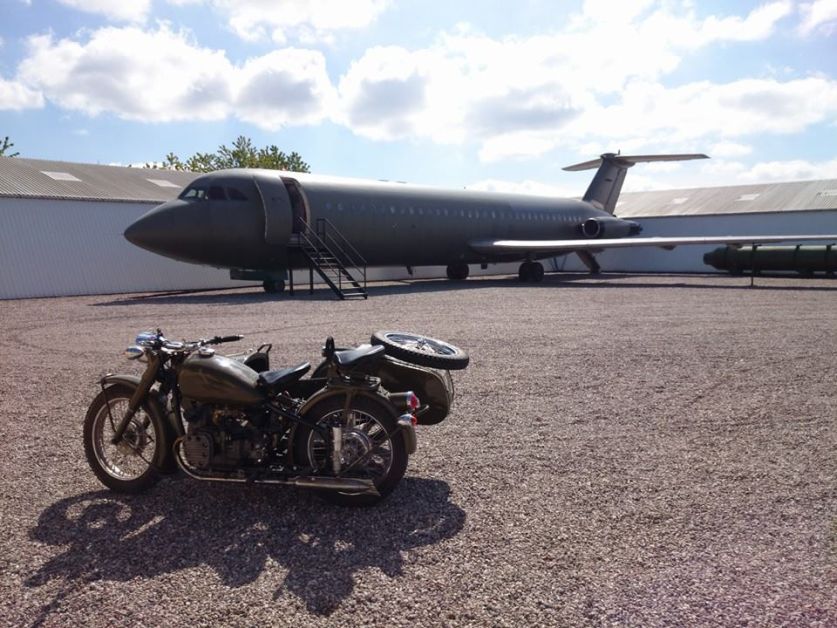 17 Apr 2015
Former QinetiQ / ETPS 1-11 ZE432 is looking very good indeed now that it is sitting upright at the Bournemouth Aviation Museum. The front end will require a trestle similar to the rear one before work begins on the interior restoration. There is much work to do with the cockpit as it was completely gutted before the airframe departed from Boscombe Down. Some "panel beating" is also required on the starboard side where it sustained some damage before delivery. The forward door and integral stairs are in excellent condition. The back of the cabin section is currently being enclosed. A "conservatory door" is being installed to allow access at both ends of the aircraft. The cabin will eventually be fitted with displays similar to those installed in the "Palmair" 737. This will include a widescreen tv which will show a short film introducing the aircraft and project along with the ability to show other DVDs about the aircraft. An interactive display will allow access to all aspects of BAC 1-11 history as well as various display boards postioned throughout the cabin telling the story of ZE432. It should look superb once completed in several months time. I must just add a huge thank you to those who have been involved in this project and made it all happen.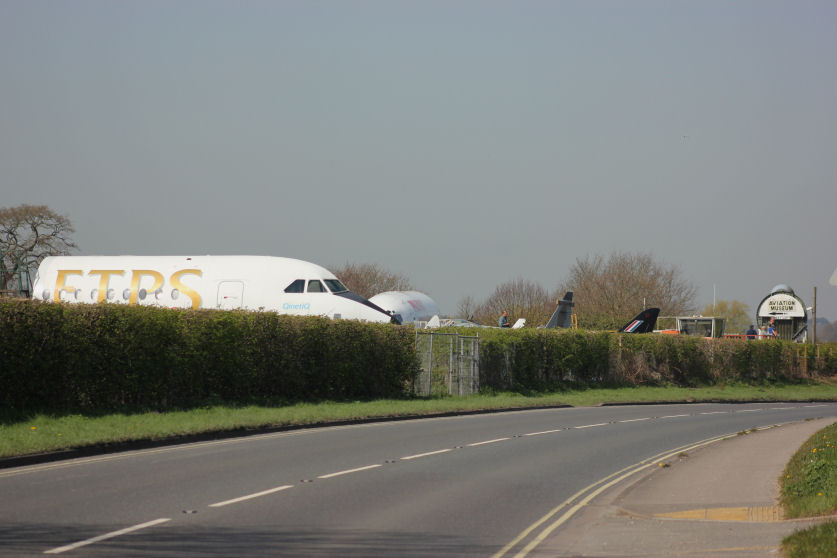 The first view you get of ZE432 as you approach the museum from Hurn Village.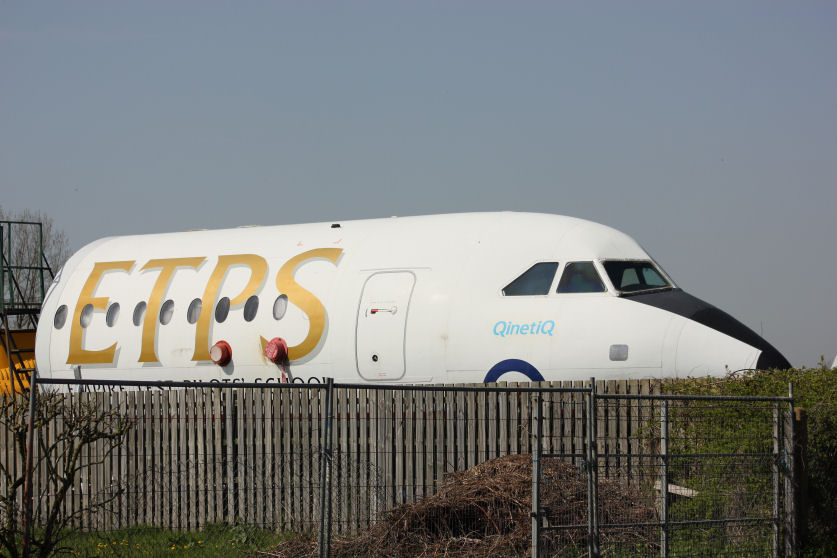 And get closer! It really looks imposing!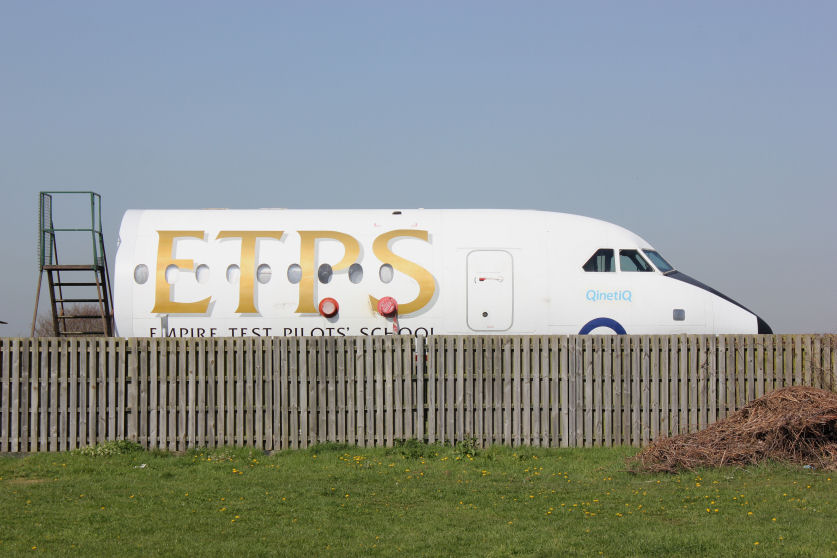 This is what you see from the field outside the museum looking west.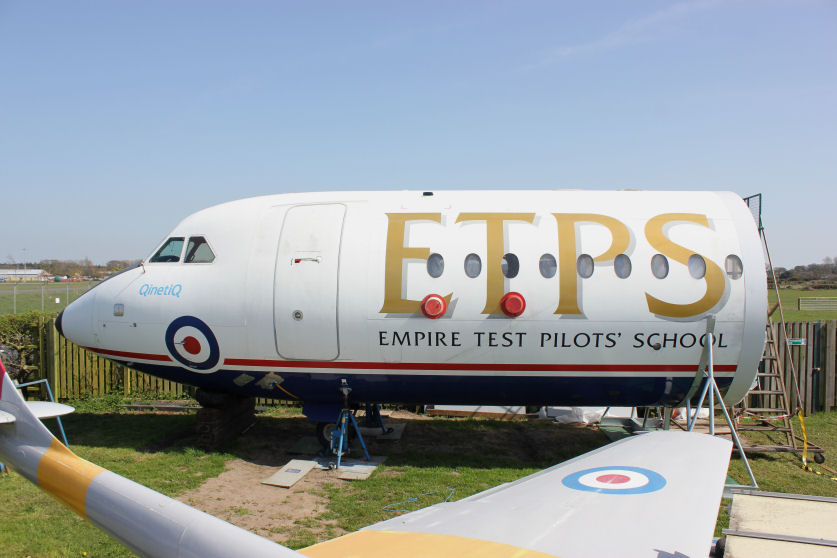 A shot taken from the Vampire cockpit.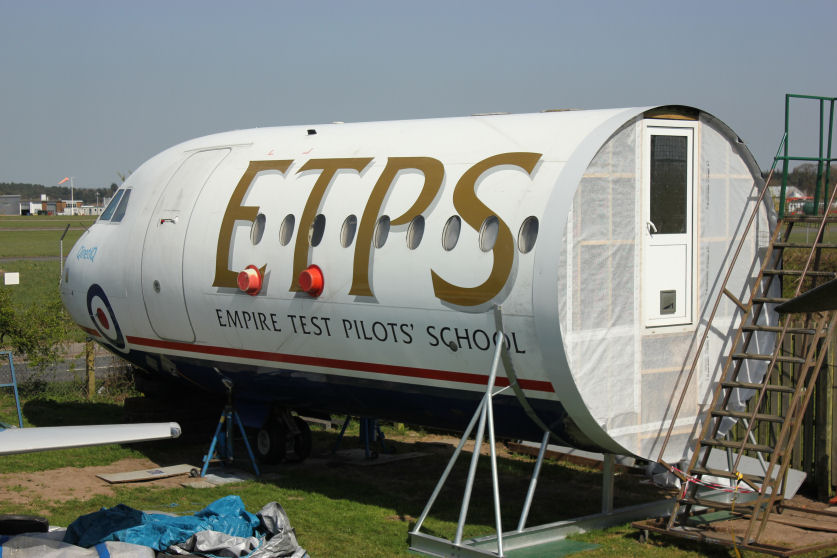 And finally one taken from the Wessex helicopter.
3 Apr 2015
Just a quick update regarding former QinetiQ 1-11s ZE432 and ZH763. ZE432 is now sitting upright on its trestle with the nose wheel extended. The front end needs bracing to support it but once that has been done the team at the Bournemouth Aviation Museum can then get on with the interior restoration and displays in readiness for a "grand" public opening. Currently there is no time scale for this but I would guess we are talking at least a further six months from now. Regarding the Classic Air Force at Newquay, they have decided to close their new base at Newquay which sadly comes as no surprise. What this does mean however is that the BAC 1-11, VC10 and five other aircraft (Canberra, Harrier, Hunter, Lightning, and Sea Devon) will be left in Newquay as the expense of transferring them back to Coventry is simply too much. The Newquay volunteers are making a valiant bid to salvage something from the ashes as we speak. If they pull it off it is their intention to call the new organisation the "Cornwall Aviation Park" and it would operate from one of the Hardened shelters (HAS) on the site. I have therefore offered my support and hope to put together a working team to send down to Newquay in the coming weeks to try and salvage something with the 1-11 which will be their only "live" exhibit. They would dearly love to keep running the APU and engines but the aircraft desperately needs some professional maintenance to enable this to happen. I would like to add that there will be no links with The Classic Air Force at all moving forward. I'll keep you posted.
14 Mar 2015
I have created a long overdue Facebook Group today as a direct link to my website "bac1-11jet - Home of the BAC 1-11 on the Web". I've set it up as a private group with membership restricted to those directly connected to the aircraft and especially to those who are known to me and "my 1-11 team"! Therefore if you have been connected with the 1-11 either as former aircrew, engineers, production workers etc then please visit my Facebook Group and apply for membership. There are a couple of other BAC 1-11 pages on Facebook which are also very useful sources of additional information. "BAC 1-11 - Past & Present" and "BAC ONE-ELEVEN". bac1-11jet - Home of the BAC 1-11 on the Web Facebook Group
20 Jan 2015
Former British Airways BAC 1-11 G-AVMU has finally been repainted at Duxford. Having been in primer since summer 2012 it was towed into the conservation area at the front of the AirSpace hangar on the 6th January. It took 13 days to complete the job. It was towed back outside to take it's place on the flight line today. "Mike Uniform" now looks as good as new!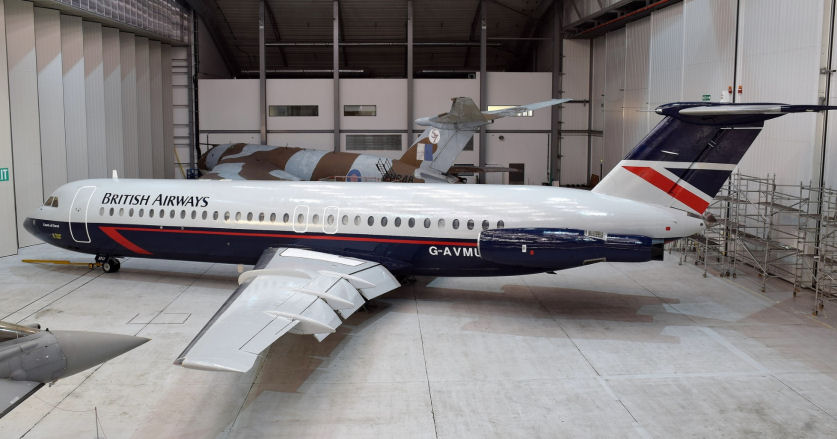 Looking immaculate in the conservation area, G-AVMU is ready for rollout - By David Whitworth
23 Dec 2014
1-11 Review of the Year 2014
One year on from the 50th Anniversary of the BAC 1-11 and the aircraft is just "hanging on" in service! Two aircraft remain current, N162W and N164W with Northrop Grumman based at Baltimore Washington Airport. I'm repeatedly told that these two airframes will continue flying for several more years. A third aircraft N999BW is currently in storage and maintained in a hangar at Kansas City International Airport pending its future. Personally I've had a very interesting albeit mixed year. In April I visited The Classic Air Force at Newquay Airport where two engine runs were carried out on the recently preserved former QinetiQ 1-11 ZH763. It was a very successful day. In June I visited TriStar History & Preservation Inc and actually taxyed N999BW around Kansas City International Airport which was quite an experience! Let's just say it's the closest I'm ever going to come to actually getting airborne in a 1-11 as I've never had the pleasure of flying one myself. Their 1-11 hasn't flown since October 2013 and doesn't look like flying again any time soon unfortunately which suggests to me that there must be some doubt as to whether or not it will actually leave the ground again! It currently requires an engine change therefore I am monitoring events very closely. In October another visit was made to Newquay Airport to run the engines again on ZH763. This time the visit didn't go so smoothly as we had several problems to resolve before we finally managed to start just one engine. I had previously stated that this aircraft was going to the best possible home for preservation with hangarage available to ensure it's long term future as a fully serviceable exhibit. Sadly this couldn't have been further from the truth as it has been rather neglected and left outside to the elements for most of the time since its arrival. The "Cornish" wind and rain and very salty sea air have clearly taken their toll on the airframe. Bearing in mind the engineering team at Boscombe Down gave the aircraft a huge amount of care and attention prior to delivery to Newquay this scenario is something that I'm extremely frustrated about! Therefore, after only 20 months in the care of The Classic Air Force it has been decided to abandon our efforts to keep the aircraft serviceable and in a ground running and taxyable condition. QinetiQ sistership, ETPS 1-11 ZE432, should have been on display at the Bournemouth Aviation Museum by now. It took much hard work to finally get the airframe to Bournemouth but it eventually arrived in April having been lying on its side neglected at Boscombe down for several months. It arrived "on its side" and is still "on its side" as I write this review of 2014. In other words no work has been carried out on the airframe at all and there is currently no time scale in place for preservation work to commence! Therefore it's anyone's guess as to when it might finally open to the public. It certainly won't be before summer 2015! What a way to treat "Hurn's finest"! The two ex British Airways 1-11s in preservation, G-AVMO and G-AVMU are still in desperate need of a repaint. This hasn't been done since they were last in service over 20 years ago! The Duxford aircraft was prepared for a full repaint during the summer of 2012 but is still in green primer which suggests that all is not well with the Duxford Aviation Society! The stored fleet is slowly reducing as a small number of scrappings have taken place since my last review. One airframe has escaped this fate. N789CF was towed to the American Flight Museum - see news item below. 51 years and still going isn't bad for a British built airliner, however I've lost count of the number of times I've thought "what if"! As I always say, it was great while it lasted. I wish you all a Merry Christmas and Happy New year.
14 Nov 2014
I have just received a very interesting email informing me that former Kori Air 1-11 N789CF cn 119 based at Topeka Forbes Field has been saved for preservation! It was towed across the airfield to the American Flight Museum, Inc which is a not-for-profit "flying" air museum that owns a fully restored Douglas AC-47 Gunship. It arrived in September and was on show at the "Classics at Forbes Field" car event that took place on Saturday 11th October. This aircraft first flew from Hurn on the 18th October 1967 and was delivered to VASP as PP-SRT. It was converted to an executive airframe in 1974 and delivered to Carver Aero as N18814 before being sold to WA Moncrief and re-registered as N114M. It then went to Montex Drilling Inc and eventually became N114MX. It received its present registration in 1989 when it was sold to Southwest Jet Inc. A further change of ownership took place in 2000 when it was bought by Grand Aviation before it was finally sold to Kori Air Inc and based at Topeka. It hasn't flown for many years but is a fully intact aircraft which is still "electrically live", although I'd be doubtful as to whether or not the APU or engines will ever run again. I await further updates to this breaking news!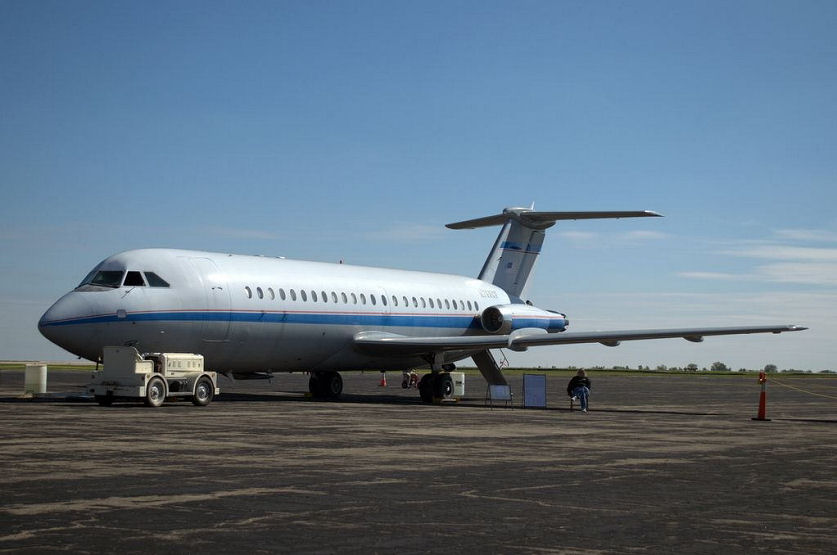 13 Nov 2014
I've just placed a link to a presentation carried out by Vice president and Co-Founder Mike Saxton on behalf of TriStar History & Preservation Inc on the opening page of my website. It was carried out in conjuction with the Kauffman Foundation's One Million Cups (1MC) which is a weekly educational and networking program founded by Kauffman Labs for Enterprise Creation that strives to engage entrepreneurs in their communities in and around Kansas City. Each week the 1MC program offers two local entrepreneurs an opportunity to present their startups to a diverse audience of mentors, advisors, and entrepeneurs. Shortly to be renamed TriStar Experience, Mike gives a superb insight into this very impressive project.
Mike's 1MC presentation was the second of the night therefore the Launch Presentation Video begins at 29 minutes.
5 Nov 2014
I've just updated my stored fleet page having spent some considerable time on Google Earth looking at the many airports around the world where the aircraft are stored. It's an amazing tool and allows you to select an exact location on an airfield with a number of timelines looking back over many years in the same spot! It is therefore apparent that some of the stored 1-11s have either been broken up or moved to another position on the airfield. It's been an interesting challenge therefore trying to establish whether or not an aircraft has actually been scrapped. From my research it appears that at least another eight airframes have now been scrapped. The Nigerian Government had issued a directive to destroy the many stored aircraft around the country and that seems to have been carried out to some extent. However the huge Okada Air fleet still appear to be intact at Benin City albeit almost hidden by the undergrowth! My current estimate of the number or surviving airframes is 60 to 65.
15 Oct 2014
TriStar History and Preservation Inc "officially" Launched their program last night. With an audience of over 60 people present, many of whom were leaders in various communities important to the "STEM" program, Mike Saxton, Vice President and Co-Founder, stated that it all went very well. The team are in the process of rebranding the organisation as "TriStar Experience" so the website address will be changing shortly to:- www.tristarexperience.org As for the 1-11, N999BW, it hasn't flown for over a year but is being cared for by Jet Midwest at Kansas City International Airport. Most importantly it is "hangared"! Plans are being made for its first flight however one of the engines shortly needs to be changed. As for other news, their TriStar N91011, previously CS-TMR, is due to be delivered from desert storage in Victorville to Kansas in the not too distant future. The original TWA "Wings of Pride" MD83 N948TW has recently been delivered to Kansas and is currently being resprayed into its special "one off" Wings of Pride TWA livery. This organisation has come a long way in its short existence and looks like it'll run a truly unique operation once all its aircraft are in service. Please check out their website for further details. (See my previous news item below dated 28 Jan 2014)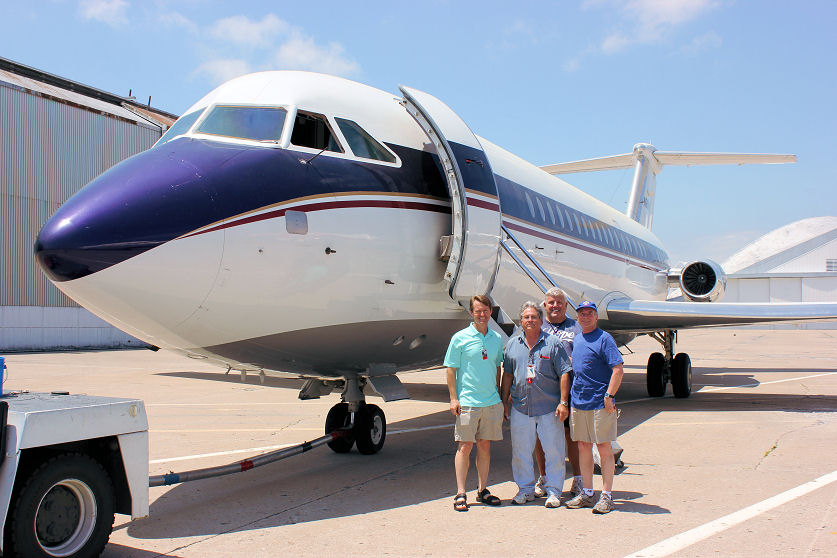 Mike Saxton and "the Team" pose in front of their "beautiful baby" BAC 1-11 N999BW at Kansas International Airport
13 Oct 2014
I made another visit with Sqn Leader Colin Froude, Nik Read and Richard Church to The Classic Air Force at Newquay, Cornwall yesterday to run the engines on former QinetiQ 1-11 ZH763. Unfortunately neither RR Spey engine would start in the morning. Lunch was spent consulting the 1-11 technical manual to find out if a solution could be found. Eventually after manually holding the start valve open, the number two engine finally ran. The number one engine is now unserviceable pending some further engineering work. It has to be said that since the aircraft's arrival in Newquay in April 2013, it has spent much of its time outside open to the elements. From the outset it was always considered crucial that to maintain the serviceability of the aircraft it would need to be hangared and engines turned over at least once every two months. This sadly hasn't been achievable to date therefore the airframe is deteriorating at an alarming rate. It remains to be seen whether or not it will be possible to carry out further engine runs again.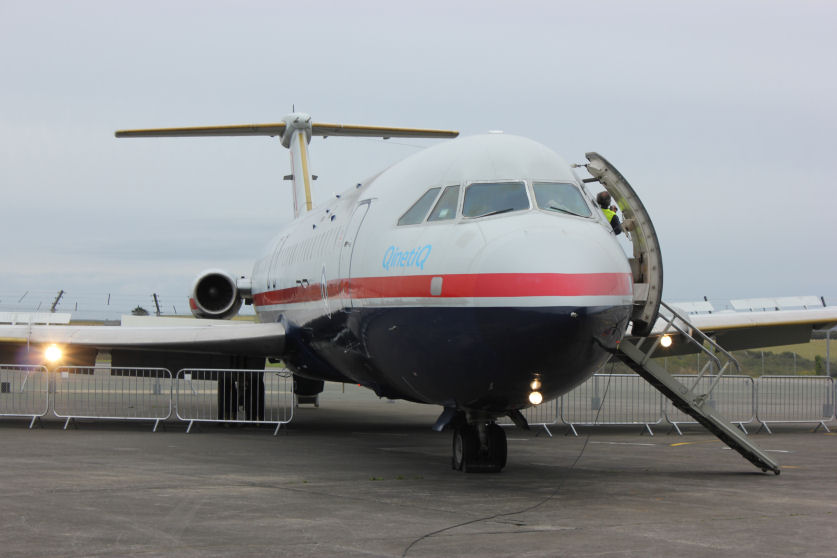 With engine two running ZH763 receives a full system check at Newquay
18 Aug 2014
Time for a general update regarding the latest 1-11 activity. The year to date has been rather mixed to say the least. Firstly N999BW has carried out a couple of taxy runs at Kansas City however it hasn't flown since last October. Doubts therefore remain as to whether it will leave the ground again although TriStar History and Preservation Inc are still moving things forward albeit rather slowly. The former QinetiQ 1-11 ZH763 has been parked outside at Newquay since March and carried out an engine run in April. However this is not enough to keep those Rolls Royce Speys serviceable. One more attempt will be made to try and secure the future of this airframe as a "fully serviceable exhibit" and another run hopefully carried out in the coming weeks. G-AVMU still remains in its "faded" primer at Duxford pending a full repaint. How much longer this will be the case I simply don't know although it is a great shame to see this once proud British Airways 1-11 looking like this. Its sistership at The Museum of Flight, East Fortune, G-AVMO was looking very tired and tatty indeed when I last saw some images of it. It is therefore also in desperate need of a full repaint. The 1-11 used by the fire service in Southend G-FIRE (5N-HHH) has finally gone to "1-11 heaven" having been scrapped in July. In Bournemouth ZE432 is still lying on its side at the Bournemouth Aviation Museum just as it looks in that image of it on the low loader in the previous news item.. Back in the USA Northrop Grumman Corp are still flying both 1-11s with N162W still due to be resprayed into the new corporate livery shortly. Big news in Romania is that former Tombouctou Aviation 1-11 TZ-BSC has been moved from its storage location and repositioned to a new site where it has become "an executive office" in amongst the Romaero hangars. It's lost part of its port wing however it has gained the most extraordinary / stunning livery!
1 May 2014
The forward fuselage of former QinetiQ / Empire Test Pilot School (ETPS) 1-11 ZE432 was tranferred by low loader from Boscombe Down to the Bournemouth Aviation Museum yesterday for preservation. It's very fitting that this aircraft should be preserved at Hurn as it was one of the last BAC 1-11s to visit the airport during the 1-11 45th Anniversary celebrations held there in August 2008. It's nearly seven years since the previous 1-11 at the museum, G-AZMF, was removed and scrapped due to the enforced relocation of the museum off the airport. The current plan is to restore the aircraft to its former glory with the nose gear down and a plinth made to support the back end to enable the fuselage to sit at the correct height. For further news of this on-going project please visit the Bournemouth Aviation Museum website.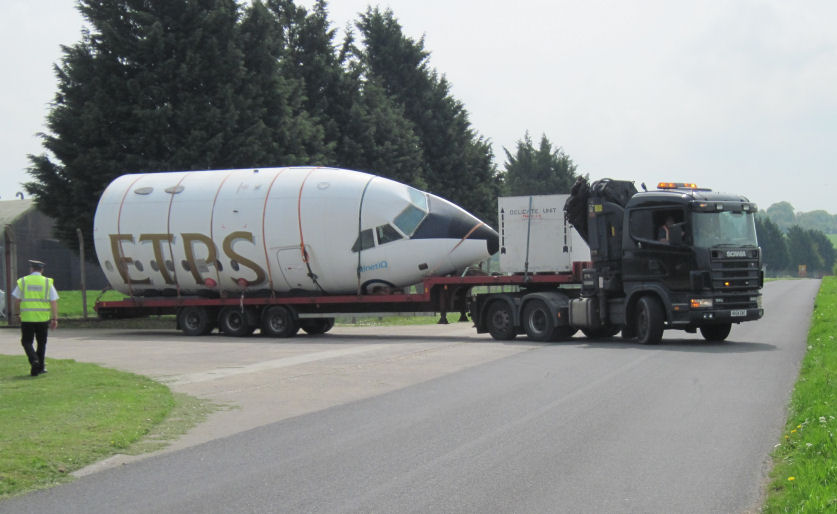 20 Apr 2014
Two successful engine runs were carried out on the former QinetiQ 1-11 ZH763 on Saturday 19th April. Former 1-11 pilot Sqn Leader Colin Froude assisted Richard Saw who made up the other half of the "aircrew" for the runs. I would like to thank The Classic Air Force team who assisted Colin and Richard with this historic event. It was a wonderful experience hearing those Rolls Royce Speys winding up again. In due course, it is hoped to carry out a taxy run subject to one or two outstanding issues that need resolving first. Thank you again to everyone who made this brilliant day possible!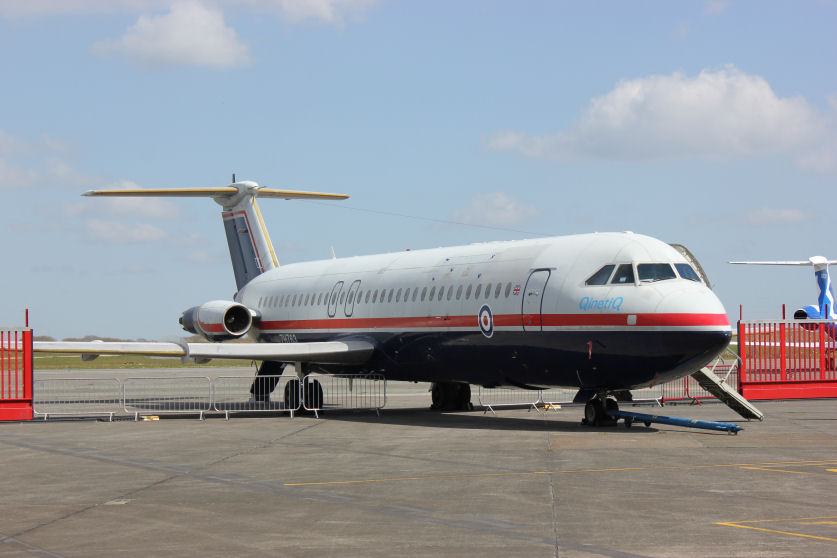 28 Jan 2014
TriStar History and Preservation Inc have just launched their eagerly awaited website this week. It is a fabulous site and gives you all the information you could possibly wish for regarding this very unique project! The TriStar team states that the young organization is still growing and evolving as benefactors understand and figure out how they can support this very popular mission. It's a work in progress that is gaining steam with each success it sees. Importantly the TriStar team emphasizes that it's not a museum but a separate not for profit organization run by volunteers that will complement and provide resources and additional program options to museums as well as schools, air shows and other organizations. TriStar has launched its first two flagship educational program areas based on their "STEAM" mission "Inspiring greater achievement through higher altitude". These are Wings of Pride and TriStar Experience. STEAM expands the acronym STEM and is short for Science, Technology, Engineering, Aerospace and Math.
Their BAC 1-11 was flown into Kansas City Intl Airport on Friday 11th October from its former base at Dallas Love Field. Business Jet Access President, Mr Robert Wright, kindly donated the aircraft to this very special project. Chief 1-11 Pilot Ward Abbs Captained the aircraft for the ferry flight and will become the chief pilot for the 1-11 project. Engineering support will be provided by Jet Midwest Technik at their former TWA facility at Kansas City Intl. The aircraft was officially registered by the FAA to TriStar History and Preservation Inc on the 24th December 2013. Although the airframe will be maintained at Kansas City Intl it will ultimately carry out many flights from the Charles B Wheeler Downtown Airport which is home of the National Airline History Museum and the TWA Museum. The team will be liaising very closely with both Museums who are providing support with the project. A BAC 1-11 simulator also owned by Business Jet Access has also been donated and plans are being laid to transport it from European Skybus Ltd, Bournemouth, UK, to the historic former headquarters of TWA at 10 Richards Road, home to the TWA Museum. The team are currently also in the process of restoring a TriStar at Victorville with a view to ferrying it to Kansas City International where it will be repainted into TWA livery before being delivered to Downtown Airport, TWA's original home base. The "official opening ceremony" of this fabulous project will be announced in due course once everything is in place. In the meantime please take the time to view their excellent new website to find out more! Check out how it all began for example.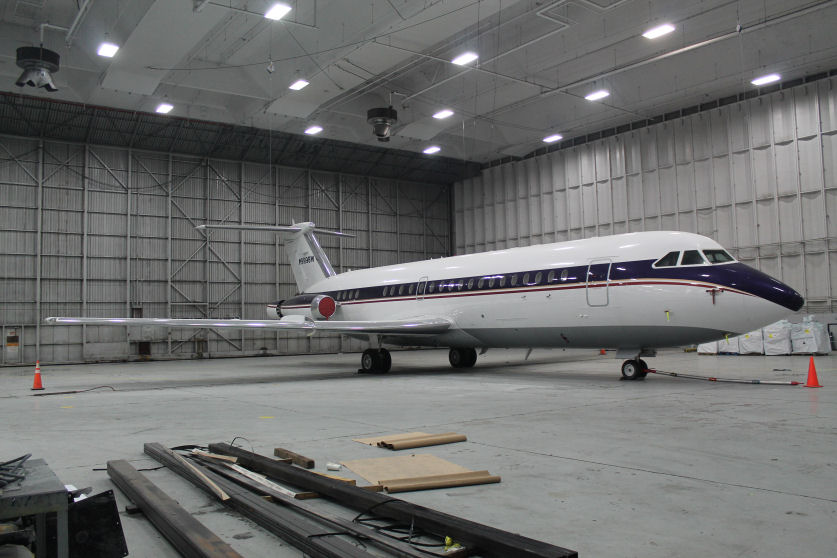 The absolutely immaculate 1-11 N999BW awaiting its next flight in the former TWA (Jet Midwest Technik) hangar at Kansas City Intl
12 Jan 2014
"BIG" Breaking news!
I have made contact with the new owners of N999BW, TriStar History and Preservation Inc, and verified that it is in fact in Kansas City to be preserved and maintained in flying condition. Prior to being moved from Dallas the aircraft underwent extensive maintenance and is currently fully compliant with all AD's and SB's. The new owners plan to publicly share their plan for this aircraft very soon and have promised to provide a sneak preview. I will provide further updates about the entire project once TriStar History and Preservation Inc release further details.
This is absolutely brilliant news 51 years after the BAC 1-11 first flew in 1963. This particular airframe first entered service with Engelhard Industries in September 1967 and it still looks as good as new having passed through the hands of several "very caring and loving" owners! In fact the new owners have already described the aircraft as their "Beautiful Baby" 1-11!
9 Dec 2013
My personal highlight of the 50th Anniversary
Without question, my own personal highlight of the BAC 1-11 50th Anniversary has to be the preservation of former QinetiQ 1-11 ZH763. It couldn't have gone to a better home, and I'm sure that The Classic Air Force will do their very best to keep the airframe serviceable for as long as possible. This will be made 100% easier due to the fact that it is being kept under cover in the former Nimrod hangar. Once again, I'd like to take this opportunity to thank everybody involved with all the hard work that took place to secure this aircraft's future.
9 Dec 2013
1-11 Review of the Year 2013
This year we celebrated a very significant milestone in the life of one of the UKs most iconic British Jet Airliners, the VC10 - Oops - I mean the BAC 1-11!!! That was last year!!! Well "almost" one of our most iconic aircraft after say the Comet, the Trident, Concorde and of course the "mighty" VC10! It seems however that to create such an icon it has to be designed with a very long nose or a very large T tail and achieve very few sales! These comments just about some up my thoughts regarding the history of the BAC 1-11. A very efficient sleek looking aircraft that was generally a great success, which flew in many different guises over the years and just quietly went about its business with very little fuss. The 1-11 just wasn't designed to "get noticed"! Therefore, despite the aircraft reaching such a milestone this year it has once again been "hijacked / overshadowed" by the very high profile retirement of the VC10, just as it was by Concorde's retirement during the 1-11s 40th anniversary in 2003. Yet according to the statistics it should have been a very different story.
Ten times more 1-11s were sold than Concorde and four times more than the VC10, twice as many as the Trident or Comet and it managed to crack the US market before the DC-9 came into service!
This year saw the final flights of the incredible VC10 which was given the "red carpet" treatment throughout with some very high profile appearances indeed at many of the major airshows. It also took part in some very significant "last missions / photoshoots" with much film footage and many stills taken which will no doubt be preserved for posterity. A major enthusiast event took place at its Brize Norton base during September so that it could be photographed by as many enthusiasts as possible during its final weeks of service and to cap the celebrations all the final ferry flights were extremely well publicised so that as many of those connected with the aircraft throughout the years could attend the final flights into Newquay, Dunsfold and Bruntingthorpe. Literally "thousands" witnessed these historic last landings. As for the 1-11, after three years of very hard negotiations with the MOD and QinetiQ and a truly mammoth effort by all involved, the 1-11 was eventually saved for the nation and ferried to Newquay from its base at Boscombe Down. I for one was chuffed to bits that it had been saved, however it didn't receive any "red carpet" treatment whatsoever and ended up doing what it had done throughout its service career and "just went quietly"! Having given up on my preservation bid back in March, it was incredibly "rescued from the brink" by the "powers that be" however just 24 hours notice was given that it would indeed be donated to the Classic Air Force in Newquay. This short timescale left no time at all to organise a trip down to this isolated part of the UK to witness this very historic last ever landing of a BAC 1-11 in the UK. Therefore there was no fanfare at all but just a quick one hour flight to Newquay with an absolute minimum of fuss - basically how it had spent its entire 50 years!
So back to the 50th itself, I was hoping that as many as five special events would take place throughout the year as indicated in my previous news items below. However, maybe I was a little over optimistic as only one has actually taken place! The main event was always going to be the "official" 50th celebration. After some serious thought regarding a suitable venue, Brooklands Museum was finally selected on the basis that it is a very historic site with some fabulous exhibits and most importantly it is the home of the most famous BAC 1-11 of them all G-ASYD. Of course, it was always hoped that the event would be held at Bournemouth as had been the case before, but with no "live" aircraft left in service to support the anniversary, it was decided beyond any doubt that Brooklands was the only serious contender. Therefore on the 20th August 2013 over one hundred "veterans" who were linked with the aircraft in many different ways attended what turned out to be a very special day indeed. It was just a shame that everyone could only come together for just a few hours as there was so much to talk about! Please visit the 50th Anniversary page for a full account of the special occasion.
So what happened to the other four events?
As previously reported Business Jet Access cancelled the 1-11 enthusiast flights on their 1-11 N999BW. This was personally a great shame indeed as it would have been a very fitting way to have ended the 50th Anniversary during the planned trip in October. However news is just starting to filter through to me that the aircraft has in fact flown again! It was ferried from Dallas Love Field to Kansas City International Airport on Friday 11th October. Sources suggest that it has been bought by the National Airline History Museum who are located at Kansas City Charles B Wheeler Downtown Airport, home to TWA during its heyday. The big news however is that the aircraft isn't being pensioned off as the intention is to use it for flights to Washington for veterans in conjunction with the "Honor Flight" programme. This organisation transports former military personal to the memorials in Washington and to Arlington Cemetery. This is an incredible development therefore! I await further news as the aircraft is currently being stored in the former TWA maintenance hangar at KCI / MCI.
The 1-11 at Duxford G-AVMU still remains in its "green primer" pending a full repaint back into its previous British Airways Landor livery. It was hoped to include this in the celebrations with a ceremonial roll out from the hangar but sadly this won't take place during the 50th. I am however hopeful that this might be possible next year.
The preservation of the forward fuselage of former ETPS 1-11 ZE432 hasn't moved forward but the scrapping of the aircraft has commenced at Boscombe Down. It therefore remains to be seen whether or not it is possible to salvage anything.
And last but not least the 50th Anniversary engine run and taxi of former QinetiQ 1-11 ZH763 hasn't taken place. I am extremely disappointed indeed that The Classic Air Force haven't taken part in the 50th Anniversary celebrations, especially as they were "gifted" the last flying 1-11 in the UK by QinetiQ. It is a fully serviceable airframe in excellent condition. It would therefore have been a unique opportunity to celebrate with a live airframe. What I can say however, is that I believe that the aircraft is in very good hands, especially as it is been preserved under cover in the former Nimrod hangar at Newquay. However, all was not lost as on Sunday 10th November the aircraft was brought out of the hangar during the last flying event of the year for a very special occasion. None other than former 1-11 pilot, Squadron Leader Colin Froude, was reunited with "the old girl" as he puts it, having offered to show the team how to run the engines on 763. He reported back saying that everything was in order, with no leaks, therefore I can say that the run was a great success. All that is needed now is for The Classic Air Force to sort out an insurance issue at Newquay to allow the aircraft to carry out a high speed taxi run along the main runway next time. A special event will hopefully be announced sometime next spring when the museum re-opens after the winter break.
As for Northrop Grumman, the last operator of the aircraft, the two airframes are still carrying out radar trials for several highly secretive projects. It gives me much pleasure to say that it speaks volumes for the BAC 1-11 when the Americans are still using it for the most highly advanced fighter programme in the world today. Of all the aircraft they could have used, it's our "humble" 1-11 that soldiers on in a roll that sums up what a very versatile airframe it has been over the past 50 years!
Thank you to everyone who has been involved in some way with what has been a great British aircraft success story. This has ensured that the 1-11 has been a safe, reliable, rugged and extremely versatile aircraft that has fulfilled many different roles over its many years in service. At it's peak there were 4000 people working on the production line at Hurn, however by 1972, just seven years after the jet entered service, the party was already over. It mystifies me how this great success came to such an abrupt end. By the time the 475 series had been built, the company had already "thrown in the towel" to Boeing and Douglas and the rest is history, ten thousand 737s later!!! All I can add is what we have all said many times over - it should have become a world beater had it been developed further during the 1960s and 70s! It has certainly deserved it's place in the aviation history books.
As the 50th Anniversary year comes to a close I would finally like to add that in my humble opinion, it has without doubt, been by far the best product of our once proud commercial aviation industry. It has operated in every possible role. As well as its successful service as a jetliner, it became the mid size executive jet of choice in the late 60s and early 70s, was well used by the military in a variety of roles including its use as a radar test bed by Northrop Grumman and has even served as a freighter. It never had the glamour of some of our other types but has proven many times over that it was fabulously designed and put together by a team of very special people indeed..
22 Oct 2013
Today, another "50th" Anniversary was remembered, but unlike the celebration held on the 20th August at Brooklands Museum to celebrate 50 years since the very first flight of the aircraft, this anniversary was a rather more sombre affair. Unfortunately just over two months after the prototype G-ASHG first flew, it sadly crashed and killed all on board. It was recently decided to remember this tragic event with a memorial service and unveiling of a 50th Anniversary memorial stone / plaque at the crash site near Chicklade in Wiltshire.
As BAC 1-11 historian Richard Church recalls, the hopes of everybody involved in the BAC 1-11 project were put in jeopardy when on the 22nd October 1963 the prototype G-ASHG crashed on Salisbury Plain near Chicklade in Wiltshire. The aircraft had relocated earlier to BAC's flight test centre at Wisley to continue with the flight test programme. The aircraft was on its fifty-third flight and had departed from Wisley for a continuing programme of flights to assess its stability and handling characteristics as it approached the stall together with measurements of the lift coefficient of the wing. It was during the fifth approach to the stall that the aircraft suddenly entered a deep stall condition from which it didn't recover. The cause of the accident was attributed to the previously unknown 'Deep Stall' phenomenon. This is now known to apply primarily to aircraft configured with rear mounted engines and a high set tailplane. The two people first on the scene 50 years ago, a forestry worker who saw the aircraft descending and heard the impact through the trees, together with a farm worker, who was working in the next field recalled how they quickly ran to the scene but immediately realised that there was nothing they could do.
Sadly all seven people aboard the aircraft were killed when all but the tail of the aircraft was destroyed in the ensuing fire. The crew comprised Lt-Cdr M J Lithgow (Pilot), Captain R Rymer (Co-Pilot), B J Prior (Assistant Chief Aerodynamicist at Vickers), C J Webb (Assistant Chief Designer at Hunting), R A F Wright (Senior Flight Test Observer One-Eleven), G R Poulter (Flight Test Observer Vickers) and D J Clark (Flight Test Observer Hunting).
The service, held on Sunday 20th October, was supported by many local residents of this small close knit community, together with representatives from the local Fire Brigade, BAe Systems Heritage, BAC (Roy Radford, Alan Smith, Peter Clark), Penny & Giles, The C/O of the Royal Navy/FAA Historic Flight and Nik Read, who represented Brooklands Museum. Unfortunately the weather did its best to ruin proceedings with heavy rain throughout the service however when it came to the unveiling of the memorial plaque, which was done by members of the crews families, the sun finally broke through. Special thanks must go to the villagers of Chicklade who were the organisers of this very fitting occasion. As I'm sure you will agree, it was long overdue! Without them, the service and memorial plaque unveiling would not have been possible.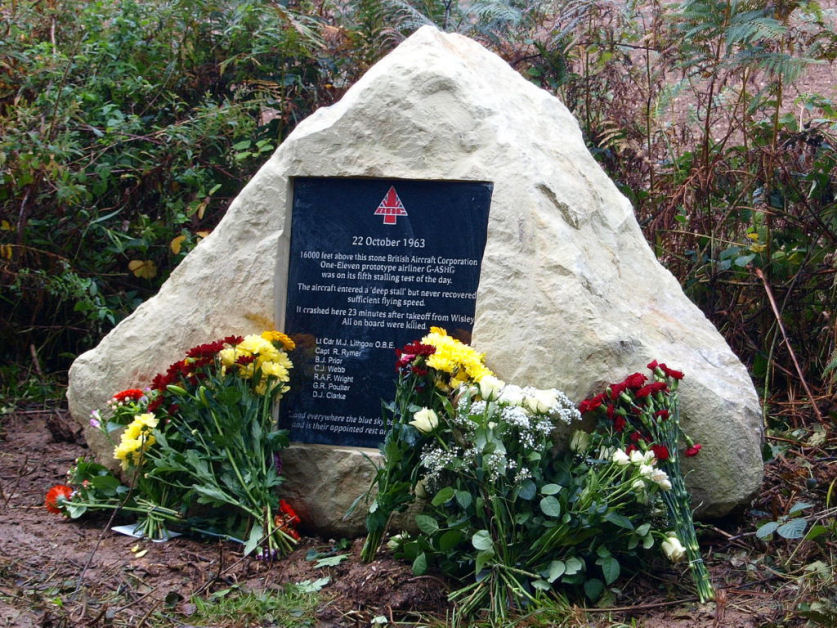 20 Aug 2013
Today we celebrated the 50th Anniversary of the BAC 1-11 at Brooklands Museum, Weybridge. Further details about this historic occasion can be found on my "dedicated" 50th Anniversary page. (See contents) Thank you to everyone who helped organise the event today and many thanks also to all of you that were present on what was a very special day indeed..
11 Aug 2013
The 50th Anniversary event at Brooklands is now only just over a week away. if anyone else would like to attend then I suggest you contact Brooklands Museum as soon as possible. Further details can be provided by either myself or the museum. There are no other events taking place at this time although I am hopeful that an engine run / taxi will be carried out at Newquay with The Classic Air Force 1-11 ZH763. Further details will be announced here.
10 Aug 2013
Several more aircraft have been scrapped in recent months. PK-TRU was reportedly scrapped during October 2012 while at Boscombe Down, ZE433 has also been reduced to "tin cans"! As for the bid to preserve the forward section of ETPS 1-11 ZE432 I'm still hopeful! The two 1-11s at San Antonio were broken up during July. Reports also suggest that as many as 25 further aircraft may have met their final fate during the past 12 months, particularly the Nigerian fleet.
8 May 2013
Historic last enthusiast flights cancelled!
Business Jet Access have just announced that their BAC 1-11 N999BW won't be available for the historic flights in October! Therefore it is with great regret that I have been forced to cancel the planned 30 minute flights due to have taken place at Dallas Love Field on Sunday 20th October. I can confirm that I am not looking at any alternative dates in the future as it does appear that the aircraft will not fly again! The statement made by the company stated that the aircraft has been withdrawn from service for a "long period of time" pending the supply of spare parts which is becoming a major issue for the 1-11. It therefore sounds like they are about to make the decision to permanently withdraw the aircraft from service although they've not actually confirmed it just yet.. I apologise to those of you that have shown an interest in booking seats on one of these flights.
26 Apr 2013
Last ever flight of a BAC 1-11 in the UK has taken place today!
QinetiQ 1-11 ZH763 has finally flown from Boscombe Down to Newquay today for preservation! Gauntlet 59 departed from Boscombe down at 1130am and touched down in Newquay one hour later. It is just under 50 years since the very first 1-11 flew in the UK from Bournemouth Hurn on the 20th August 1963. I'll hopefully create a special feature shortly with more details about this very historic flight. Although the aircraft won't ever fly again, The Classic Air Force hope to retain the airframe in a fully serviceable condition and carry out regular engine runs.
17 Apr 2013
The 50th Anniversary Year - So Far
Plans for the BAC 1-11's 50th Anniversary are progressing well. The main event will take place at the Brooklands Museum in August. Invites will be sent out at the end of April / early May for what will be a very special occasion. However, numbers will be limited so if you have a direct link to the aircraft and aren't sure whether or not you'll be getting an invite then please contact me at the earliest opportunity. I can then pass on your details to the main organiser.
Duxford Aviation Society are in the process of re-painting their former British Airways 1-11 G-AVMU. Many of you might have seen it looking rather "green"! This is due to the primer which was applied late last year! It is hoped that a team of BA apprentices will complete the repaint later this year and a ceremonial roll out carried out on completion.
Two of the three 1-11s at Boscombe down ZE432 and ZE433 are due to be scrapped very shortly. It is hoped that the forward section of ZE432 can be saved and preserved at the Bournemouth Aviation Museum. I am hoping that it will arrive in time to participate in a 50th Anniversary event. As for QinetiQ 1-11 ZH763, no news I'm afraid.
28 Feb 2013
Fantastic news regarding the Northrop Grumman 1-11 fleet! N164W has been resprayed into a brand new livery which confirms their intent to continue flying the last two 1-11s left flying in the world! I hope that N162W follows shortly. N164W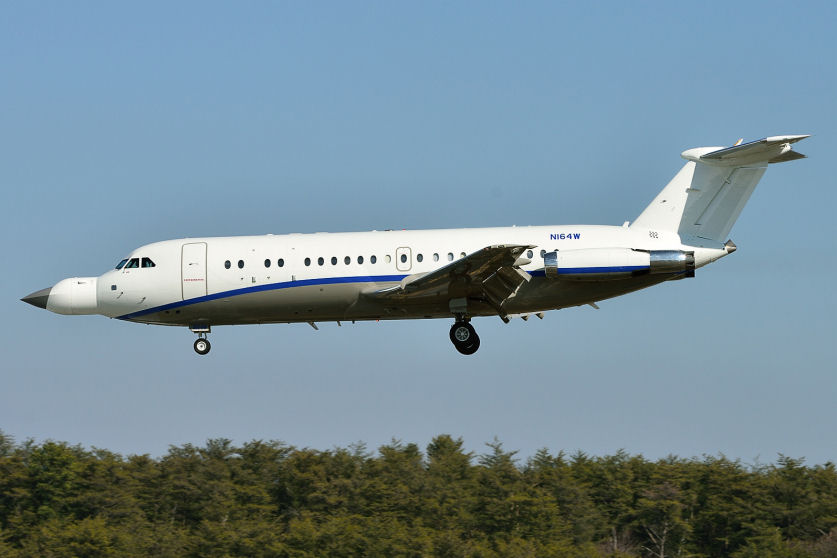 A lovely aircraft - On final approach into Baltimore Washington on 12 Feb 2013 by Bob Garrard
14 Dec 2012
1-11 Review of the Year 2012
2012 has been an important year for me as I focus on a very significant event which takes place in 2013. The 50th anniversary of the BAC 1-11 will take place on the 20th August 2013. 50 glorious years is an amazing achievement for this very successful British Airliner. Compared to the Comet, Trident and VC10 to name but a few, it has had a very successful career as an airliner and executive jet and in smaller numbers as a freighter and military / radar test bed. Looking back, it's amazing to think that it has been around for all of my life and beyond! My lifelong interest in the aircraft began as a result of a production line tour at Hurn back in 1978. I was completely overwhelmed by the experience. Since then I am so pleased that I took such a huge amount of interest in this "less well known" product of our once world beating aviation industry in the United Kingdom. It has given me an immense amount of satisfaction and pleasure to have been involved with the 25th, 40th and 45th anniversaries of the aircraft. More importantly my interest has led to me meeting many other interesting and like minded people from all corners of the globe who share my enthusiasm and passion for the 1-11. The "www" revolution has uniquely allowed me to record many of the historic events related to the aircraft, and particularly so during the past ten years or so since I created my BAC 1-11 website. At this point I must mention three very enthusiastic friends who have helped me greatly over the past ten years and ensured that I've been able to deliver such a comprehensive insight into this very special aeroplane. Without them I simply couldn't have done it!!!
Richard Church, author of the excellent Air Britain book "The One-Eleven Story" deserves a very special mention as without his input and support I would never have been able to produce such an incredible website. His book has been FULLY updated through the website since it was first published in 1994. So much has happened in the 1-11's history since then, but every single moment has been captured thanks to Richard's vast amount of research and dedication.
Nik Read, who has been an inspiration with the renovation of the most unique BAC 1-11 in the entire fleet G-ASYD which is housed at the superb Brooklands Museum. The aircraft has been extended, shrunk, and had many other amazing modifications made to it during its life at the British Aircraft Corporation / British Aerospace and is a very historic piece of British aviation history in its own right. Thanks to Nik's research we know so much about Yankee Delta. His knowledge of all the "famous" characters involved with the aircraft and connections through Brooklands has given us a very personal insight into so many of their experiences.
Ian Haskell who has given me a great deal of support in gathering together a massive collection of BAC 1-11 images dating back to the very first flight of the aircraft in 1963. Without his support and especially the amount of time that he has put into scanning old photos etc I would never have been able to show so many images on my website or have been able to gather together such an incredible 1-11 archive.
There are of course many others who deserve thanks and much credit for helping to make the One-Eleven story such an interesting one for me personally and long may that continue! Thank you to everyone therefore who has given me support, given up their time, or just shown an interest in what I have been doing over the past few years. It is much appreciated.
As for the remaining fleet:- Not surprisingly there has been very little change from a year ago as a result of so few airframes still in service. I've been reiterating for some time now that the end is in sight for the aircraft and it is very clear that this sad day is moving ever closer.
The very last BAC 1-11 still flying in the UK, ZH763 with QinetiQ at Boscombe Down, completed its long service yesterday with a final couple of trials flights. It is expected to be disposed of within the next few weeks. Its future has still not been decided but I am very hopeful indeed that it will be ferried to Newquay to join the Airbase / The Classic Air Force http://www.classicairforce.com/
Some excellent news is that it is hoped that the two remaining airframes with Northrop Grumman will continue flying for another four or five years if they can keep them airworthy.
Not such good news is that N999BW, operated by Business Jet Access at Dallas Love Field, has not been seen or photographed this year which is a great shame after its very high profile enthusiasts flight which was the highlight of my 2011 review. I've no idea how much longer, if at all, that the airframe will continue in service. It was rumoured to be on the way to a museum in the Kansas City area back in the early summer and has also been up for sale, but the company's website still lists it in its charter fleet portfolio.
Three aircraft therefore remain in service but it looks like the 2013 fleet will be down to just two aircraft operated by Northrop Grumman. At least there will be a couple of "flyers" during next years momentous anniversary. Its just a great shame that Northrop Grumman won't be able to celebrate the event with us due to the nature of their business and their location in the USA.
Next year gives all of us just one final opportunity to celebrate the very long and successful history of the BAC One-Eleven. I certainly intend to make sure that the aircraft "goes out in style" as it finally disappears from our skies forever and joins the likes of Concorde, the Trident and very soon the VC10 as a museum piece!
Have a wonderful Christmas and New Year and don't forget to put August 20th 2013 "THE 50TH ANNIVERSARY OF THE BAC ONE-ELEVEN" in your diaries! A date for the celebration / location will be announced shortly.
Best Regards
Peter
13 Dec 2012
Today saw QinetiQ 1-11 ZH763 bring to a close nearly 50 years of BAC 1-11 flying in the UK!!! It flew its final two trials sorties, refuelled in between them at Newquay before returning to its Boscombe Down base. It was very symbolic indeed that Newquay was chosen as it's final land away in view of my "bid" to get the aircraft donated to The Classic Air Force / Airbase by QinetiQ / the MOD! A final decision regarding its future will hopefully be known within the next few weeks.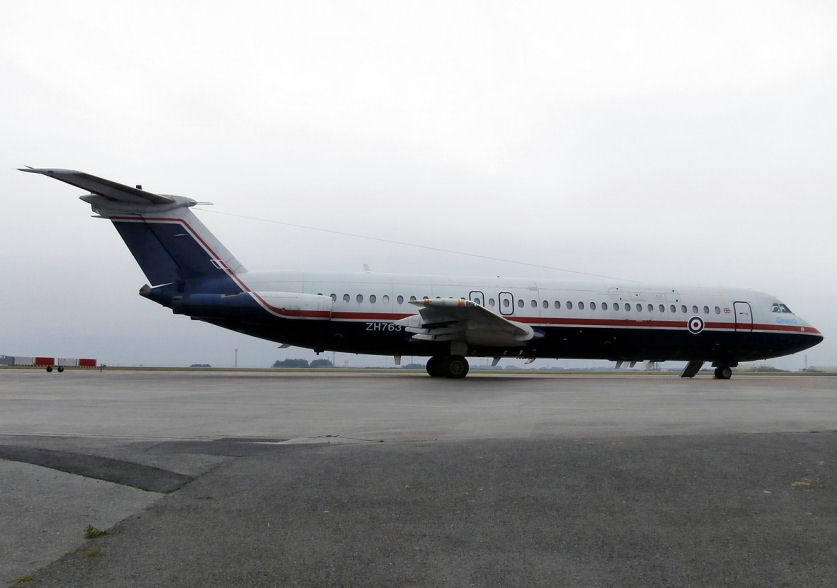 ZH763 Parked on the Terminal Apron at Newquay today - Phil Salter
14 Oct 2012
An important development has taken place in my bid to ensure that QinetiQ BAC 1-11 ZH763 is preserved. Airbase have now closed for the winter at Coventry but will be re-opening on the 23rd March 2013 at Newquay / St Mawgan. The Classic Aircraft Trust has been created with the aim of preserving as many as 30 classic aircraft from the 1950s and 60s. It will become known as "The Classic Airforce". What is unique is that they have secured the former Nimrod hangar 404 on the site. This hangar used to house as many as three Nimrod aircraft so is large enough to provide covered accommodation for the entire collection, but crucially, the trust have offered a home to ZH763 which will also be housed in the large hangar as a serviceable aircraft. For further details about the move click on the following links:-Airbase and The Classic Aircraft Trust and "The Classic Airforce" As always there is a stumbling block and in this case, for the project to proceed, it needs to be sanctioned by the present owner QinetiQ. The aircraft is due to be replaced very soon so I am hopeful that they will agree that it is a worthwhile cause that's worth supporting. Further updates will appear here as soon as I have any more news.
8 Jul 2012
News regarding the future of QinetiQ 1-11 ZH763 is patchy to say the very least but it has been suggested that the airframe may yet soldier on into 2013, the 50th anniversary year of the BAC 1-11. Maybe it will therefore be possible to celebrate this landmark occasion after all with a live aircraft! As for the future of the airframe beyond its retirement, I still hope that it can be ferried to Coventry / Newquay to join the growing Airbase fleet of preserved aircraft rather than be scrapped at Boscombe Down. This will of course depend very much on the support of the QinetiQ / MOD team at Boscombe Down and on my ability to persuade them that at least one of the five unique 1-11 airframes that have served the RAE, BLEU, ETPS, DRA, DERA etc over the past 35 years should be saved. How XX105 was allowed to be scrapped is beyond me for example!
1 Jul 2012
I'm very pleased to announce that the Boscombe Down Aviation Collection (BDAC) has been saved and more importantly opened to the public today at their new facility at Old Sarum Airfield. They have moved into one of the very historic World War One blister hangars. Most of their exhibits including the cockpit section of BAC 1-11 XX919 have now arrived. I would highly recommend a visit to this very unique collection of aircraft, cockpit sections and other important exhibits related to the long and illustrious history of flight testing at Boscombe Down.
http://www.boscombedownaviationcollection.co.uk
10 Jun 2012
1-11 survivors update:-
Business Jet Access - N999BW reportedly remains active although I'm awaiting confirmation of its current status.
Northrop Grumman - N162W and N164W flying for the time being with N161NG and N111JX being canibalised for spares in Mojave.
QinetiQ - ZH763 is out and about keeping aircrew current in conjunction with one more possible mission. Due for retirement between July and the end of December. ZE432 hangared at Boscombe Down, possibly being used as a trainer. ZE433 on the dump at Boscombe Down awaiting its fate! I'm still hoping that ZH763 can be saved for the nation and ferried to Coventry although no further news has been forthcoming for a while now. Keep checking in for more updates on this story.
Tombouctou Aviation - Nothing heard for some time now. TZ-BSA last seen parked at Tripoli Mitiga and not flown for at least 2 years. TZ-BSB last heard of in Bamako Mali, after having visited Bucharest Baneasa for maintenance early in 2011. TZ-BSC Parked in Bucharest Baneasa and going nowhere soon!

Four aircraft therefore remain in service.
01 Apr 2012
It has been announced that Northrop Grumman will retain 1-11 N162W in service. It was due to be retired during the first half of this year. Meanwhile news regarding the future of QinetiQ 1-11 ZH763 is imminent.
02 Mar 2012
It has been reported that the last BAC 1-11 flying in the UK, Boscombe Down based QinetiQ 1-11 ZH763, will be retired from service by the end of July 2012. That's less than six months therefore before it's all over for the BAC 1-11 in this country! Sadly this means that it is extremely unlikely that an "in service" aircraft will be available to celebrate the 50th anniversary of the type in August 2013. The aircraft is due to be replaced by an Avro RJ later this year. As for its possible preservation, an approach has been made to Airbase / Air Atlantique at Coventry who support the idea of retaining a "fully serviceable" aircraft in a similar way to many of their current exhibits such as the recently acquired Nimrod. I'll announce any further developments if and when they take place.
12 Jan 2012
Northrop Grumman 1-11 N161NG cn 067 carried out its last flight today. It was ferried from Baltimore Washington to Mojave where it will be stored and used for spares.
24 Dec 2011
1-11 Review of the Year 2011
It's been another very quiet year for the remaining 1-11 fleet. With no "airliners" remaining in service it's down to the very last half dozen executive / test aircraft to keep the flame alight for this almost extinct type. The biggest problem with these aircraft is they don't fly very often so capturing them is extremely difficult indeed! An example of this is QinetiQ's ZH763. It has flown just a handful of times this year but trying to photograph it is virtually impossible. Thankfully it was caught in action at RAF Cranwell during the summer though and again at Boscombe Down on the 30th November! Unfortunately sources suggest that the aircraft might be replaced by a BAe146/Avro RJ during 2012. As for the others, the Northrop Grumman 1-11s are photographed fairly regularly fortunately as these are very interesting aircraft indeed with all the extra bits and pieces hanging off the front and sides of the airframe. Sadly by next summer they will be down to one operational aircraft as N161NG and N162W are due for retirement. The Tombouctou Aviation fleet has been decimated this year sadly! It is believed that certification issues have grounded the two 475s with just 400 series TZ-BSB still reportedly in service from its base in Bamako, although I have been advised that even this airframe may now be stored rather than active! This leaves just N999BW in the USA. This airframe thankfully gave us one of the best moments in the BAC 1-11's long history in August as it carried out a very special enthusiast flight from its Dallas Love Field base. Please see my special feature for a complete in depth look at this magical day! Over 20 enthusiasts flew on board this immaculate aircraft for a two hour flight in the most incredible luxury! The event has been well covered, not only on this website, but by Global Aviation Resource and Airliner World (with an article in their December 2011 magazine). If this turns out to be the 1-11's final "public outing" then it certainly did it in some style. My only gripe was that nobody captured her graceful lines on an HD movie camera! Oh and of course I didn't make it over there, so they are going to have to do it all over again for the 50th PLEASE!!! I'm still hopeful that an airframe will survive up until the 20th August 2013 to celebrate the 50th but it's going to be touch and go! As for the stored fleet it is very sad that I have to report that the "most historic" stored aircraft of them all, series 201AC XX105, was broken up at Boscombe Down during December! I cannot hide my disappointment that this unique airframe wasn't saved. The 1-11 situation at Boscombe Down is very grim indeed with ZE433 recently having been moved to the scrapping area and no doubt ex ETPS 1-11 ZE432 will soon follow! With the pending retirement of ZH763 coming very soon it looks like all five 1-11s operated by the MOD over the past 37 years are all going to be scrapped. It cannot be understated how great their contribution has been over the years. All I can add is how really sad it is that not one of these amazing machines has even been considered for preservation by a major museum. Compared to the two standard series 510s preserved at Duxford and East Fortune, these airframes are truly historic! None of the stored fleet are ever expected to return to service.
Have a great Christmas - Thanks for continuing to support my 1-11 wesbite and forum at Yahoo Groups
Peter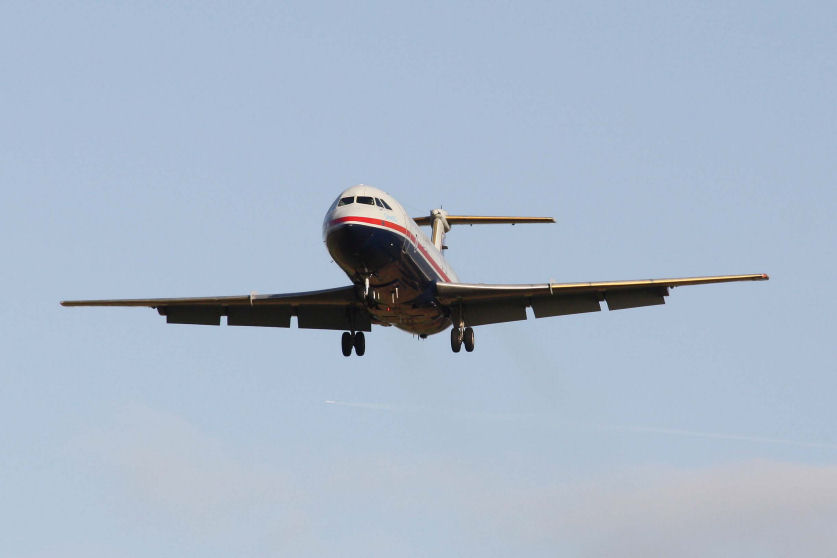 A stunning approach shot of 1-11 ZH763 coming into land at Boscombe Down on the 30th November by Liam Daniels
11 Oct 2011
An article about the special enthusiast flight on BAC 1-11 N999BW which took place at Dallas Love Field on the 27th August will be appearing in the December 2011 issue of Airliner World Magazine. It is due for publication on November 9th. If you've seen the Special Feature on my website then it should be a very good write up indeed. I would certainly recommend buying the December issue therefore.
6 Oct 2011
QinetiQ 1-11 ZH763 has unexpectedly flown again. It carried out several circuits at RAF Cranwell yesterday to presumeably keep the 1-11 crews current due to its next mission refit which should keep it in the hangar at Boscombe Down until next February.
10 Sep 2011
An interesting article has just appeared in the October 2011 copy of "JETS MONTHLY" magazine about BAC 1-11 operations at Air Malawi. The airline used the aircraft for 21 years. Author, Arthur Stevens has spent many years out in Africa gathering much information about the history of Air Malawi and he now shares it with us in this intruiging article. It can be bought at WH Smith, other newsagents or online at http://www.kelsey.co.uk/magazines.php?mag=jt
2 Sep 2011
I have just received news from Tombouctou Aviation that their 1-11 operations have been dramatically reduced this year. As feared, one aircraft TZ-BSA, has been trapped in Tripoli Mitiga where its condition is in doubt due to the on-going situation. To make matters worse I've been informed that this particular aircraft hasn't actually flown since the beginning of 2010. Therefore it has been suggested that its flying days are almost certainly over! The other 475 series aircraft TZ-BSC was flying at the beginning of 2011 but was ferried to Bucharest Baneasa by March where it has been parked ever since. The situation with TZ-BSB is a little clearer. This aircraft returned from maintenance in Baneasa via Mitiga to its base in Bamako, Mali in March but has not flown since. I have been informed that it is due to take to the skies again shortly. The reason for all the problems haven't actually been related to the War in Libya but with Type Certificate issues that have become apparent in Romania and more particularly with Romaero where the aircraft have been maintained. It is my understanding that the stage three hushkit on the series 475 is the main issue. Therefore, it appears that TZ-BSB, a series 400 aircraft, is the only one that can continue flying unless there is a change to the regulations in Romania. Watch this space for any further developments regarding this sad situation.
Other than the well publicised flight of Business Jet Access 1-11 N999BW last weekend 1-11 news isn't good! The QinetiQ aircraft ZH763 is back in the hangar at Boscombe Down until at least February next year while Northrop Grumman plan to retire two of their three airframes within the next six months. Clearly this will reduce the surviving 1-11 fleet down to as little as four airframes by this time next year at best, and that figure could possibly be even worse. It's therefore very possible that there won't be a single airframe left in the air to celebrate the 50th anniversary of the type in August 2013! I'm still hopeful though that ZH763 or N999BW will be around at that time.
31 Aug 2011
Business Jet Access 1-11 N999BW took to the skies on the 27th August for its historic enthusiast flight. It was organised by Classic Jet Tours who put on a fantastic day. All those present have heaped praise on both organisations stating how well they looked after them and all commenting on how well organised the event was. The flight lasted for two hours and was photographed by several additional photographers on the ground. It is hoped that an article will appear on the Global Aviation Resource website shortly as well as one appearing in one of the mainstream aviation magazines although I've no idea which one just yet. In conjunction with Richard Church, author of "The One-Eleven Story" I will be placing a special feature about this unique event on my website as soon as possible. I must thank Kevin Perry for this lovely image of the aircraft getting airborne at Dallas Love Field.
04 Aug 2011
Last historic passenger flight to go ahead!
It has been confirmed that the "Classic Jet Tours" flight will go ahead on Saturday 27th August. It will be a very historic moment in the long history of the BAC 1-11. It is hoped that the event will be recorded on film for posterity. The flight will be taking place at Dallas Love Field on Business Jet Access 1-11 N999BW c/n 120. I will definitely be doing a special feature about the flight so watch this space for it within the next couple of months.
02 Jul 2011
QinetiQ 1-11 ZH763 finally flew again last week at Boscombe Down. It carried out a test flight eight months after its last flight in October 2010. This was the first flight of a 1-11 in the UK this year and was carried out by what will almost certainly be the last 1-11 to be seen flying in this country! Unfortunately the event went totally un-noticed as is always the case with all of its flights from its home base! Whether or not it will be seen on the ground or flying again publicly is doubtful. What a sad final chapter to such a fine British Airliner. I can only hope that I can persuade QinetiQ to allow the aircraft to carry out one final flypast at Bournemouth during the aircraft's 50th anniversary event in August 2013, if it remains in service that long! Otherwise it will simply be removed quietly from service to rot alongside it's three sister ships at Boscombe Down before a very undignified scrapping.
25 Jun 2011
Fancy one last chance to fly on a BAC 1-11 before the worldwide fleet becomes extinct? Then please click on this link:- http://www.classicjettours.com/bac111.html
Looking at the remaining fleet, I really do believe that this will be the final opportunity to ever fly on a BAC 1-11, and not just any old rust bucket but an absolutely immaculate executive jet! It isn't cheap but Classic Jet Tours / Business Jet Access only need to fill 30 seats so fingers crossed that maybe one or two of you 1-11 enthusiasts out there can get yourselves onto this special flight and share in an historic moment in the 1-11's 50 year history!
24 Jun 2011
Northrop Grumman have finally announced retirement dates for two of their three 1-11s! One will go by September this year, One in the spring of 2012 leaving just one in service for a few more years. At this stage I've no idea what will replace these unique aircraft.
13 Jun 2011
With the fleet getting ever smaller there is very little to report since my last update in March. Business Jet Access 1-11 N999BW emerged from a seven month refit during May and is once again being advertised "for hire". QinetiQ's ZH763 still remains in the hangar awaiting the refitting of its engines and will hopefully fly again later this summer. I've heard nothing from Tombouctou Aviation since the Libyan uprising. Two aircraft were based inTripoli Mitiga but whether they escaped or not before the no fly zone was put in place is unknown. The third aircraft is still based in Bamako to my knowledge. Northrop Grumman have been keeping busy with their three airframes. Storage wise not much has changed although two airframes have now been preserved. The Former Chrome Air 1-11 5N-UJC has been rescued from the Lagos Airport dump and transferred by road to Warri City in the Niger Delta where it is been used by school children as an educational tool. It is also open to the public for viewing. I'll enclose some interesting images of it when I receive them. The forward section of former European Aviation 1-11 G-AVMZ has been transferred to the Atlantic AirVenture Aviation Visitor Centre at Shannon where it has been painted back into it's British European Airways livery. I'm hoping to bring you an article about this with some images within the next few weeks. In Pakistan the thee former Aero Asia 1-11s are due to be scrapped at any time now as the airport authorities in Karachi have informed the owner that these derelict airframes "must go"!
14 Mar 2011
A very newsworthy item has just reached me from South Africa. The first image of a 1-11 taken in 2011! TZ-BSC of Tombouctou Aviation taken during a visit to Lanseria by Sean Mowatt. It is probably the lowest houred aircraft in the remaining fleet having been stored at Hurn for several years before being sold to Jetline as YR-HRS and then on to Tombouctou Aviation. TZ-BSB has also been reported as flying recently. It was returned to its base at Tripoli Mitiga on the 4th March after an overhaul by Romaero at Bucharest Baneasa. Meanwhile, back in the UK QinetiQ 1-11 ZH763 is due to fly again shortly after several months in the hangar at Boscombe Down after a mission refit / maintenance.
4 Feb 2011
It has been confirmed that Empire Test Pilot School (ETPS) BAC 1-11 ZE432 has been permanently withdrawn from use due to the on-going corrosion issues. It last flew in November 2009. As a result of this sad news I can confirm that ZH763, a series 539GL, is now officially the last 1-11 left in service in the UK! No one at Boscombe Down is able to say for how much longer this aircraft will remain in service. I am hopeful that it will be flown into Coventry to join the Classic Flight / Airbase collection when the time comes.
13 Dec 2010
1-11 Review of the Year 2010

2010 has been a very uneventful year for the BAC 1-11 as it quietly continues its slide towards oblivion. I can honestly say that I don't think there have been any "highlights" this year.

With the "current" UK fleet down to the very last airframe I really believed that there would have been a greater response amongst the aviation enthusiast world acknowledging the fact that another of our great British success storieswas reaching the end of its final chapter, but sadly its last days are going virtually un-noticed! It's very nearly gone forever"!!! It isn't helped of course by the fact that this aircraft is operated by QinetiQ and is based at Boscombe Down, as only the hardiest enthusiasts would venture up to the fence in the inhospitable climate that currently exists around the Salisbury Plain airfield! And then of course it's virtually impossible to ever find out when the aircraft is due to fly! How different it was when the last BA Trident's made their final parallel landings at Heathrow all those years ago! If the recent Nimrod retirement is anything to go by then the last flights of the VC10 will be a huge occasion! Aviation enthusiasts and photographers will no doubt be flocking to Brize Norton! Somehow I don't think the same will happen at Boscombe Down for the 1-11.

The active fleet at the end of 2010 currently stands at just eight aircraft worldwide, down from eleven this time last year. The remaining aircraft continue to fly with the following companies:-

3 with Northrop Grumman, 3 with Tombouctou Aviation, 1 with QinetiQ, 1 with Business Jet Access. (See the current fleet page on my 1-11 website for further details.)

Northrop Grumman has been keeping their fleet busy on various radar testing missions from their Baltimore Wasington base and have no current plans to retire the aircraft.

Tombouctou Aviation's fleet have been flying from Tripoli Mitiga and Bamako although how much flying has actually taken place is unknown. Two of the aircraft have been sighted at Paris Le Bourget over the past 12 months. Clearly the type isn't therefore banned from EU countries despite the type certificate having been withdrawn in February 2010.

QinetiQ have been flying the series 500 ZH763 throughout 2010 but sadly the ETPS aircraft ZE432 has been hangared for over a year with serious corrosion issues. A recent update suggests that it might not return to service.

Business Jet Access still have N999BW on their books, but I've received no firm news to suggest that it has been doing much, over the past 12 months. According to my sources, the company have been trying to sell the aircraft for some considerable time but without success.

As for the three aircraft that have since been retired, the Royal Air Force of Oman finally withdrew their last 1-11 553 in July, ending 35 years of continuous operations with the aircraft. Unfortunately the Air Force decided against flying the aircraft back to the UK for preservation. Apparently they intend to preserve it themselves!

Trast Aero withdrew their last 1-11 EX-086. It was bought by the Alsalam Aircraft Corporation and flown from Ras Al Khaimah to Riyadh earlier in the year where it has become a ground trainer with the Saudi Development and Training (SDT) Academy.

The third aircraft is of course ZE432, so watch this space to see if it ever returns to service!

Other aircraft that are currently in storage but potentially airworthy are:-

The two former Select Aviation aircraft, N200EE and N200JX. They have been parked at Orlando International (MCO) for nearly 18 months now, having never flown with their new operator, Elite Aviation. I personally don't think they will fly again.

Two airframes are still stored at Toluca in Mexico. XB-KCE and XA-CMG which for some unknown reason has recently been re-registered as XB-KQL.

GST Aero / East Wing 1-11 UP-BA111 was last reported as stored at Chimkent / Shymkent. It was noted parked in a scrapping compound early in December.

There has been no further news regarding the fate of the Romavia ROMBACs although it was suggested that YR-BRI might end up as a museum piece!

Amazingly I have just received news that the former Tarom freighter YR-BCR, which has been stored for many years at Bucharest Otopeni having been retired by its previous operator Chrome Air of Nigeria, might fly again! Seeing will be believing in this case as it must need a huge amount of work doing to it and an absolute fortune spent on it to make it airworthy again.
I was advised in September that the former Chrome Air 1-11 5N-UJC, currently derelict at Lagos, may be saved and relocated to Warri where it would be used as an educational trainer but I've heard nothing further.

Other surviving airframes are either gathering dust or have been reduced to hulks awaiting their fate.

It is very clear that this "classic" 1960s airliner veteran of the skies and masterpiece of British aero engineering is soon to slip away into the history books. I am, more than most, very pleased that I've recorded its final years in service. I really do hope that at least one airframe makes it to the 20th August 2013, the 50th anniversary.

Thank you once again to those of you who have helped me over the past ten years with my 1-11 project, including the website and the forum at Yahoo Groups.

Happy Christmas

Peter
www.bac1-11jet.co.uk



8 Nov 2010
ETPS 1-11 ZE432 has failed to re-enter service due to ongoing corrosion issues! New doubts now exist as to whether or not we will ever see this airframe in the air again. The aircraft remains hangered at Boscombe Down pending a final decision regarding its future. I have just placed another special article on the website in an attempt to raise the profile of the plight of the very unique airframes used by the MOD over the past five decades as they come to the end of their flying lives. One of these aircraft must be saved to tell the special story of the five 1-11s used by the UK military since the early 1970s.
5 Oct 2010
N999BW was photographed this week by Brian Higinbotham at its base, Dallas Love Field. It has been kept in immaculate condition by its owner Business Jet Access. It remains to be seen how much longer this 43 year old "classic" British jetliner will remain in service as the last of a very long line of 1-11 execs registered in the USA.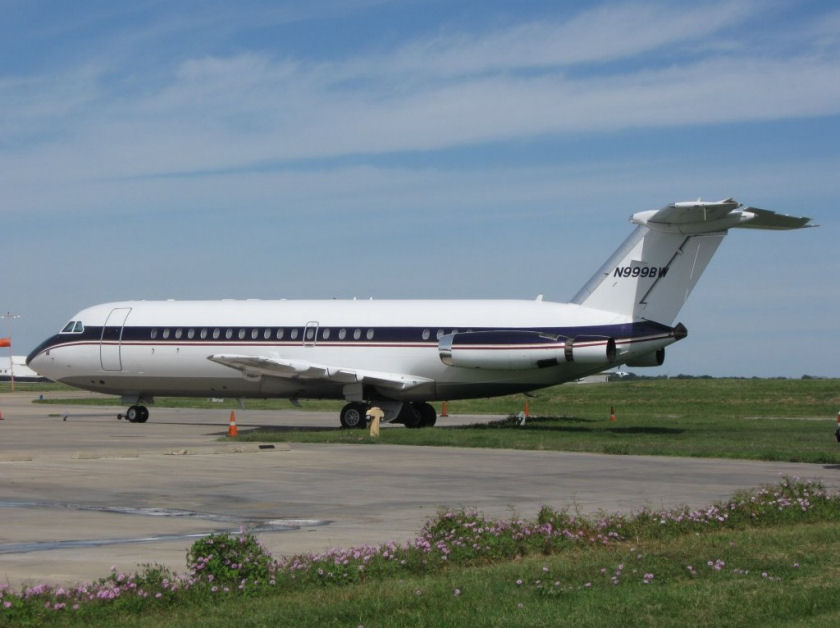 24 Sep 2010
I've just received a new image of the two Mexican registered 1-11s which are stored at Toluca. Much to my surprise one has been re-registered! XA-CMG c/n 079 is now XB-KQL while c/n 183 is still XB-KCE. The owner is listed as Coapa Air S.A. de C.V. The two airframes have been stored at Toluca for at least two years as far as I know but anything is possible with these old airframes so I daren't say they won't fly again!
19 Sep 2010
I've recently received an email stating that former Chrome Air 1-11 5N-UJC c/n 255 will hopefully be rescued from the dump at Lagos and transferred to Warri, a city in the south west of Nigeria where it will hopefully become an educational tool for the training of youths wishing to go into the aviation profession. I await further details with interest.
22 Jul 2010
A picture is slowly emerging regarding the final operations of the two Trast Aero 1-11s EX-086 and EX-103 (4L-BAS). It appears that EX-086 was parked up in Ras Al Khaimah sometime during the summer of 2009 for storage pending any further work. EX-103 was then parked up towards the end of 2009. Out of the blue came photographic evidence that a 1-11 with the registration 4L-BAS was present at Ras Al Khaimah in March 2010. It was established that this could only be EX-103. The condition of the aircraft suggested that its flying days were over especially as it was being robbed of many parts. At the same time a photo confirmed that EX-086 was being worked on. I can therefore only guess that EX-103 was in the process of being prepared for a new operator during the winter months. It appears that this was Transaviaservice of Georgia. The deal obviously fell through at some stage. I then received news that EX-086 was in Riyadh! After some more "detective work" it looks like the 1-11 was patched up for a one off ferry flight to Riyadh where it will now become a ground trainer for a Saudi maintenance company called Alsalam Aircraft Company Ltd. 4L-BAS has since been scrapped.
20 Jul 2010
Great news has just been received regarding the future of ETPS 1-11 ZE432. A repair job has been approved and it is hoped that the aircraft will return to service sometime before the end of October! It last flew in November 2009.
14 Jul 2010
It has just been announced that the last Royal Air Force of Oman BAC 1-11 553 c/n 251 has been officially retired from service today. It "WILL" remain in Oman!
9 Jul 2010
I have just received this superb night shot taken at the Old Athens airport (Hellinikon) by Ilias Diakoumakos of BAC 1-11 SX-BAR c/n 096. It arrived on delivery to Hellenic Air in September 1992. Unfortunately Hellenic never commenced operations and the 1-11 never flew again! It is therefore amazing to think that it has survived for nearly 18 years since then! See if you can find it on Google Earth! Ilias has asked me to give you a link to a very interesting website that he is involved in at www.airpics.net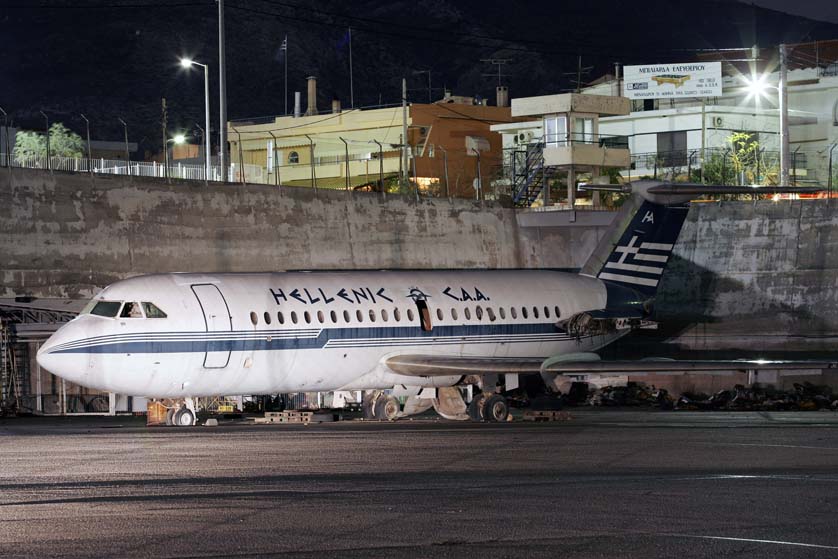 25 Jun 2010
Having viewed the excellent facilities at the Air Atlantique Classic Flight "Airbase" Coventry base last week, I am in no doubt whatsoever that this organisation offers the very best chance to preserve the last UK based BAC 1-11 when it finally comes up for retirement. Where possible they keep their aircraft in a fully serviceable condition in order to present them to the public as they should be seen and heard! They intend to retain their "new" Nimrod in a condition that will allow it to carry out taxi runs along the runway during future open days. It has been suggested that a 1-11 would be a worthy addition to the collection that could be maintained in a similar way. Most importantly the company has a very highly skilled and motivated team of engineers who work in the excellent facilities at the Coventry base. I would thoroughly recommend a visit to the "new" Airbase hangar. http://www.airbase-europe.com/
http://www.aeroresource.co.uk/articles/2010/airbase/ http://www.globalaviationresource.com/reports/2010/classicflightnimrod.php
20 Jun 2010
Former Trast Aero 1-11 EX-086 has recently been ferried from Ras Al Khaimah to Riyadh in preparation for a possible return to service. A Saudi maintenance company is to carry out the maintenance but questions remain as to whether or not the required work can be completed by this particular company, especially in view of the fact that the type certificate has now been withdrawn.
1 Jun 2010
It has been confirmed that the retirement date for the final RAFO BAC 1-11 553 is the 16th July 2010. This is still subject to change. It "will not" be coming back to the UK for one last visit or preservation sadly. It will be handed over to the local training college for further use as a ground trainer.
15 May 2010
So what now for 1-11 preservation?
With chances of another BAC 1-11 being saved for preservation diminishing, what now for the future of 1-11 preservation? There are presently three 1-11s in UK museums although all are outside and have been so for nearly 20 years! They can't be in good shape beneath the surface as corrosion will almost certainly have taken a firm hold by now and will definitely be the winner in the end! Externally the two ex British Airways 1-11s, G-AVMO (East Fortune Museum of Flight) and G-AVMU (Duxford) are both in desperate need of a repaint and look aweful. Inside they are lovingly cared for, but you can't beat the good old English weather, not to mention the odd ash cloud helping with a steady deterioration! G-ASYD (Brooklands) has been cared for by a fantastic team over the years but once again these airframes cannot survive forever out in the open! Out of 244 1-11s built all I want to see is just "ONE EXAMPLE" saved undercover for posterity!!! Is that too much to ask for, for one of our most famous passenger Jetliners? It looks very much like QinetiQ's ZH763 will present the very last opportunity to save an "airworthy" BAC 1-11. Let's not miss that opportunity!
13 May 2010
End in sight to my ambition to save the last airworthy 1-11 in the UK for preservation at Bournemouth?
It has been announced that the Royal Air Force of Oman will be retaining their last BAC 1-11 553 in Oman once it is retired later this year. This will therefore leave just one last opportunity to preserve a BAC 1-11 at its birthplace in Bournemouth. The aircraft in question is QinetiQ 1-11 ZH763 which was originally built for British Airways as G-BGKE. At this stage I have been told that the Bournemouth Aviation Museum will not be able to accept the aircraft on their present site which is off airfield at Bournemouth Airport. Since the Manchester Airport Group have indicated that there is no way that they will allow a BAC 1-11 to be displayed anywhere else on the airfield then I've got no option other than to drop the whole idea! With no support to save another BAC 1-11 in sight at all, I'm off to save yet another Nimrod as it seems that everybody wants one and that there are loads up for grabs!!!
10 May 2010
Another surviving 1-11 has recently been photographed at Moron, Buenos Aires, Argentina. It is LV-OAX which previously flew for Austral many years ago. By the look of it, it has become a "teenagers play / picnic area"! The photo was taken by Robert Domandl on the 1st of May.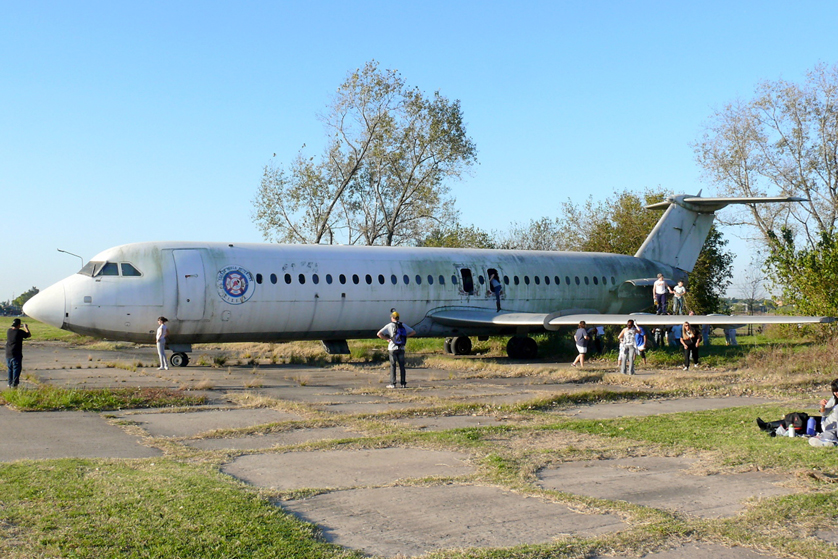 1 May 2010
NEWSFLASH!!! - UK BAC 1-11 FLEET DOWN TO ONE AIRCRAFT
ETPS 1-11 ZE432 is currently out of service with a serious corrosion problem! It appears unlikely at this stage that it will return to service, although a final decision regarding its future is expected shortly. If this is the case then it will leave ZH763 as the very last BAC 1-11 in service in the UK. It's ironic that 763 is probably the least seen / photographed of the entire 1-11 fleet within the UK and beyond. Therefore, if you see it, please report it and photograph it if you can! As I've said in the past, if only it was the last Concorde or even the last Nimrod / VC10 then everyone would be "flocking" to see it!!! Somehow and very sadly the BAC 1-11 just hasn't had the same affect!
5 Apr 2010
If anyone thought that US Air 1-11s were a thing of the past, then how about this shot that was taken last year by Howard Challoner at Orlando International Airport. N1117J has been a fire trainer for many years though this is the first time it has been captured on camera in action with the fire crews and makes quite a sight!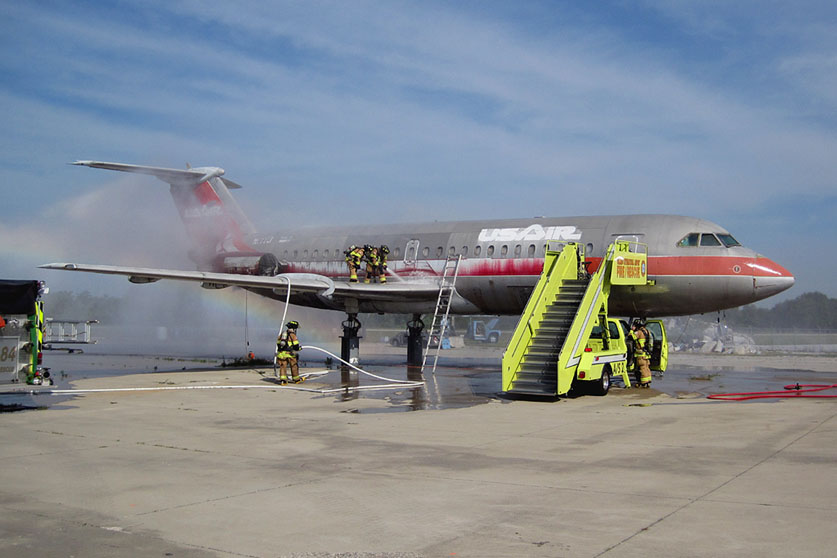 21 Mar 2010
Tony Best supplied this shot of BAC 1-11 UP-BA111 which was taken at Chimkent earlier this year. At some point it was ferried from Almaty. It looks like it is still stored but only time will tell if it re-enters service. As for the new registration, it appears that Kazakhstan have introduced "UP" instead of "UN"!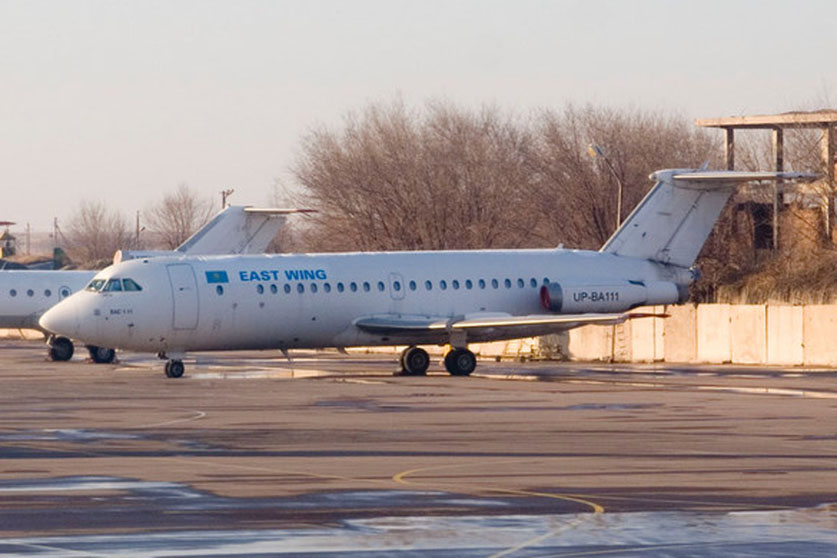 20 Mar 2010
I've just received two images of the Trast Aero 1-11s in storage at Ras Al Khaimah. It is clear that 4L-BAS is now a spares source which will hopefully allow EX-086 to return to service. I must thank Rainer Bexton for allowing me to use the images on my website.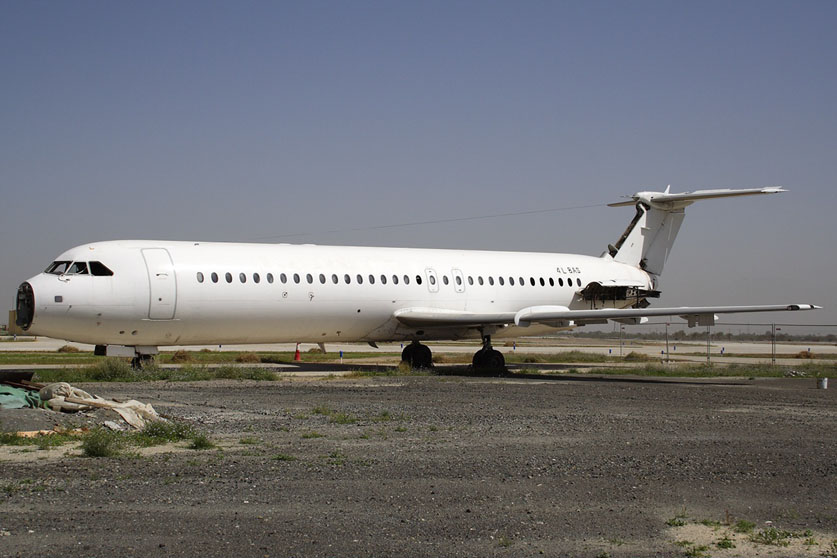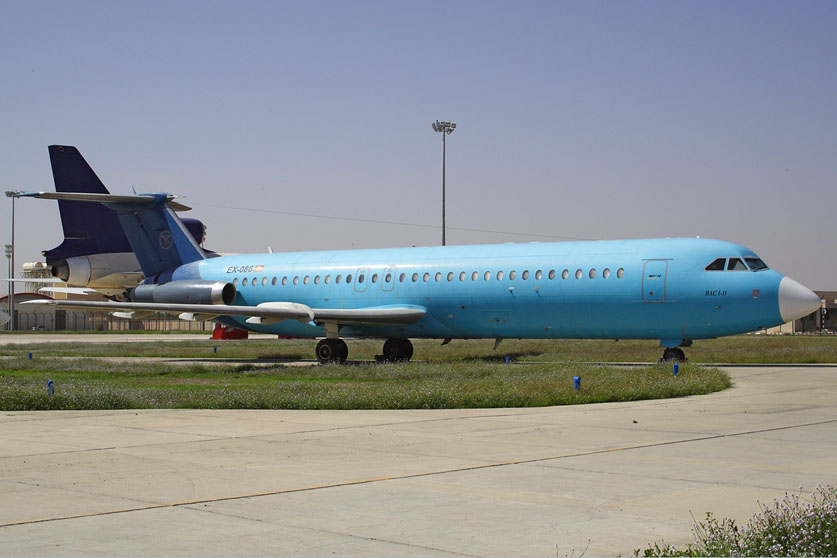 10 Mar 2010
It has just come to light that 1-11 UN-B1110, stored at Almaty for many months, has been re-registered as UP-BA111 and departed to Chimkent/Shymkent. Reports still suggest that its flying days are over as it appears to have continued its long period of storage on arrival. It still has "East Wing" titles on the fuselage.
15 Feb 2010
Three days after the Type Certificate was withdrawn by Airbus I thought that an update on the surviving fleet was due!
Business Jet Access N999BW - Remains active at Dallas Love Field. There are no immediate plans to retire this airframe.
Northrop Grumman N161NG, N162W, N164W - All remain current at Baltimore Washington with no plans to retire the fleet.
QinetiQ ZE432, ZH763 - Both remain current at Boscombe Down. They are due to remain in service for the next couple of years at least.
Royal Air Force of Oman 553 - Remains in service and very busy. It is due to be retired by the end of July 2010.
Tombouctou Aviation TZ-BSA, TZ-BSB, TZ-BSC - Reportedly still active at Tripoli Mitiga although TZ-BSB may have been retired.
Trast Aero EX-086, EX103 - Both seen parked at Ras Al Khaimah in January 2010 but there have been some interesting developments which remain a mystery at present. EX-086 has been receiving some maintenance and may fly again while it appears that EX-103 has been re-registered as 4L-BAS. Some images of 4L-BAS were received on the 17th February which appear to suggest that it is being scrapped and providing spares for EX-086. No further details are currently available.
12 Feb 2010
Airbus withdrew the BAC 1-11 Type Certificate today. What this means for further operations isn't 100% clear yet, but this is the same certificate that was withdrawn from Concorde!!! The difference with the 1-11 is that no aircraft still operate within any EU member state. For operators outside the EU, operators need to contact their own state of registry for a decision on the continuing validity of any certificates that they have issued. My understanding of this is that operations may continue if an exemption can be justified. For example QinetiQ and Northrop Grumman are using their aircraft for research etc whereas those registered in Mali or Kyrgyzstan may find it much more difficult to continue their operations!
Any further comments / thoughts regarding this very significant development would be most welcome. This really does sound like the beginning of the end!
16 Jan 2010
A new and totally unknown registration, 4L-BAS, has appeared and been confirmed on a 1-11 stored at Ras Al Khaimah. I've no idea which aircraft it is other than maybe former EX-103. EX-086 is also stored at the same location. Any leads would be most welcome!
31 Dec 2009
1-11 review of the year 2009
The remaining in service fleet is declining at an ever increasing rate! Highlight of the year has to be, what might turn out to be, the last visit of a RAFO 1-11 to the RIAT at Fairford in July. It was well documented that 553's visit would possibly be the last public display of an Omani 1-11. I must thank all of you who took many photos of this immaculate airframe over that weekend. My "current fleet" page still lists eleven aircraft in service although I believe that the number is more likely to be in single figures by now. Looking more closely at the remaining operators, Business Jet Access's 1-11 N999BW has been on the ground for most of the year due to maintenance and a refit. Northrop Grumman have been keeping busy with their fleet although N161NG hasn't been seen in service this year which suggests that it has been in for a "mission" refit. QinetiQ have been busy with ZE432 while ZH763 spent much of the year in the hangar being prepared for it's next mission. It re-entered service in September. The Royal Air Force of Oman withdrew 552 in March which leaves just 553 in service. It will be retired when the next A320 arrives at Muscat but I've been advised that it could be any time between January and July 2010. It remains to be seen whether or not it will make one last appearance at the RIAT in 2010. As for its preservation, keep an eye on my news page. Tombouctou Aviation now have three 1-11s in service with TZ-BSC (ex YR-HRS) being the latest addition. It appears that the fleet spend much of their time at Tripoli Mitiga, presumeably because it is more central to their operations throughout Europe and the Middle East. It has been suggested that the series 400 aircraft, TZ-BSB, may in fact have been withdrawn from service by now. Trast Aero have been keeping fairly busy during the year with their two 1-11s being leased out at various times. The main operator appears to have been OSOB Airline Ltd. They leased both aircraft at various times throughout the year. I have been advised that EX-086 is now in storage at Ras Al Khaimah. EX-103 is therefore the last passenger 1-11 in service! Other 1-11s that have been in the news this year have been the ex Select Aviation 1-11s. All three aircraft have finally been sold, but despite the absolutely pristine condition of these aircraft, it looks like their fates have been sealed. N200EE and N200JX flew into Orlando Intl at the beginning of July but haven't flown since, while N111JX is going to become a spares ship for Northrop Grumman. It carried out its final flight to Mojave on the 10th December. Finally all has gone very quiet on the Romavia 1-11 front. I was told that their 1-11 operations were due to end during the first half of the year. This has yet to be confirmed, although it has to be said that the Government aircraft YR-BRE has not been seen away from Bucharest this year.
11 Dec 2009
N111JX has finally flown for the last time! The former Select Aviation 1-11 departed from Waukesha Crites Field yesterday bringing to a close a very interesting chapter of 1-11 history. It flew into Mojave via Pueblo Memorial Airport where decommissioning commenced today. All useful spares will be used by Northrop Grumman.
5 Dec 2009
A big thank you to Peter Spence for allowing me to use this fantastic shot of Northrop Grumman 1-11 N162W getting airborne at Los Angeles during a visit in November. It is one of three very unique aircraft based at Baltimore Washington. The latest news from Northop Grumman is that they intend to keep their three airframes in service for the foreseeable future.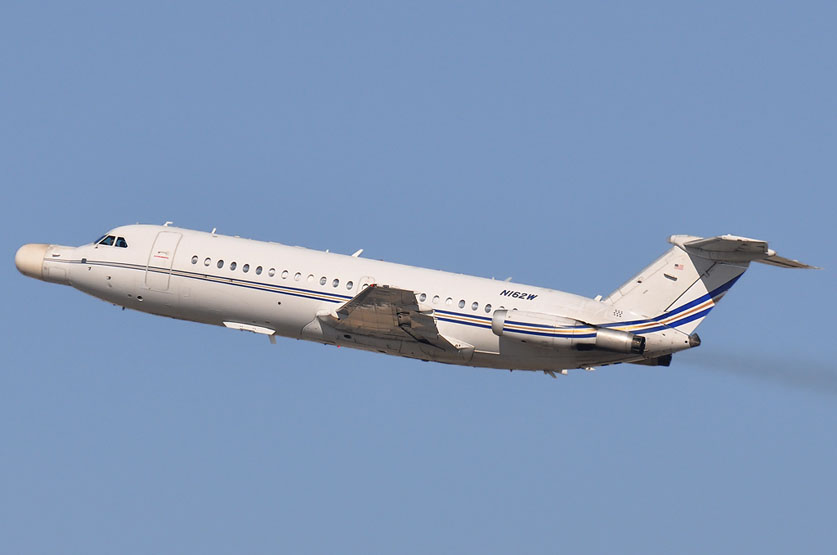 25 Nov 2009
Former Select Aviation 1-11 N111JX c/n 163 has been sold to Northrop Grumman as a spares ship for their three active 1-11s. The other two Ex Select Aviation 1-11s that were sold to Elite Express LLC still haven't flown since their arrival at Orlando Intl at the beginning of July. It therefore seems very unlikely that they will fly again.
10 Nov 2009
Google Earth images appear to confirm that former Albarka Air 1-11s 5N-MBM and 5N-BBU have finally been broken up at Abuja, Nigeria where they had been stored for many years.
Oct 21 2009
RAFO 1-11 553 made another "last visit" to Bournemouth today. Unfortunately it arrived as it was getting dark!!! It is due to depart in a couple of days time. As of today, no further news has been received regarding the possible preservation of the aircraft at Bournemouth.
Oct 10 2009
All three Tombouctou Aviation 1-11s were present at the LAVEX 2009 exhibition held at Tripoli Mitiga earlier this month. One of the three, TZ-BSB appeared to be in storage although I await confirmation of this. The resident stored aircraft 5A-DKO was also noted in a reasonable condition with engines still attached. Below is an image of the latest aircraft to join the Tombouctou Aviation fleet, TZ-BSC previously YR-HRS, taken at Mitiga. This is likely to be the last time that a 1-11 is re-registered.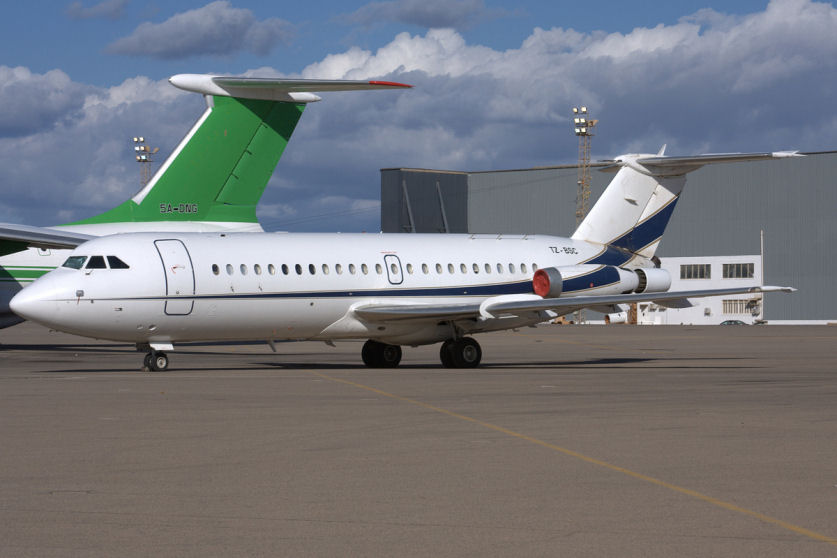 Sep 30 2009
It's time to give you an update regarding the BAC 1-11 fleet in the USA starting with N101PC. This aircraft was photographed by Simon Cod at Atwater Merced, a former US Air Force base on the 19th September 2009. It has been parked there for several years and most definitely won't be flying again, despite its appearance.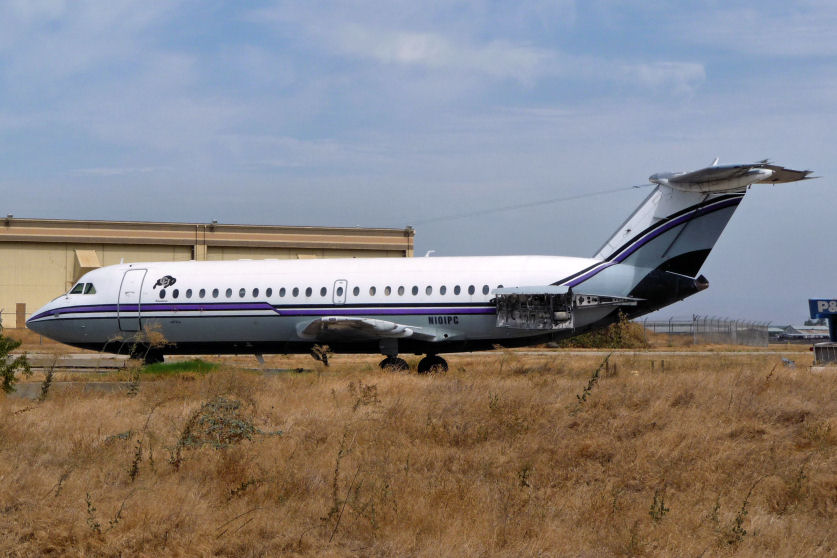 The active US 1-11 fleet is down to just four aircraft. These being the three with Northrop Grumman, N161NG, N162W, N164W and one with Business Jet Access, N999BW. Three others are airworthy but don't fly, these being N111JX, N200EE and N200JX. The remaining aircraft are either stored like N101PC or are derelict. These include N789CF which survives with engines attached and N1117J / N1134J which are both derelict. N1117J sits on stilts at Orlando International Airport. For what purpose is unknown. N111RZ is now located at a private site where it is understood that its wings and tail may have been re-attached after their removal last year. I am only aware of one other 1-11 that is stored in the US and this is XA-ADC at San Antonio. This aircraft has been there for years and is derelict.
7 Aug 2009
I have received the email I'd been waiting for from the RAFO but it wasn't the news I'd been hoping for unfortunately. No announcement will be made for the time being. All is not yet lost but all we can do in the meantime is sit tight and hope that a favourable outcome is eventually reached.
29 Jul 2009
More news has been received regarding the two ex Select Leasing pair of 1-11s, N200EE and N200JX, that recently flew into Orlando International Airport. They are now owned by a company called Elite Express LLC. Very little is known about this organisation, but they intend to carry on flying the aircraft in their present executive layout as far as I am aware. To date the aircraft haven't flown since their arrival.
21 Jul 2009
Regarding the RAFO 1-11 553, no official announcement is now expected until the 2nd August at the earliest!
20 Jul 2009
And a further quote from the aircrew at Fairford when asked the question by a visitor:-
Having had a splendid tour of 553, I spoke to the flight crew this weekend at Fairford, they confirmed it *will* be going to the museum at BOH because "it's not their aeroplane" they "have no right to it" and it "belongs in the UK" (!) – amongst other reasons. Obviously it's a believe it when it happens but these guys are convinced its going to BOH!
18 Jul 2009
A quote from a RAFO engineer with the 1-11 at Fairford:-

The Oman 1-11 will return to Bournemouth at about 12.15 on Monday 20th July to night stop before heading home on Tuesday 21st July. This was quoted at the RIAT today by a RAFO engineer with the aircraft and he confirmed this. He said that he is also aware of the effort being put in to get the aircraft back to the Bournemouth Aviation museum. Here's hoping!

At last, someone from the RAFO with a "little bit of upfront info"!!!

14 Jul 2009
553 is due into Bournemouth today at 1655 as MJN565. It will be staying for two nights before positioning to Fairford at around midday on Thursday. I'll once again ask anyone who can make it to please record this "significant moment" in the 1-11s history which could be the last time we ever see an active 1-11 on the ground at Hurn. Any digital images or movie footage would be much appreciated. Only time will tell whether or not we can bring this 1-11 home for preservation!
4 Jul 2009
Amazing news received this week is that two of the three stored Select Leasing 1-11s have flown out of Waukesha Field to Orlando International (KMCO). N200EE departed on the 24th June and N200JX, the oldest surviving 1-11, followed on the 1st July. It therefore appears that the aircraft have finally been sold. Whether or not the remaining 1-11 N111JX follows remains to be seen.
30 Jun 2009
I've just received a very interesting report, including some lovely images, of one of Northrop Grumman's 1-11s taking part in Exercise Northern Edge 09 which was held at Elemdorf Air Force Base in Alaska. http://www.elmendorf.af.mil/news/story_media.asp?id=123155225
25 Jun 2009
I have just been advised that the MIA Airlines 1-11, YR-HRS has been re-registered as TZ-BSC. It joins two other former sister ships with Tombouctou Aviation in Mali. They are all believed to be based at the Mali capital Bamako.
12 Jun 2009
It has come to light that the world's "last" passenger operator of the BAC 1-11, Trast Aero has recently launched a new website at:- http://trastaero.com/ This is an interesting development since it shows the company operating three 1-11s including the very last ex British Airways series 510ED aircraft EX-215. Having been rescued from Nigeria last year, it was believed that this was acquired for spares use only! I await confirmation of its status from the company themselves. EX-086 and EX-103 have both been photographed at Dubai over the past month. Photographic evidence appears to be the only way to proove without any doubt that these elusive airframes are still in service so please keep them coming!
01 May 2009
Most of you are probably not aware that today is a rather significant anniversary. 1-11 G-BLHD "Last Hurn Delivery" made its maiden flight from Hurn exactly 25 years ago on the 1st May 1984. This occured just before the final closure of the BAe factory at Hurn with the loss of over 2000 jobs, and more importantly bought to a very sad end a great era of aircraft production at the Bournemouth site. 146 Varsities, 279 Viscounts and 222 BAC 1-11s were built at Hurn from 1951 to 1982. G-BLHD and G-BLDH remained unsold and unflown at the BAe Factory until 1984 when they were bought by McAlpine Aviation.
29 Apr 2009
RAFO 1-11 553 confirmed for the Fairford RIAT 2009!
It has been confirmed on the RIAT website that 553 will make one last appearance at the Air Tattoo this year. It will be in the static display. I have also been advised that it will visit Bournemouth as well.
28 Apr 2009
BIG NEWS!
Dear All,
I have just received a telephone call from Steve Rhymes stating that the trustees of the Bournemouth Aviation Museum have "overwhelmingly" supported my plan to bring one of the last serviceable 1-11s back to Hurn for display at the new museum site across the road from the Airport next to Adventure Wonderland!!! They made the "absolutely crucial decision – for the future of the museum" at their meeting earlier this evening! This is fantastic news, although I will have to try and stay calm until it actually happens just in case there are any major disappointments along the way! It's not in the bag until it's sat in that field in all its glory, so this is just the beginning! There is now the small matter of persuading either the Omani's or QinetiQ to part with their last aircraft when the time comes! Timescale wise we are looking at between 8 months, for the Omani 1-11 and a couple of years or so for the QinetiQ aircraft. The aircraft in question are 553 or ZE432/ZH763.
I would welcome any thoughts and / or ideas. Please keep in touch for further updates.
Peter
BAC 1-11 Forum at Yahoo Groups
22 Apr 2009
ZE432 made a very welcome appearance at Hurn today! Along with 553, which departed last Friday, that's two 1-11s in a week! It makes it all the more appropriate therefore that I'm making my "FINAL" bid to have a 1-11 preserved at Hurn, and ironically it will hopefully be one of the aircraft which visited over the past week! Several enthusiasts have now made the same obvious statement as me and that is:- "how can you have an aviation museum at Bournemouth without a 1-11 in the collection"!!! If you share this view then please start making some very loud noises over at the museum and around the airport. This really is the last chance to save Hurn's finest aircraft!
15 Apr 2009
553 arrived at Bournemouth this afternoon at just after 5.00pm as MJN 530. This could be one of the most significant 1-11 movements ever at Bournemouth if it turns out to be the last ever visit of the type. It is hoped that 553 might visit once again later this year, but with time rapidly running out, you have to assume that every visit of a 1-11 to Hurn is possibly the last!
553 landing on runway 08 courtesy of Bob Finch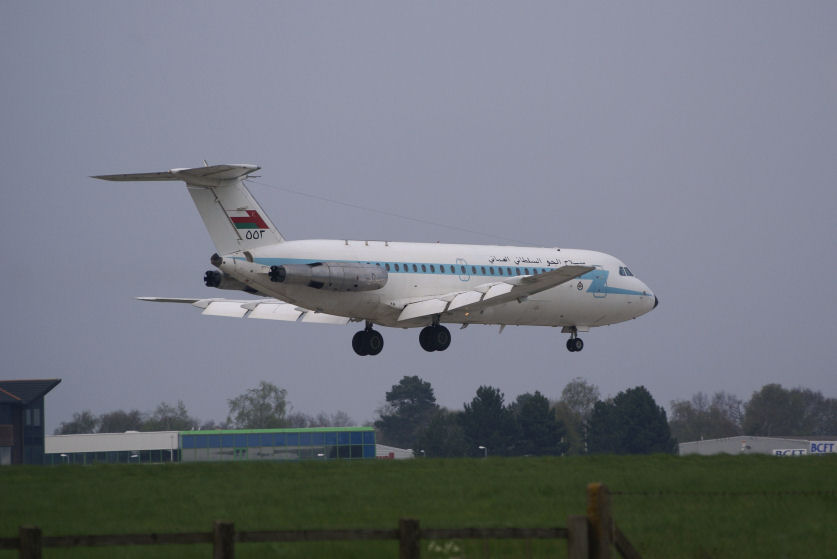 13 Apr 2009
RAFO 1-11 553 should be arriving at Bournemouth during the late afternoon on Wednesday 15th April for what will probably be the last ever visit of an Omani 1-11 before the last of three aircraft is retired by the end of the year. The aircraft were delivered new to the Royal Air Force of Oman in 1974. Therefore they've been in service for 35 years with the RAFO making them the longest ever operator of the type.
Sadly I can't make it once again due to work commitments but I would be "very grateful indeed" if this event is recorded by "diggy cam and camcorder if possible"!!! I've yet to get some really good close up footage of any of the Omani 1-11s despite the number of visits to Hurn by the aircraft!
This could, in theory, be the last ever visit of a BAC 1-11 to Hurn unless QinetiQ fly any of their three aircraft in again.
I've received no further word regarding whether or not the aircraft will make one final appearance at the Royal International Air Tattoo at Fairford in July.
8 Mar 2009
RAFO 1-11 552 was flown from Muscat Seeb to Masirah and into retirement today. It will be parted out before being handed over to the RAFO fire school.