NEWS

Please visit my bac1-11jet Facebook Group for further information and much more. I have opened the Facebook Group as an extension to the website specifically for former pilots, engineers and production workers etc who have direct links to the aircraft. Feel free to send me an email at anytime and I will reply as soon as I can. I will place any newsworthy items on my news page. Just let me know about anything to do with the 1-11, movements, colour scheme changes, registration changes, scrappings etc. KEEP THE INFORMATION COMING !
bac1-11jet - Home of the BAC 1-11 on the Web Facebook Group
30th December 2022
1-11 Review of the Year 2022 / 60th Anniversary 2023
I've now being running my BAC 1-11 website for 21 years. It came into being as I wished to share my passion to a wider audience and the best way to do that was to have a go at creating a website. I was very fortunate indeed to meet "Mr BAC One-Eleven" Richard Church at the same time and he agreed to let me add the details from his magnificent book "The One-Eleven Story" by Air Britain. This gave me the best possible platform in which to tell the story of this much loved British jetliner, albeit one that clearly hadn't received the admiration it so deserved. Compared to types such as Concorde, the Comet, The VC10 and Trident, nobody seemed to give the "humble" One-Eleven much attention or give it a second glance. It just went about its daily business quietly but also very successfully. Since the original publication of Richard's book nearly 30 years ago in 1994, I'm very pleased to say that he has continued his incredible research right up until this present day and the story has been regularly updated ever since. My website has given Richard an "online tool" in which to share those "live" updates with the rest of the World without having to produce another book in which to do so. It's been a fabulous way in which to share his story with a global audience. In addition, my Facebook Group has complimented the website and given me a social media platform in which to interact with all those who have participated in the group. I must add that I have no link to the other 1-11 groups on Facebook.
However all good things must come to an end!
The 60th Anniversary of the BAC One-Eleven will take place on the 20th August 2023 and I've reached the decision that this will be a very appropriate opportunity to bring "my own 1-11 story" to a fitting conclusion. It is my wish that we hold one final gathering of former 1-11 people at Brooklands Museum on-board the most famous aircraft of them all G-ASYD. There won't be any party balloons or champagne, just an informal get-together and lunch in the museum's cafe to bring my story to a very fitting close. The event will take place during the museum's normal opening hours and standard museum admission fees will apply. Richard will hopefully be present to share his own experiences as BAC One-Eleven Historian and guide on G-ASYD.
With regards to my website, I am just in the process of replacing my decade old steam driven PC which has my "very simple" website software package on it which I use in conjunction with my site. The cost of upgrading to a new website package isn't something I wish to proceed with. Therefore, I have once again taken the decision not to update it any more unless I find another solution. This post / news update will therefore be my last one on the website. After 21 years not to mention the thousands of hours dedicated to it, I feel the time is right to use the 60th as the perfect excuse to bring this project to a natural ending in the most appropriate way. It will remain live on the web for as long as my domain continues to be hosted. My Facebook group will remain open although I don't intend to have much further input beyond my current task of running through the construction numbers along with a favourite image of each. I've some way to go but hope to complete it in time for the 60th Anniversary as that's been the whole point of it to keep the interest going. Other contributions / posts have become fewer and fewer since the last aircraft was retired in 2019. Of course there are several other 1-11 Facebook groups which many of you also contribute to.
I must just share a brief update about my own flying career. After 33 years flying I decided to take early retirement as a result of the Coronavirus Pandemic. There are many other reasons for doing so, some ten years before I had to. Firstly, I'd had enough of the commuting and living out of a suitcase, the unsociable hours and poor diet as a result, the ongoing training requirements which seemed to get ever more complex and time consuming and the ultimate fact that it wasn't what it was when I started flying back in the 1980s! Aviation has changed beyond recognition since those days with 9/11 bringing about the single biggest change of all time - enhanced security the likes of which we'd never seen before! Health and safety has continued to go mad and the comradery just isn't the same as it once was. I've been lucky enough to have flown many different types to many amazing places and wouldn't have changed it for anything. Light Aviation wise, I've also quit mainly as a result of the ongoing sqeeze on GA flying and the ever increasing costs that are associated with light aircraft. For example the hire rate of a PA28 is now well above £200 an hour! If only flying was as simple as it is in the USA! Piper Cubs on floats at Jack Brown's Seaplane Base in Florida would have been my perfect retirement hobby! If only I could have a "green card"! Looking back to those fortunate "baby boomers" weren't they so lucky to be able to retire from the airlines at the "standard" retirement age of 55 on a gold plated final salary pension! A luxury of a very distant past! Ask any former BOAC / BEA Captain!
So there it is - 60 years old and what a story it was! 60 years following it by Richard Church, 45 years following it myself and over 20 years sharing it globally via my website. Please feel free to share your thoughts.
Seasons Greetings and Happy New Year to you all. I sincerely hope that 2023 will be a successful year for you and your families despite everything going on!
Peter
9th December 2021
1-11 Review of the Year 2021
It's 20 years since I created my website! I'd like to start this update therefore by saying a big thank you to those who have supported my efforts and contributed in one way or another. It's been much appreciated.
Not surprisingly there's nothing to add since my last review. Since the last airframe was grounded in May 2019, there's been less and less to report on. Occasionally I hear that N999BW has been fired up and taxied around at Kansas City Intl but that's it. To be totally honest, I think it's fair to say that it's virtually time to call time on the aircraft and consign it to the history books once and for all. We all love viewing those classic images that constantly appear on the web but there's only so many times you can keep doing so. I take my hat off to the guys at the Vickers Viscount Network Website. They have been doing some incredible work over the years to give you their "virtual Museum" and long may that last. My wish would be that one day they'll consider creating a BAC 1-11 Virtual Network as it was a natural replacement to the Viscount. Only time will tell whether or not their team might take on my favourite Jetliner! My Facebook Group continues to run alongside my website and now has nearly 220 members. We have been sharing some wonderful images and stories over the years but once again new posts have reduced to a trickle now which suggests that it's very nearly time to move on. However there is one final event that I'm still building up to and that's the 1-11's 60th Anniversary, which we will celebrate in August 2023. It is my sincere hope that we will have a brand new book to share with you to help us celebrate the historic event, one which will "complete" the story. The "Icing on the cake" is therefore just over a year and a half away so fingers crossed we can "go out" in style!
All the very best to you all, have a great Christmas and a Happy New Year
5th March 2021
It's been a while since my last 1-11 update, quite simply because there isn't much happening since the final Northrop Grumman aircraft was retired in May 2019. If there was a highlight, of sorts, it was probably the celebration of Romaero's 100 years history of aviation activities in Romania. 1-11 TZ-BSC was given centre stage last year for this important anniversary with the celebrations officially taking place at Bucharest Baneasa Airport. TriStar Experience are still stating that their 1-11 N999BW is serviceable for engine runs at Kansas City Intl Airport although news from them is patchy to say the very least. Their aircraft is officially the last 1-11 in the World that remains in an engine running condition although it will never fly again. I have just searched for the surviving 1-11s that haven't been scrapped using Google Earth and as a result I'm pleased to say that around 36 airframes still exist although the majority are considered as derelict. Three have now been scrapped since my last look, 9L-LDJ at Malta, PK-TST at Jakarta Halim and VR-BEB at Bournemouth which was only broken up last month. Google Earth has been an invaluable tool with respect to locating these aircraft. To do so successfully, with a timeline, you need to download Google Earth Pro, which is a free download for those interested. As far as 1-11 preservation goes there is little change to my current list.
3rd August 2020
For a number of reasons I have removed the BAe Archive Collection having shown these wonderful images for many years. The biggest problem has been the issue of "copyright", ruined by one or two individuals who refuse to stick to the very simple rules. I'm sorry that it spoils it for everyone else.
25th May 2020
Although there are no longer any 1-11s still flying I thought I'd give you an update as to what is still happening out there. In the USA the last aircraft in the world still capable of being powered up and having its engines run is TriStar Experience's 1-11 N999BW. I very recently received an update from a team member along with an image that backs up what they are currently doing with the aircraft at Kansas City Intl Airport. In Romania 1-11 TZ-BSC is still receiving much tender loving care at Bucharest Baneasa having been restored a couple of years ago by a team of Romaero engineers. It has been given "new" titles this year to celebrate 100 years of Romaero. While just down the road in Otopeni a group of enthusiasts are making the latest bid to preserve a ROMBAC 1-11. YR-BRE and YR-BRI are still on site having originally been operated by Romavia but have been stored for many years. Amazingly they are still in excellent condition. I enclose recent images of all three aircraft and would like to thank those who took the shots. In N999BW's case Mark Messer. I've no idea who acutally took the shots of the two Romanian 1-11s but they are almost certainly members of the groups that are looking after the aircraft as far as I know. Further updates will follow if I receive any further news.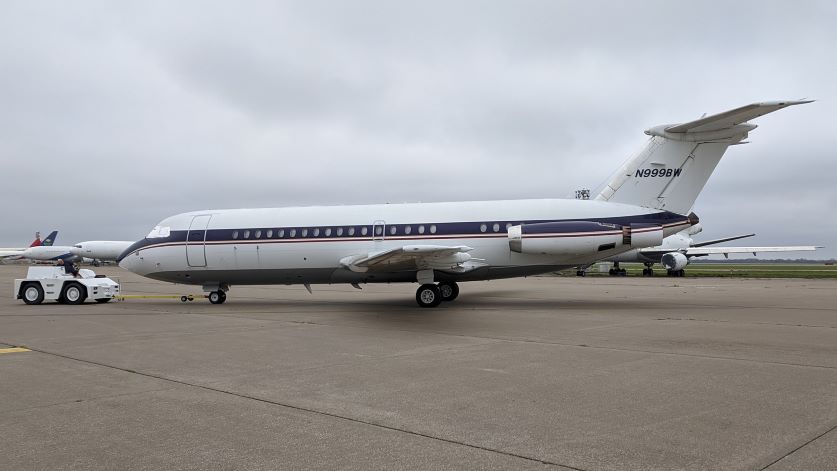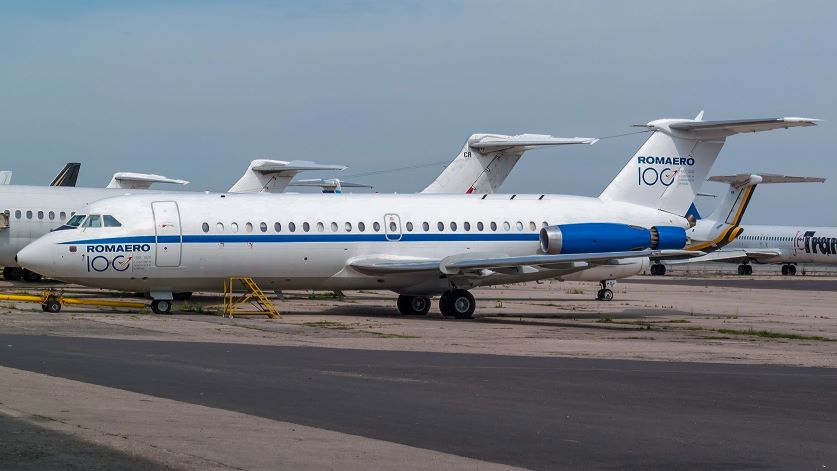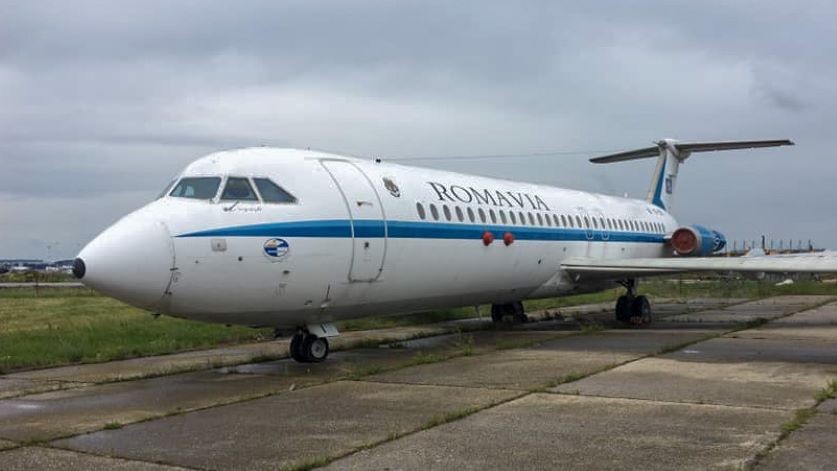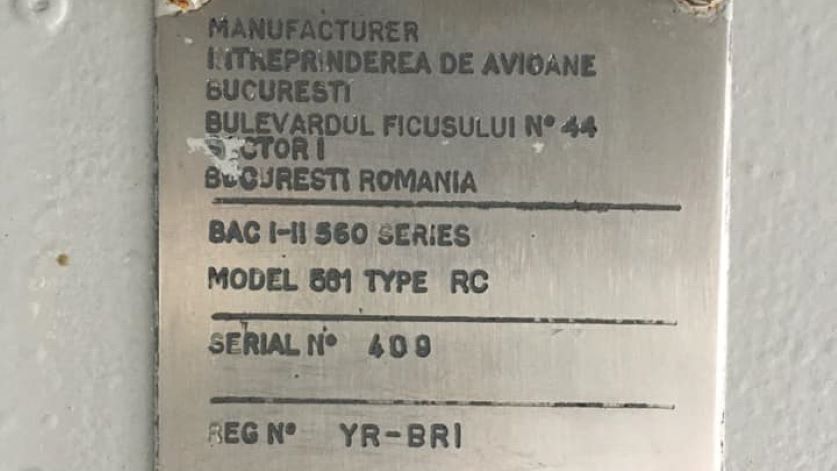 1st January 2020
1-11 Review of the Year 2019
Having followed the BAC 1-11 for 40 years since my first visit to the Hurn production line as a "spotty" teenager in 1979, this "final" in service review had to eventually come! I never thought it would last this long but it's certainly been an interesting journey for both the 1-11 and myself! The 6th May 2019 should be recorded in the history books as the very last time that a long line of classic British jet Airliners ever flew bringing to a close 70 years of amazing service by such incredible aircraft as the Comet which first flew in 1949, the Trident, VC10 and Concorde. The 1-11 has certainly done us proud over the years in many ways however it is such a great shame that the significance of this last flight was completely lost by the majority who didn't even raise an eyebrow at such an historic event. Unbelievably, the moment wasn't even captured on film either despite being in the "4K HD digital era"!!! Totally unforgivable! Fortunately we are very lucky to have a couple of local Baltimore Washington aviation photographers who captured the historic moment, one of many that they have captured over the years! Northrop Grumman did record the event in their own way but I don't think managed to fully recognise the significance of what was the last flight of such a long line of historic aircraft produced by our UK pioneering aviation industry. The fact that they couldn't preserve N164W is just so sad and beyond me! So it's all over and I'm told that both former American Airlines / Dan Air airframes have now been scrapped!!! A very unfortunate and totally unsatisfactory end indeed. I enclose several "favourite" images taken by Bob Garrard and Tony Storck who I can't thank enough for snapping so many stunning images of these special aircraft over the years. Thank you guys! Regarding other 1-11 going-ons in 2019, the only other news item worth mentioning is the fact that Romaero, builders of the Rombac 1-11s and based at Bucharest Baneasa, will be celebrating their 100 year history in 2020 and as a result they have placed special titles on the aircraft they restored last year, TZ-BSC, previously G-MAAH and YR-HRS. It's been an emotional couple of years what with the demise of Monarch, the end of the 1-11 and the small matter of returning to be based at one of the airports I first flew out of when I started flying with Air UK back in 1990 on the Fokker F27 Friendship namely London Heathrow with Scandinavian Airlines on their brand new A320neo. Incredible that it's 30 years ago!!! I have to admit that I have really enjoyed taking in the sight and sound of those wonderful BA 747s which will all be withdrawn in the next few years! By far the most iconic aircraft to frequent the place since the first BOAC, Pan Am and TWA examples arrived in 1970! 50 years on and the "Queen of the Skies" is still around in large numbers! However this last "in service" review of the 1-11 is what this year's review is all about! 56 years / six decades in service is an amazing achievement. Thanks to all of you who have been a part of such an incredible journey. I hope to bring you a "Special Feature" on The Northrop Grumman BAC 1-11 Story very soon. In the meantime, enjoy these wonderful images on my Facebook page taken by Bob and Tony over the years of two incredible BAC 1-11s that are, in my opinion, two of the most "historic / iconic" airframes of all those we built in the UK over the past 70 years. They deserved so much more recognition!
I wish you all a very happy New Year. Thank you once again for all your support and stories and for being a part of my own "aviation" journey with many happy and fond memories of so many amazing UK built airliners that none of us will ever forget.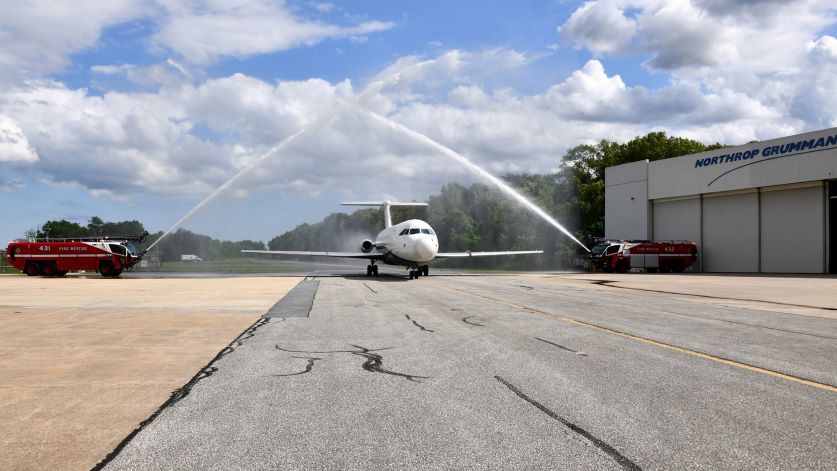 7th May 2019
Northrop Grumman retired their last BAC One-Eleven testbed as well as the last flying example of a BAC 1-11 in the world on May 6th, 2019. N164W is a 1966 BAC 1-11/401K, originally owned by American Airlines and acquired by Westinghouse Electric Corporation in 1983 from Dan Air. Take off on Runway 28 occurred shortly after 1330L. Two hours later, "Scan Six Four" called final for a return to BWI Marshall Airport's Runway 33L. Baltimore Tower approved a low approach. The power came up and the Rolls Royce Spey engines spewed black smoke in dramatic fashion. The landing gear was raised and a level flyby into a climb was executed before re-entering the pattern for landing, completing the final chapter of the BAC 1-11 in aviation history.
13th December 2018
1-11 Review of the Year 2018
2018 looks like being the last "full year" of BAC 1-11 operations as Northrop Grumman prepare to retire the worlds last flying airframe, N164W, sometime in 2019. The aircraft has had an unbelievable run since the type was first introduced to the world way back in 1963, six decades ago! As I've stated many times, this particular airframe is remarkable for it's own incredible story! I've thoroughly enjoyed following such an historic type over the years and one which has outlasted every other first generation UK built Jetliner by some distance. Highlights of 2018 have been the restoration of the 1-11 in Bucharest Baneasa by Romaero, who once built the ROMBAC 1-11s many years ago and the continued service by N164W. Therefore, my focus of this years review is to highlight the amazing longevity of this single historic airframe and to celebrate rather than mourn its retirement which will almost certainly take place at some point in 2019. My final hope is that Northrop Grumman will recognise the immense contribution that this airframe has made to their own operations over the past 36 years and ensure that the 1-11 is placed into preservation where it can tell the fantastic story not only about their aircraft but "all those 1-11s" that have flown in the USA for the past 54 years since the very first Braniff aircraft arrived in 1965.
Enough has been said about the various other grounded / preserved aircraft over the past couple of years as well as my own trials and tribulations / highs and lows etc over the past 12 months. 2019 is going to be "YEAR of the 1-11", a celebration of a truly amazing 56 years of service since it first flew such a long time ago. Let's reminisce and enjoy its final few months in service and hope that N164W is preserved in one of the top US museums for posterity. I have uploaded Special Feature 22 about the latest Romanian 1-11 story which is available for view via a link on the opening page of my website only at present due to a number of changes to my website developer which I've not yet mastered! Special Feature 21 about Dee Howard and the Tay 1-11 is unfortunately still a work in progress as I am awaiting the story to be told by one of those who was actually there at the time. It goes without saying that Special Feature 23 will no doubt focus on Northrop Grumman 1-11 operations and the retirement of their last aircraft when that eventually takes place.
Best wishes for a peaceful Christmas and a happy 2019.
2nd October 2018
Very little news has come my way in what is the 55th Anniversary year of the BAC 1-11. A Facebook Group has been created by a small number of people who are attempting to save a BAC 1-11, VR-BEB, which has been dumped / is derelict at Bournemouth Airport since the mid 1990s. To be honest, it's in one hell of a state and is virtually gutted from top to bottom internally. Externally, I dread to think how much rust and corrosion must have taken hold by now. I made one very final attempt last month to try and gain support from the Cornwall Aviation Heritage Centre to try and get some insurance money raised to allow us to continue our APU / Engine runs on their 1-11 ZH763. As before with my previous attempts it came to absolutely nothing. It saddens me very much to have to say, they simply aren't interested in preserving such a unique aircraft in a fully serviceable condition. It is "rapidly" deteriorating in the harsh conditions at Newquay Airport. TZ-BSC was displayed for a second time at the Bucharest International Air Show and looked magnificant in its brand new livery! Although not confirmed yet, it is hoped that the aircraft might go on display somewhere on the airport as a tribute to the aircraft and its connection with the Romanian aviation industry over the years. I await further news regarding the retirement of the final BAC 1-11 in service with Northrop Grumman.
11 May 2018
The BAC 1-11 stored at Bucharest Baneasa, cn259, formerly TZ-BSC of Tombouctou Aviation, has recently visited the Romaero hangar where it has been resprayed into a new livery for the "ROMANIA 100" celebrations. It will be displayed at the Black Sea Defense & Aerospace show 2018 on the 18th - 20th May and the Bucharest International Air Show to be held on the 28th July. It was rolled out in an all white livery with a blue cheatline and "ROMANIA 100" titles. The outer port wing of this aircraft had been cut off but it appears that Romaero have put a "new" wing on the aircraft! This aircraft has been stored at Baneasa since February 2011. It became an office for a while and was painted into a rather interesting livery before being "left to rot" more recently. However it appears that it's possible that the airframe may well be preserved instead. I'm told that it would just be a "cosmetic" restoration rather than returning it to a serviceable state.
For more on this amazing story go to this page.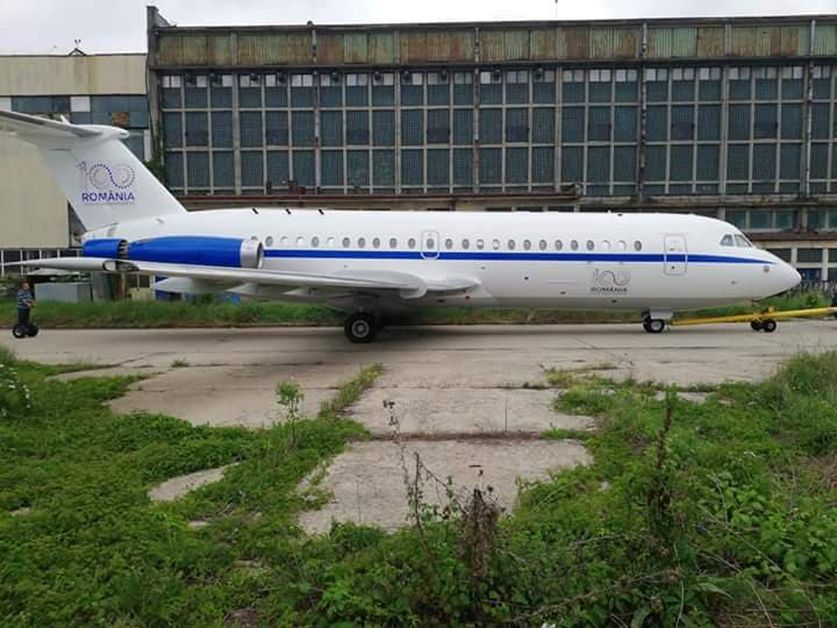 Thanks to Rares Mandu for supplying this image taken by Laurențiu Căpățînă. (Sorry for the poor quality)
30 Mar 2018
Northrop Grumman have finally announced that BAC 1-11 N162W has been "officially" retired from service. As of 22 March 2018 the aircraft is officially withdrawn from use and is having its program system equipment removed. A final decision will be made in due course as to whether or not it will be scrapped at its Baltimore Washington base or flown out to Mojave to join the other two 1-11s cannibalised for spares by the company. Its final hours and landings are as follows:- Total Aircraft Time 54,262.6 hrs & Total Aircraft Cycles 38,671 ldgs. It's a great shame that the company didn't acknowledge the historic value of these two wonderful aeroplanes with a final photoshoot as had been widely anticipated and hoped for by many linked with the aircraft over the past 55 years!
7 Dec 2017
1-11 Review of the Year 2017
54 years now and still counting!
Not surprisingly there is little change from last year with just two airframes still in service. However as I announced on the 12th November, the retirement dates for the Northrop Grumman aircraft have been announced and it appears that N162W will be no more by the end of this month and will therefore become a spares source for N164W whilst it remains in service for a couple more years. Preservation wise there is absolutely nothing to add since my last news update on the 24th March. My biggest disappointments of 2017 have been the ending of engine runs with "serviceable" 1-11 ZH763 at Newquay and the failure of Bournemouth Aviation Museum to officially open the forward section of former ETPS 1-11 ZE432. I'll keep this years review short and sweet and just say Happy Christmas to all those who follow my website and Facebook / Yahoo Group.
I must just add how very sad I am that I'm no longer flying Airbus A320/321s for Monarch Airlines. It has been a tough end to the year. Roll on 2018!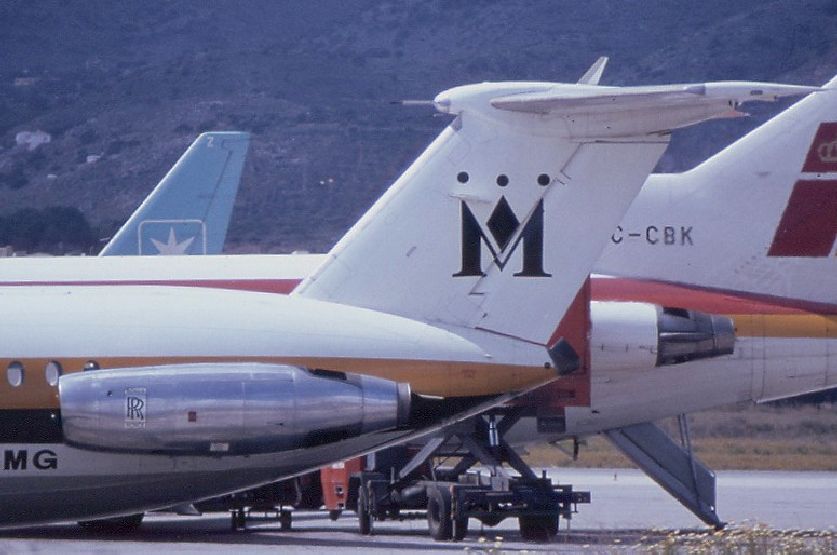 12 Nov 2017
I've just received the news we've all been dreading for sometime now, the retirement announcement of Northrop Grumman's pair of BAC 1-11s, N162W & N164W, the world's last two airworthy 1-11s! All we need now is a final and very fitting "formation" flight from NG!!!
Below is a copy of their statement:-
In the beginning, there was the BAC 1-11. Manufactured by the British Aircraft Corp., it was the second short-haul passenger jet to enter service as the aviation industry moved from propeller-driven to jet-powered aircraft. The plane was introduced in 1965 and used by several major airlines before production ceased in 1989. In all, 244 BAC 1-11s were built, mostly by the British and a few by a Romanian aircraft manufacturer.
Today, there are only two flying. Both are based at Northrop Grumman's BWI Flight Test facility. But not for long. The two aircraft will be eased out of service because of age starting this year, to be replaced by two CRJ 700s, which are manufactured by Bombardier Aerospace of Canada. It will be the end of an era. "The BAC 1-11 is a very good airplane, built like airplanes should be built," says Michael Serafin, chief of aircraft airworthiness and Federal Aviation Administration liaison for Flight Test. The first planes were designed and built in the early 1960s after the deHavilland Comet jetliner suffered three mid-air breakups that were later traced to structural deficiencies. The goal was to make the BAC 1-11 as sturdy as possible. The designers succeeded. "It's a really strong and robust aircraft," says Paul Schulz, chief of engineering for Flight Test. "It can take very high inertial loads. It's a very forgiving airplane." The planes gradually fell out of favour with the airlines because their engines exceeded federal noise standards. Northrop Grumman has obtained an exemption from those standards to keep them flying, says Schulz. While they're no longer suitable for moving passengers, they're perfect, it turns out, for testing a variety of Northrop Grumman products. In fact, the BAC 1-11s played a crucial role in a number of major programs. The company acquired its first BAC 1-11 in 1984, followed by a second five years later. They are still in use. A third plane also joined the fleet — it had served as one of former President George W. Bush's campaign planes — but was retired to an aircraft graveyard in the Mojave Desert and is now one of two BAC 1-11s there used for spare parts. The aircraft — which can carry up to 1,750 pounds of radar equipment — are true workhorses for Flight Test, which has eight planes in its fleet. The BAC 1-11s have been used to test systems for the U.S. Air Force's Advanced Tactical Fighter; the multirole electronically scanned array (MESA) radar antenna for the Wedgetail aircraft; sensors and radars for the F-22 and F-35 fighters and the B-1B bomber; early versions of Actively Electronic Scanned Array (AESA) radar; and all systems for F-16 fighters sold to the United Arab Emirates. They've also served as test beds for LITENING targeting pods, along with a variety of navigation, electronic warfare, targeting and infrared countermeasures (IRCM) systems. "It's been a real marvel from our point of view," says Rich Batdorf, who flew the planes as a test pilot for Northrop Grumman. Because they can test systems under real conditions, the BAC 1-11s and other test aircraft are credited with helping to get products to market, and into the hands of the military, more quickly. "Something that may take three years to design, build and test, we can do in a year," notes Mark Falica, manager of aircraft maintenance. "We can get products to the field much quicker and as a result, we're saving lives." Unfortunately, age is catching up to the BAC 1-11s, both of which were built in 1966 and marked 50 years of service last August. As they get older, parts wear out. With planes built that long ago, and no longer in production, those parts can be hard to find. And a total overhaul is out of the question. That can cost $3 million. "Economically, it gets more difficult every year to keep them flying," Schulz explains. So, Flight Test relies on the two spare planes it has in the Mojave desert. It also has two representatives under contract in the United Kingdom who keep an eye out for parts. And occasionally, a part can be manufactured at Mission Systems at BWI. But time is running out. "You never know when something critical is going to go wrong and you can't get the right part," Falica says. "These planes can require a lot of maintenance time." Enter the CRJ 700, originally designed as a passenger aircraft. The company has bought two; one is at BWI and nearly ready to begin testing products, while the other is being modified in Melbourne, Fla., for test flight use. It should be ready in the first quarter of next year. Plans are in the works for the purchase of a third. In the meantime, the two BAC 1-11s (registration numbers N162W and N164W) are moving toward retirement. Sixty-two will leave service this year, with 64 to follow in 2019 or 2020. And so, the BAC 1-11, a pioneer in passenger jet travel, will become part of history.
24 March 2017
I was hoping to bring you news that Northrop Grumman had celebrated the 50th anniversary of their two historic 1-11s, but they didn't in the end! What a great shame! The good news is that they still remain in service. Elsewhere it's a case of "what's changed". The fact is nothing has changed with regards to preservation news which is very frustrating indeed!
ZH763 Has no insurance so any hopes of keeping this airframe alive have effectively been dashed unless the team come up with a solution very quickly. They can't even run the APU or plug in a GPU anymore!!!
ZE432 No official opening date has yet been announced despite it having been open to the public since last Autumn.
N999BW Remains stored at Kansas City Intl. Nobody from the Tristar team has released any details of how they intend to get the aircraft serviceable again for a one off ferry flight to Downtown Airport.
YR-BRA / BRE / BRI - The project to save a ROMBAC 1-11 and display it at Bucharest Otopeni Airport has hit the rocks and now looks like a complete non starter sadly with no further updates on the project having been given for many months.
LV-OAX - I am still waiting for further updates regarding this project.
With regards to the stored fleet, I've just been searching for the aircraft on Google Earth and managed to find 28 of the 30 that are currently still listed as stored. The other two have almost certainly been scrapped by now. I have been adding further special features recently with an addition to number 19 "Behind the Iron Curtain - The Romanian 1-11 Story. I've created seven sections within this feature to fully describe all the various Romanian 1-11 stories from the late 1960s to the present day. The Jetline / MIA Airlines feature is of particular interest. I still live in hope that some of the "required images" in my Gallery page will eventually turn up however it is looking increasingly unlikely as time goes by. I still recommend looking at the various BAC 1-11 Groups at Facebook for those of you who are interested in keeping up with 1-11 stories and particularly photos.
Overall, it is still a "labour of love" running this website after 16 years however it's a great shame that there isn't more feedback, suggestions, or just general participation from enthusiasts with regards to ways in which I could enhance this data moving forward. I would love to do what the guys do at Vickers Viscount Network, which is very well supported indeed, although their "virtual museum" is on a completely different scale to my "basic" website. Never say never though - time permitting at some point in the future maybe?