BAC 1-11 ZE432 AT BOURNEMOUTH AVIATION MUSEUM

The One-Eleven that you are now stood in was built by the British Aircraft Corporation at their factory here at Bournemouth Airport during the spring of 1973. It was one of two seventy-four seat Srs 475 aircraft ordered by Air Pacific of Fiji – this version being especially suited to operating from airfields with 'short' runways. A strengthened undercarriage was fitted together with special tyres. Each operator of Srs.475 aircraft received their own individual type number – Air Pacific's being Srs 479. Registered DQ-FBV, the One-Eleven first flew on 16 July 1973, received its Certificate of Airworthiness on 31 July and departed on its delivery flight on 4 August. En route it made a number of stops for demonstration to airlines interested in purchasing this version of the One-Eleven. These included Pakistan International, Thai Airways and Philippine Airlines.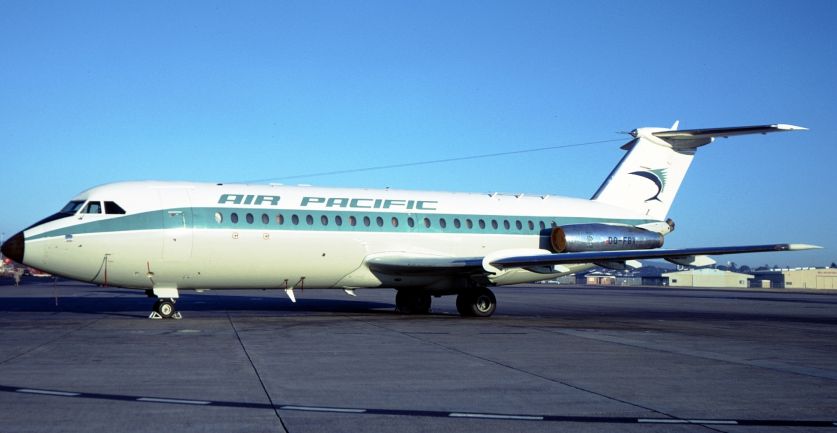 DQ-FBV in its original livery at Brisbane on the 8th August 1974 By Ron Cuskelly
DQ-FBV was handed over to Air Pacific at their base at Nausori Airport, Suva on 16 August, joining sister aircraft DQ-FBQ which had been delivered in March 1972. The airline was going through a period of expansion, having recently also purchased HS748 turbo-props. Introduction of the One-Eleven enabled Air Pacific to introduce international services, the first - to Brisbane - in June 1973.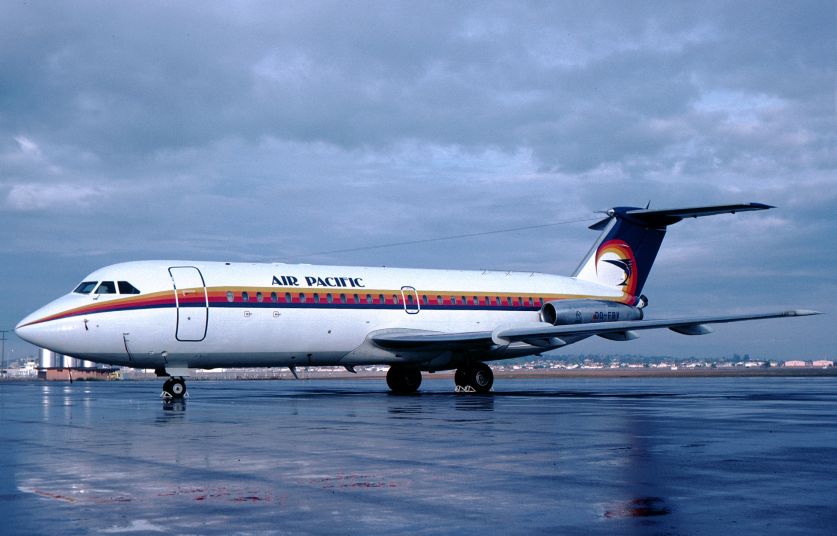 DQ-FBV at Brisbane on the 18th September 1976 in its second livery By Ron Cuskelly
Both aircraft operated scheduled services to a number of other destinations, including Apai (Samoa), Auckland (NZ), Honiara (Solomon Islands), Noumea (New Caledonia), Pago Pago (American Samoa), Papeete (Tahiti), Port Moresby (Papua New Guinea), Port Vila (Vanuatu), Tarawa (Kiribati) and Tongatapu (Tonga). The aircraft remained in service with Air Pacific for just over ten years, having been joined by a third aircraft (DQ-FCR) during 1978-81. The airline withdrew their two One-Eleven 479s from service in March 1984.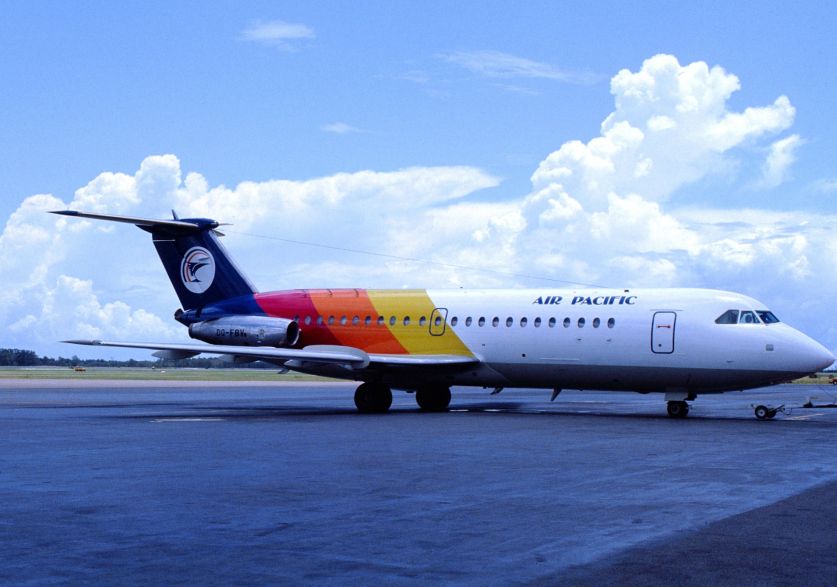 The final livery worn by DQ-FBV during another visit to Brisbane on the 25th November 1983 By Ron Cuskelly
The two aircraft were purchased by the British MoD with DQ-FBV receiving the military serial ZE432. Flown back to the United Kingdom for overhaul by Dan-Air at Manchester, ZE432 emerged with Empire Test Pilots' School titles. ZE432 was delivered to the ETPS base at Boscombe Down on 27 February 1985, initially in what was known as the "raspberry ripple" paint scheme. The forward section of the passenger cabin was now fitted with crew training stations, but Air Pacific's seating was retained in the rear section. Training flights took the aircraft all over Europe, often visiting Bournemouth during sorties out of Boscombe Down. It was fitted with a 'Stage 2' engine hush kit system to reduce the noise from its Spey turbofan engines at the end of the 1980s..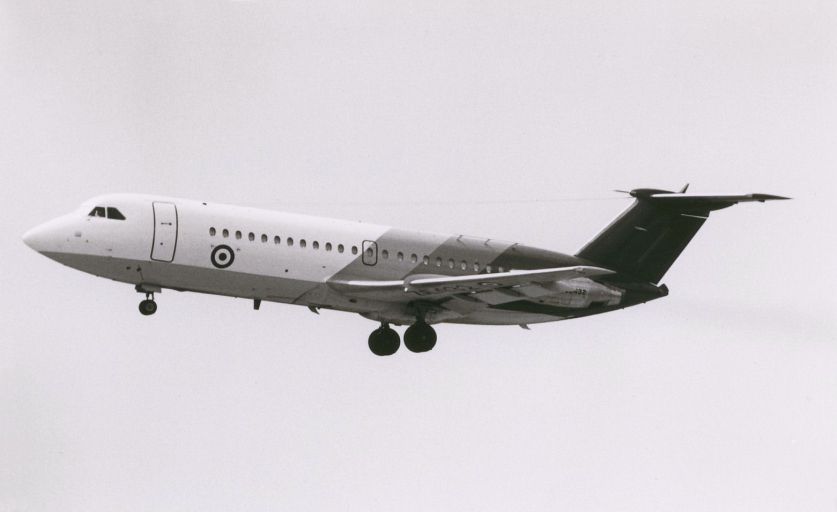 ZE432 shortly after delivery to the UK still in basic Air Pacific colours before repainting into its new raspberry ripple paint scheme By Peter Upton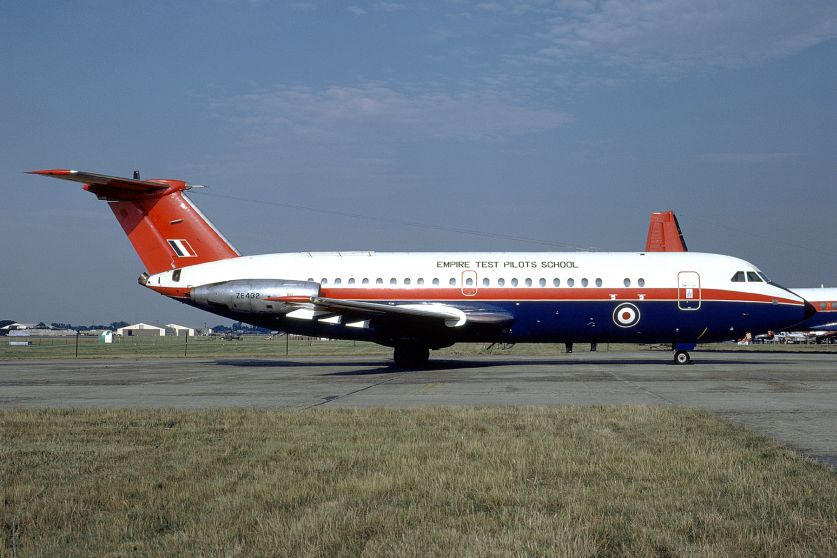 "Raspberry Ripple" ZE432 August 1989 By Michael Roeser
Towards the end of 1999 the ETPS decided that ZE432 needed a facelift and in January 2000 it returned to Bournemouth for a repaint by AIM Aviation. The stunning new livery incorporated the ETPS's Griffin emblem painted over a red background on the fin, together with large ETPS lettering on the forward fuselage.
<![if !vml]>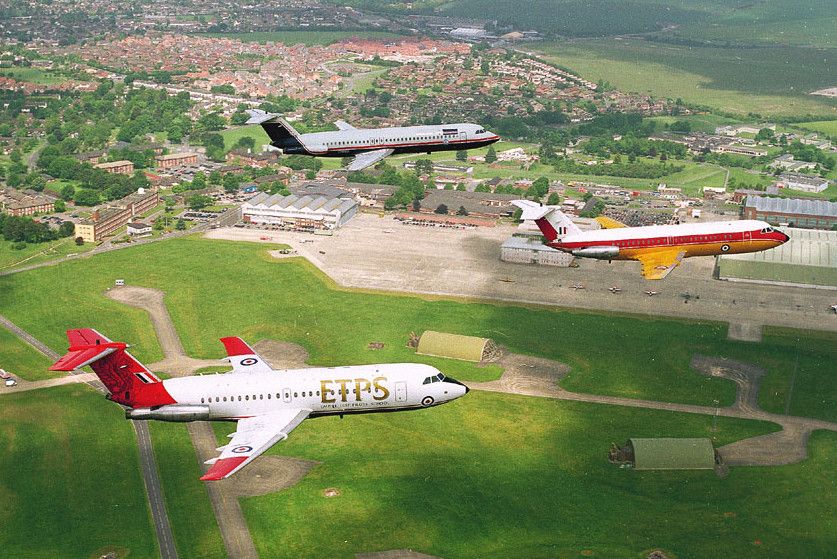 <![endif]>
A unique formation took place over Boscombe Down on the 28th May 2003 to celebrate the retirement of XX105 after 30 years service.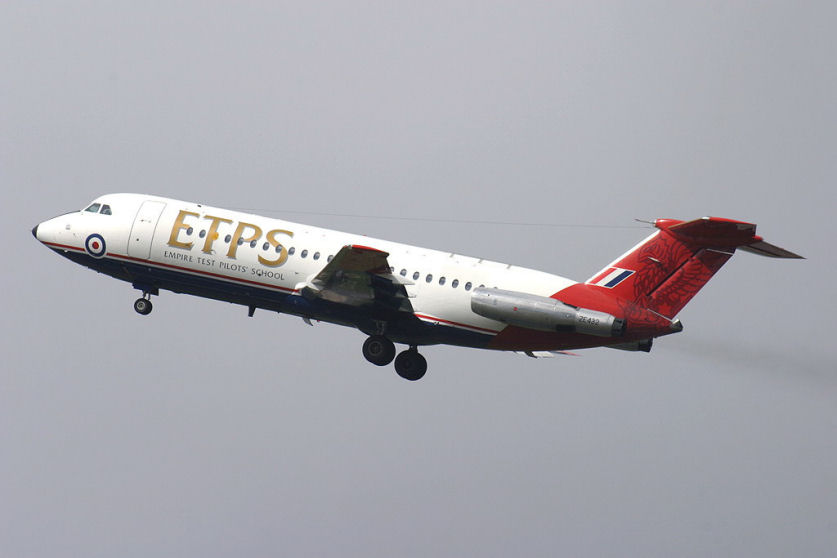 ZE432 Departing from Bournemouth on the 19th April 2004 By Tony Best
ZE432 continued in service until the end of 2009 when it was due for a major overhaul. However the engineers at Boscombe Down discovered large areas of corrosion which would prove costly to eliminate. Due to the age of the aircraft it was decided early in 2011 that it would be withdrawn from service and allocated to Boscombe Down's Apprentice School as an engineering platform. After a couple of years the airframe was put up for disposal and the scrapman arrived. Luckily scrapping was protracted and following a review by the MoD towards the end of 2013 it was agreed that the forward fuselage section would be made available to the Bournemouth Aviation Museum. This was transported by road to Bournemouth on 30 April 2014 so that restoration of the cockpit and cabin could be undertaken. This will hopefully be completed by the end of 2016 when the new exhibit will finally open to the public.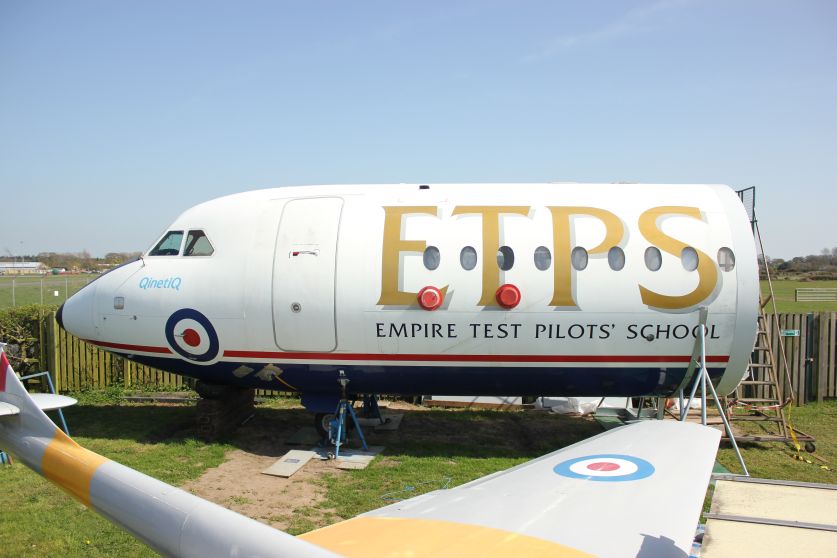 In April 2015 ZE432 was placed onto it's trestle at the Bournemouth Aviation Museum in preparation for its internal restoration.
Throughout its life ZE432 amassed an impressive 27,364 flying hours and made 25,372 landings – almost one an hour. Her resting place at Bournemouth sees her appropriately pointing across the airport towards the former BAC factory where she was built back in 1973.
BAC One-Eleven History
In the mid 1950 Hunting Aircraft at Luton started the design of a thirty seat airliner powered by two rear mounted jet engines. By the summer of 1958 the project had grown in size and received the designation Hunting 107. In May 1960 Hunting Aircraft, and the H107 design, were acquired by the newly formed British Aircraft Corporation. A model of the new design was displayed at the Farnborough Show in September. Market research of the design, now designated the BAC 107, proved promising, resulting in a slightly larger aircraft being launched on 9 May 1961 – The BAC One-Eleven. The One-Eleven was powered by two Rolls-Royce Spey 506 turbofan engines and typically carried eighty-nine passengers over a range of just over 2,000 miles.
The launch of the One-Eleven 'Short Haul Jet' coincided with the announcement of the first order – ten aircraft for British United Airways. The initial One-Elevens were known as Series 200 aircraft, being followed by Series 300 and 400 in May 1963. These could carry heavier payloads and were powered by a more powerful version of the Spey. The Srs 400 was tailored for the North American market and a breakthrough came in July 1963 when fifteen Srs 400 were ordered by American Airlines (value £14m) - later increased to thirty. American was one of the big four airlines in the USA, so what type of aircraft they selected was important for the aviation industry.
Production of the One-Eleven was spread around a number of BAC factories. Filton built the rear fuselage and tail, Weybridge the centre section and undercarriage, Luton the wings and Bournemouth the main fuselage section. (BAC always referred to the local factory as their Hurn site – not Bournemouth). Final assembly was undertaken at Bournemouth, following on from the successful Vickers Viscount. The prototype One-Eleven 200 G-ASHG – carrying British United titles – piloted by Jock Bryce first flew on 20 August 1963, later being based at Wisley for flight trials. Unfortunately it crashed on 22 October killing all the test crew on board. Whilst flying over Salisbury Plain it undertook stalling tests and during the last of these it entered a deep stall from which the crew were unable to recover. The aircraft had reached a steep angle of forward flight which saw its speed drop away resulting in the aircraft dropping out of the sky like a stone. The reason for the crash was quickly established and BAC was able to reassure customers that modifications would be made to prevent any further such incidents. The first production aircraft flew on 19 December 1963 to join the flight test programme.
A number of improvements were incorporated in the Srs 400, with the first of two development aircraft flying from Bournemouth on 13 July 1965. Powered by Spey 511's, the Srs 400's had greater range and better runway performance. However BAC was facing competition from across the Atlantic with the rival Boeing 737 and Douglas DC-9. It responded with the lengthened Srs 500 which was launched in January 1967 coupled with an order for eighteen by British European Airways. The larger aircraft normally carried ninety-nine passengers, although 119 could be fitted in, being powered by the Spey 512. To act as prototype Srs 400 development aircraft G-ASYD was lengthened at Bournemouth and first flew on 30 June 1967. The Srs 400 and 500 sold widely around the world.
Although BAC wanted to develop an even longer version of the One-Eleven, the Spey engine had reached the end of its thrust development. So BAC produced the Srs 475 which was a Srs 400 with many improvements and the more powerful engines of the Srs 500. As such it was aimed at second level airlines that operated in 'hot and high' conditions. The Srs 500 prototype returned to Bournemouth again, this time to be shortened as the prototype Srs 475 and flying again on 27 August 1970. Unfortunately anticipated sales did not materialise and only a few Srs 475's were produced. The aircraft that you are in is one of those. In 1977 The Srs 475 was further developed as the Srs 670 especially for the Japanese market which required the One-Eleven to operate from airfields with shorter runways than normal. However an anticipated order for twenty aircraft in the autumn 1978 failed to materialise, and this resulted in the end of One-Eleven development by BAC.
The Spey engines of the One-Eleven had always proved noisy on take-off, resulting in problems in satisfying increasingly stringent noise requirements at airports. During 1973 BAC and Rolls Royce produced a hush kit which was fitted to the rear of the engine. Flight tested during 1974, it was fitted to all new production aircraft and retrospectively to the majority still in service. Another attempt to solve the noise problem was the fitting of the newer and quieter Rolls-Royce Tay. However this was not undertaken by BAC, but by the Dee Howard Corporation in the United States. Two aircraft were re-engined but delays meant the first did not fly until July 1990. The delays and company politics resulted in the re-engined version not proceeding.
One operator of the One-Eleven was Tarom of Romania. The airline's requirement for further aircraft led to the 'Rombac Deal' of June 1979, valued at the time £150m. The Romanian Government set up a production line near Bucharest and obtained a license from BAC for the initial production of twenty-five aircraft. The first three were built by the Romanians at Bournemouth during 1980/81, with production then switching to Bucharest. Their first aircraft flew in September 1982, but production was very slow with only nine aircraft having been completed by 1989. This was mainly the result of the unstable political situation in Romania, with the Deal officially terminated in July 1993.
The final One-Elevens produced at Bournemouth were delivered in the summer of 1980. However two Srs 475 aircraft remained unsold at the time and remained in store until finally sold in 1984. For their flights away from Bournemouth they received the appropriate registrations G-BLHD – Last Hurn Delivery – and G-BLDH – Last Delivery from Hurn. With no further work the BAC Bournemouth site was closed down. BAC built a total of 235 One-Elevens with a further nine completed in Romania.
The noisy Spey engine resulted in the One-Eleven being withdrawn from service. An attempt to fit more effective hush kits in the late 1990's did not succeed. This meant the One-Eleven could not meet European and North American noise regulations which came into effect on 1 April 2002. The final commercial flights took place from Bournemouth the day before. A few remained in military service and in Nigeria for a while longer. However by 2016 only two One-Elevens remained in use – both as flying test beds in the United States.
BAC One-Eleven in Service
The first airline to order the One-Eleven was British United in May 1961, quickly followed by Braniff International of Texas. British United's aircraft entered service from Gatwick on 9 April 1965, with Braniff following on 25 April. As well as scheduled services, British United used their aircraft on IT holiday flights. They were soon seen at Bournemouth as Bath Travel used them on their weekly Majorca flights as from 18 April. Braniff used them on schedules services over routes varying from 67 miles to 1,189 miles in length, showing the versatility of the new airliner. Mohawk Airlines – a second American customer – also introduced them in May, as did Aer Lingus. The new jet replaced earlier turbo-prop Viscounts or piston engined Convair 440's. However for many holidaymakers they replaced the even older and noisier Dakota or DC-4, speeding up their journeys to the sunshine..
Having got the initial Srs 200 aircraft into service, BAC was able to concentrate on the Srs 400 which were on order for American Airlines. An all-out effort was made to get the aircraft built as quickly as possible, with the first delivered to American in December 1965. Their '400 Astrojet' entered service in March 1966 and the last of their initial fifteen aircraft was delivered in December 1966. As with the other airlines, American's passengers commented favourably on the appeal of the One-Eleven. Back in this country the One-Eleven was acquired by two important independent airlines of the time. British Eagle took over two which had been ordered by Central African Airways, three cancelled Kuwait Airways aircraft, plus two of its own. These were used on the airlines scheduled services out of London Heathrow. Freddie Laker had originally been the Chairman of British United when it ordered the One-Eleven. In 1965 he set up his own Laker Airways and ordered three One-Elevens for use on holiday flights out of Gatwick.
After these major sales there followed a period when airlines ordered One-Elevens by the two's and three's, such as Aloha Airlines of Hawaii (3), Philippine Air Lines (initial 2), TACA of El Salvador (2), VASP of Brazil (2) and Channel Airways of Southend (3). A small number of VIP versions were sold in the United States, Germany, Royal Australian Air Force and the Brazilian Air Force. As can be seen the One-Eleven was being used in service around the world.
The lengthened Srs 500 was launched with an order for eighteen by British European Airways (later British Airways), with the airline referring to its fleet as the 'Super One-Eleven' (Some competition winner received a prize for coming up with this dynamic name!). This was followed in 1968 by orders by British United (5) and Caledonian Airways (3), with the two airlines merging in 1970 to form British Caledonian. As with the earlier versions, the Srs 500 was now ordered in two's and three's – Panair International of Germany (3), Bahamas Airways (2), British Midland (3), Austral of Argentina (3), Sadia of Brazil (3). However in 1969 the newly formed Court Line ordered seven Srs.500 which are remembered for their striking livery of overall pastel colours – such as pink, orange and turquoise. Court Line had 119 seats fitted to operate holiday flights out of Luton. This was a boom time for holiday operators which disappeared with rising fuel prices during 1973/74, leading to the spectacular collapse of Court Line in August 1974. Tarom of Romania ordered five in 1975, following which arrangements were made for further aircraft to be built in Romania.
BAC failed to find many buyers for the Srs 475 'Hot Rod' version. Faucett of Peru ordered two – this was the type of operation that BAC designed the 475 for, as was Air Pacific of Fiji (2). One went to Air Malawi and three to the Sultan of Oman Air Force. These were later fitted with large freight door on the forward fuselage.
The One-Eleven had proved its worth with many airlines seeing an upturn in business. This led to their need for larger aircraft, resulting in the surplus One-Elevens being sold to a variety of other airlines around the world. Others were refitted as company VIP aircraft, especially in North America and the Middle East. Many of the Braniff and Mohawk aircraft were purchased by Allegheny Airlines of Pittsburgh. Before it operated a vast fleet of Boeing 737's, Ryanair commenced jet services with One-Elevens in 1986, initially operating between Dublin and Luton. At one time the airline had a fleet of eight, but a change of direction in 1994 saw Ryanair purchase Boeing 737's and commence low fare operations. It never looked back! Dan-Air was another operator of second hand One-Elevens, being used for both scheduled and IT holiday flights around Europe and the Mediterranean. When the airline went out of business in 1992 their fleet was purchased by British World Airways of Southend who continued to use them on holiday charters. Large numbers of One-Elevens ended up in Nigeria where airline deregulation occurred in the mid 1980's. Many airlines quickly sprang up and disappeared almost as quickly. Maintenance was never high on their list of priorities resulting in the fatal crashes of a number of aircraft. This resulted in the Nigerian Government banning any further operations in May 2002. The last major European operator of One-Elevens was European Aviation based here in Bournemouth. They acquired British Airways remaining fleet of Srs.510's in 1993, commencing charter services in September. Further One-Elevens were added to the fleet, often being chartered by other airlines. Noise regulations came into force on 1 April 2002 which banned any further commercial One-Eleven services in Europe and North America. 31 March saw three commemorative flights from Bournemouth to mark the airliners withdrawal from service. Many of the BAC staff who worked on the aircraft design back in the 1960's were on hand to witness the occasion.
There were still a few military One-Elevens to be seen. The Royal Air Force of Oman continued to operate their three aircraft, frequently visiting Bournemouth. The last one visited in October 2009, with the fleet withdrawn in July 2010. In the United Kingdom four were still flying from Boscombe Down in 2002. They were gradually withdrawn due to lack of spares, with the last one, ZH763, finally grounded in 2013. The honour of the last One-Elevens flying falls to two test bed aircraft used by Northrop Grumman in the United States. Still active in the summer of 2016, they are expected to continue flying for at least a few more years.
Military One-Elevens
Although aimed at airlines, the One-Eleven did see military service. Two Srs 200s were delivered to the Royal Australian Air Force in 1967 for use as Government VIP transports, being based at Fairbairn. The following year the Brazilian Air Force also received two Srs 400 as Government VIP aircraft. The Sultan of Oman Air Force received three Srs 475 from 1974, being based at Seeb. After only a few months service they all returned to Bournemouth to be fitted with forward fuselage freight doors. The aircraft could be used for passengers, freight, medical evacuation. Later renamed the Royal Air Force of Oman, their One-Elevens were among the last in service, being withdrawn in July 2010. On a number of occasions the One-Eleven was promoted for use by the RAF's Queens Flight, but for various reasons the order was never placed.
At a time when the One-Eleven had virtually disappeared from European skies there was one last haven where the aircraft could be seen in UK skies. This was the military base at Boscombe Down where the DRA – later QinetiQ – operated the following aircraft:
XX105 The first One-Eleven to adopt military markings in the UK was Srs 201 G-ASJD purchased from British Caledonian in September 1971. Prepared for the RAE by BAC at Bournemouth and then at Cranfield, XX105 was delivered to the Blind Landing Experimental Unit at RAE Bedford on 26 March 1973 (BLEU titles). The aircraft had been fitted with long range fuel tanks and specialist radar, but was never fitted with engine hush kits. It was painted with a spectacular colour scheme with a red cheat line along its fuselage and rudder, a white cabin top and a brilliant yellow underside and wings. As well as autoland tests, XX105 was also used to trial civil and military avionics systems. (By end of 1977 RAE titles). The aircraft moved briefly to RAE Farnborough on 23 March 1994 before moving on to its final home at Boscombe Down on 23 August. To DRA April 1997 & later carried their titles. It was later fitted with a coloured 'glass' cockpit and had touch screen flying controls added during its later years of service. Final trials were for LAST - Light Aircraft SSR Transponder. On 28 May 2003 this historic aircraft – it was the oldest One-Eleven still flying - flew in a special formation flight with QinetiQ's two other operational One-Elevens before making its final flight on 5 June which included a fly-past of Bournemouth Airport. Following retirement XX105 remained in outside storage until it moved to the Boscombe Down Aviation Collection (then still at Boscombe Down). It remained with the Collection until November 2010 when it was scrapped.
XX919 In May 1974 the MoD bought a Srs 402, formerly PI-C1121 with Philippine Airlines, for use by RAE. Given military serial XX919, it was delivered via RAE Bedford in August 1974 to RAE Farnborough for the use of their Radio Flight. Here it was used for satellite communications, sonobuoy research (with launching through the rear stairwell), trials of long range navigation aids, aerial and high frequency communications equipment. In 1983 it was repainted in the RAE's Raspberry Ripple colour scheme. In 1990 XX919 was fitted with a tail mounted miniature TV camera and video system by the Mission Management Department, first flying as such on 21 March. With the closure of Farnborough XX919 led the ceremonial flypast as the RAE fleet departed to its new base at Boscombe Down on 24 March 1994. XX919 made its last flight on 4 March 1997 and was put into storage. Sold at auction for £210,000 on 16 March 2000, the One-Eleven was broken up during July. However the cockpit section was saved and is now displayed by the Boscombe Down Aviation Collection at Old Sarum.
Information on ZE432's military career can be found above and on the display board headed 'Our Aircraft'.
ZE433 Formerly DQ-FBQ with Air Pacific, this Srs 479 was purchased by the MoD in the spring of 1984 and given the military serial ZE433. Flown home it appeared at RAE Bedford in May still in its former Air Pacific livery. It was then overhauled and repainted in RAE's Raspberry Ripple colours. The nose was modified to accommodate a Blue Vixen lightweight, coherent, multimode pulse Doppler airborne interception radar unit for flight trials. This new radar was being trialled for the Sea Harrier F/A2. Following completion of the trials, ZE433 was further modified to accept the ECR90 radar that was due to be installed in the Eurofighter Typhoon. It first flew in this form on 8 January 1993, incorporating ram air and liquid cooling systems fitted in the forward hold for equipment cooling the radar equipment. The aircraft was fitted with a Power Conversion Equipment pallet supplied by the Auxiliary Power Unit which provides power to the suite of instrumentation racks. Accommodation was provided for four Flight Observers on sliding/swivel seats facing starboard to monitor the equipment. Fourteen seats at the rear of the cabin were provided for additional observers with intercom facilities. The aircraft carried Eurofighter Typhoon Radar Trials titles. With the impending closure of RAE Bedford in March 1994 ZE433 flew to Edinburgh on 25 August 1993 where it was based with GEC Marconi Defence Systems for further radar and associated trials. Ownership passed to DRA in April 1997. ZE433 eventually transferred to Boscombe Down to continue its work. Its last flight was on 13 November 2008 after which it was stored and used for spares recovery, eventually being scrapped in 2013.
ZH763 The final One-Eleven to adopt a British military serial was former British Airways Srs 539 G-BGKE. This was acquired by GEC Marconi Avionics at Edinburgh in June 1991 with the intention of being used as a radar test bed. However this duty was taken over by ZE433 and so G-BGKE was leased to the DRA and painted with DRA Aerospace Division titles. After some trials work at Bedford it transferred to Farnborough on 7 February 1994, receiving military serial ZH763. It moved on to Boscombe Down on 15 July where it was converted into a flying laboratory, primarily for radar trials. The conversion included the installation of a variety of cabinets and racks in the cabin area. An Enhanced Surveillance Radar scanner assembly was installed in the forward freight bay with an antenna and a large bucket type radome mounted under the belly. A radar auxiliary receiving antenna was mounted under a radome on the starboard underside of the fuselage. The aircraft had a selection of aerials fitted to both the upper and lower fuselage surfaces that could be used for experimental systems. To DRA in April 1997. This was the last One-Eleven flying in the UK, being taken out of service in December 2012. On 26 April 2013 it was flown to Newquay for preservation with The Classic Air Force (Now the Cornwall Aviation Heritage Centre) – the last ever One-Eleven flight in the UK.
ETPS - Empire Test Pilots' School
Currently based at Boscombe Down airfield, the Empire Test Pilots' School traces its history back to the summer of 1943 when it was formed as the Test Pilots Training Flight. Boscombe Down was a busy airfield during the Second World War testing a multitude of new aircraft entering military service flown by a large number of test pilots. The aim of the new Training Flight was to standardise and improve test flying throughout the aircraft industry. Following the first Course the present title was adopted in July 1944 – ETPS. This opened up training to 'Empire' pilots from Australia, Canada, India and New Zealand, although it wasn't long before Americans attended as well. Training was undertaken on a variety of types – bombers, fighters, trainers and transports. The idea being that the test pilots acquire knowledge on a wide variety of aircraft, not just those they anticipated flying in the future.
Although the war had ended, Boscombe Down was still a very busy airfield, so the ETPS moved to Cranfield in October 1945. Here they acquired the first of a number of Lincoln bombers, enabling students to expand their multi-engined experience. Accommodation was greatly improved over the wartime buildings at Boscombe Down. However the School did not stay very long, transferring to Farnborough in August 1947. Courses were run each year, lasting around ten months. As well as flying, there was plenty of aeronautical theory for students to absorb. They also had to write up detailed reports relating to the aircraft they had flown. The School's aircraft fleet totalled thirty, which now included helicopters and gliders. In December 1949 the School adopted a Crest designed by the College of Heralds along with its motto "Learn to Test – Test to Learn". During the 1950's more modern jet fighters – late mark Meteors and early Hunters - were added to the fleet. In 1963 a separate Rotary Wing Course was established. During the 1960's airspace around Farnborough was becoming more crowded, mainly due to expansion at London Heathrow. So although the School was happy at the airfield, it was decided that it should move to somewhere with less crowded airspace. So the beginning of 1968 saw the School move back to its original location of Boscombe Down, with plenty of space over Salisbury Plain.
Boscombe Down was already home of the Aircraft and Armament Experimental Establishment which tested new aircraft before they entered British military service. This enabled the ETPS to make use of some of their more modern aircraft. They also had larger aircraft of their own, bringing a couple of Viscounts along from Farnborough and soon adding an Argosy transport. In 1974 a Flight Test Engineers course was established. Instead of having to rely on second hand aircraft the School received two brand new Jaguars and three Hawks during the 1980's. However for shear supersonic excitement nothing could beat the two seat Lightning. A One-Eleven, ZE432, was acquired early in 1985 for use in the training and transport role.
In 2001 the School came under the wing of QinetiQ, in conjunction with the MoD. Although the fleet is much diminished compared with previous eras, the School often makes use of aircraft from the aviation industry, such as Airbus A320 and Saab Gripen. It even has access to a wartime Harvard trainer still in use by QinetiQ. The One-Eleven was replaced by a BAe RJ100. Although no longer serving the 'Empire', the quality of test and evaluation training undertaken by the School remains renown world-wide, with a number of countries have set up their own similar establishments.